Offer valid through 1/26/2014
If you have a Kohl's charge card, use code SAVEBIG30 to get 30% off everything at Kohl's. Also try the free shipping code: SHIP4UJAN. You should be able to apply both codes to one order.
See the post "The strange economics of Kohl's Cash" for tips on how to maximize points and savings with this deal and for details about Kohls.com recent flakiness. Many people have experienced situations where the transaction amount reported by Kohl's to the portal has been much less than the actual transaction. Most issues seem to be fixed, but it is still the case that orders of physical gift cards in transactions totaling more than $150, often do not get reported correctly. As usual, purchases of emailed gift cards (e-gift cards) do not earn points.
Note that you cannot apply the 30% off code to the purchase of gift cards, but you can use the 30% off code when paying with gift cards:
Select your Kohl's charge card as your method of payment
Enter gift card numbers into the appropriate text box
Enter the 30% off promo code
Never miss a Quick Deal. Subscribe here.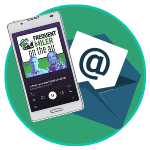 Want to learn more about miles and points?
Subscribe to email updates
 or check out 
our podcast
 on your favorite podcast platform.