There's an awesome new Amex Offer out this morning for 5,000 Membership Rewards points for spending $99+ on an Amazon Prime Membership. This offer expires in March. If your membership does not renew during that period, I believe you can pre-pay it to trigger the offer (though I haven't tried). This one is targeted, but I received this offer on my Blue Business Plus card. My wife received it on an Everyday Preferred.
The Deal
Spend $99+ on an

annual

 Amazon Prime membership, get 5,000 Membership Rewards points.
If you haven't yet signed up for Amazon Prime, you can sign up here (our affiliate link)
Key Details
Not valid on discounted memberships like Prime Student
Not valid on monthly Amazon Prime membership
Not valid on Prime Video, Prime Fresh, etc.
If you use Membership Rewards points to pay for your membership, you won't receive the offer
Quick Thoughts
This is an awesome offer on something for which many readers probably pay year after year. While I've been somewhat annoyed over the past few years with the increase in add-on-only items and the decrease in items that are eligible for free 2-day or $3.99 overnight shipping, the truth is that I still use my Amazon Prime membership far too much to seriously consider cancelling. Earning 5,000 points on membership is a no-brainer for me.
I imagine this offer is very likely to fill up, so make sure to add it now if you're interested in taking advantage of it.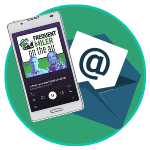 Want to learn more about miles and points?
Subscribe to email updates
 or check out 
our podcast
 on your favorite podcast platform.