Barclays is sending out spending offers to holders of its cobranded cards offering 5x additional points in select categories.
The Deal
Earn 5x additional points in the following categories on Barclays cobranded cards:

Hotel stays (some offers)
Airline tickets (some offers)
Car rental
Ride service
Restaurant
Key Terms
This offer is for select cardmembers and is not transferable. If your account is closed or you switch to another product during the promotional period, you may no longer be eligible for this promotion.
If you receive this offer and enroll by 8/26/21 you will earn 5 additional points for every one dollar ($1) spent on airline ticket, car rental, ride service and restaurant purchases, less credits, returns and adjustments ("Net Purchases") with transaction dates between 8/1/21 through 10/31/21, up to a maximum of $2,000 in spend in these categories each month.
The maximum earn for this offer is 30,000 points.
Purchases in the specified reward categories must be submitted by merchants using the corresponding Merchant Category Codes ("MCCs") in order to earn additional points. MCCs are categories used by merchants based on the goods and services they sell. Barclays uses the MCCs when creating the reward categories however, we have no control over how merchants choose to be categorized and as a result, some purchases may not fall into the expected rewards category and will not qualify to earn additional points.
Additional points may not be earned if the merchant submits the purchase using a mobile or wireless card reader or if you use a mobile or digital wallet to pay for the purchase. Additionally, purchases made through third parties, including online marketplaces and resellers, or using a third-party payment account, will not earn additional points.
Failure to maintain your creditworthiness during the offer period may result in actions on your account, such as a credit line decrease, that would reduce your ability to take advantage of this offer.
To receive the additional points, your account must be open, active and in good standing at the time of fulfillment.
All points earned from this promotion will appear on your statement 6-8 weeks after the end of the promotion.
Quick Thoughts
The terms of this offer suggest it's a targeted promotion, so keep an eye out for emails from Barclays as there'll be a registration link in the email.
My wife received this offer on her Choice card, while in our Frequent Miler Insiders Facebook group Jen reports getting it on a Lufthansa Miles & More card while Loren got it on an American Airlines Aviator card.
One of the nice things about this offer is that the 5x points are on top of what you'll already earn on your card. For example, if you get the offer on an American Airlines Aviator card like Loren, paying for an American Airlines flight will earn you a total of 7x AAdvantage miles – 2x as standard for paying with that card and 5x from this offer. Update: I just noticed that the offers on the American Airlines and Lufthansa cards offers 5x on hotel stays rather than flights, while the Choice offer gives 5x on flights rather than hotel stays. It therefore doesn't look like you can double up on bonus categories on those cards. Anonymous reports in the comments below that they received both the airline and hotel categories (in addition to the others) on the Arrival card.
With the airline and car rental categories though, it's worth weighing up the 5x bonus points/miles with credit card protections available on the Barclays card you get this offer on versus the points/miles and protections you could get on other cards you might own like the Chase Sapphire Preferred and Reserve cards.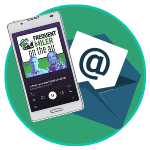 Want to learn more about miles and points?
Subscribe to email updates
 or check out 
our podcast
 on your favorite podcast platform.