Note: American Express is a Frequent Miler advertiser, but we always show the best public offer even when we don't earn a commission. Please see our Advertiser Disclosure.
At its core, the Frequent Miler Best Offers page is the same as before. The page continues to display the best credit card signup offers we can find.  Now, in response to new application rules being enforced by major issuers like Chase and Amex, we've added a few great new features…
Application Tips
When applying for credit cards, there are many questions you may have about the card issuer (e.g. bank), such as:
Can a person qualify for a signup bonus for a card they've had before?  If so, under what conditions?
Are there limits to how many cards a person can apply for within a set period of time?
Are there limits to how many cards a person can have?
If a person applies for multiple cards in one day from one card issuer, are the credit inquiries combined?
Is there a way to check my application status online or over the phone?
What can I do if my application is denied?
I realized recently that it was crazy to make people search all over the web for answers to these questions.  Instead, we added a new "App Tips" table to the top of each card issuer section on the Best Offers page.
To get to the top of a section for a particular card issuer, use the Jump To links that are scattered throughout the page:
Jump to: Amex, BOA, Barclaycard, Capital One, Chase, Citi, Discover, TD Bank, US Bank, Wells, Other
At the top of each issuer section, you'll find "App Tips" for that issuer.  Many of the tips are hyperlinks which, when clicked, will bring you to a post containing more information (many of these are powered by Doctor of Credit, by the way).  Here's Chase, for example:
Note that the table above represents the contents of the Chase App Tips as of the date of this publication. Updates to the table can be found on the Best Offers page, here.
Recent better offer
American Express used to let people sign up for the same cards over and over and get a new bonus each time as long as they waited 12 months after cancelling the previous card.  The ability to get a second bonus on the same card ended for personal cards in 2014.  Then, as of late February 2016, it ended for business cards as well (see this post for details).
As a result of these changes, it's important to wait for the best of the best Amex offers.  You wouldn't want to blow your once per lifetime signup opportunity on a 35K offer, for example, if a 60K offer may be on the horizon.  But, how can you know if a better offer may be coming?
We've added a new feature to our card offer descriptions: "Recent better offer".  If we're aware of a better public or targeted offer that has been available in the past 12 months or so, this is where we'll give the details.  For example, the current best offer for the Delta Platinum card is for 35,000 miles.  However, there was an offer for 60,000 miles that expired on June 30th.  So, we now display that information:
It is also useful to know when the current offer is the best known recent offer.  For example, the current Amex Hilton credit card offers are the best we've seen in recent times, so we say so:
There is absolutely no guarantee that the past will repeat itself, but this is the best information we have about what might happen in the future.
Currently, we've done our best to fill out this information for every Amex card on the Best Offers page.  Going forward, we'll update the information as needed and add the information to all of the other card issuer offers as well.
Best of the Best
This feature has been in place for a while now, but I hadn't previously reported it…  Over time, the Best Offers page has grown bigger and bigger.  Today, there are about 100 offers listed on the page.  While its great to have a lot to choose from, it can also be overwhelming.  To help with that, we added a "Best of the Best" section at the top of the page:
This is a subjective list of what we consider to be the best of the best offers.  Click any of the links to jump down to the section of the Best Offers page containing that card.  In some cases you'll also have to scroll down a bit to find the specific offer.
Note that this list specifically shows cards with the best signup bonuses.  Other cards may be best for you for other reasons.
Stay informed
We update the offers listed on the Best Offers page all the time.  Whenever there's a significant change, we add a comment with a brief description of the change.  If you'd like to keep up with these changes, simply write a comment at the bottom of the page and select the box that says "Notify me of follow-up comments by email."  You will then receive an email every time someone comments on this page. It's perfectly fine, for example, to simply write "sub" in order to let us know that you are subscribing to comments.
Reader help wanted
Finding and keeping up with the best credit card offers isn't easy.  We learn about changes to these offers from forums, blog posts, our own experience, and most of all from readers.  If you know of a public or targeted offer that is better than one displayed on our Best Offers page, please add a comment to that page or send an email to frequentmiler  at Gmail dot com.  Similarly, if you find that information on the page is wrong or a link is broken, please let us know!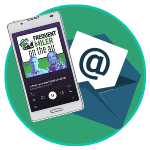 Want to learn more about miles and points?
Subscribe to email updates
 or check out 
our podcast
 on your favorite podcast platform.