If you're like me, when you're preparing to fly back and forth across the United States of America for absolutely no reason, the #1 question on your mind is "am I going to be doing this while drinking free alcohol?"
Most Frequent Miler readers know I'm referring to the #30kToNowhere challenge, in which Greg, myself, and a number of others are attempting to get US Airways Chairman's status (and therefore American Executive Platinum status once the loyalty programs merge in a few months) by signing up for the US Airways Preferred Status Trial and then flying 30,000 miles in a 90 day period.
I'm personally at 18,996 miles with 16 days to go, which means I will spend most of the next two weeks on airplanes in a desperate attempt to pick up the last 11,004 miles. In the aviation industry, this is a technique known as "poor planning."
The good news is that US Airways gives complementary domestic upgrades to their elites. The even better news is that US Airways awards instant elite status during the 90 days of the status trial — either Silver, Gold, or Platinum depending on how much you paid. If you paid $600 for Platinum status, then you're more likely to get upgraded to first class several days before your flights. If you paid $200 for Silver status like I did, you get to spend the days and hours before each flight impatiently wondering if you'll be upgraded. In aviation parlance, this is called "cheaping out."
Fortunately, US Airways has provided two ways to see a flight's upgrade list in real time. Unfortunately for some reason they're keeping that fact to themselves and appear to have provided no documentation or directions on how to do this. So in honor of everyone who's participating in #30kToNowhere (or for those of you who have US Airways status because you fly regularly for business like a normal human being), here's how you can find the US Airways upgrade lists on both the web and the US Airways app.
On the app
The US Airways app is a model of computer engineering. By that I mean it's not very good. Nothing is where it feels like it should be, yet other functions appear in multiple places for no logical reason. In other words, it's an app built by an airline.
So when you first sign onto the US Airways app and click on "My Trips," there doesn't appear to be a way to see the upgrade list…
Even when we tap on a particular trip, there still doesn't appear to be any upgrade list…
It's only once we tap on an actual segment of a trip that something changes. US Airways has made this change so subtle that you'll miss it if you're not looking for it. But there, in the bottom right corner where it said "More" a moment ago…
We have to complete our check in to see our position on the list, but once we've done that, we can click on this "Upgrade" button and find…
If and when you do get upgraded, your new first class seat assignment will appear next to your name and you can dance your way down the jetway while laughing like a maniac. Or if you don't get upgraded, nothing will ever appear next to your name and you will have to plod through 1st class and into 2nd class to find your seat with the ham 'n' eggers. In airline terminology, this is known as the "Walk of Shame."
On the web
(Hat tips to Keri of Heels First Travel and the FlyerTalk community for originally demonstrating this web-based portion.)
You would assume it'd be simple to find the upgrade list on the US Airways website during or after check in. However, if you assumed that, it means you have forgotten this is an airline we're talking about here, so of course there's no way it's going to be that easy.
In fact, US Airways does not actually have a way to view the upgrade list on their normal website. But there is a workaround, which is to use their mobile site on the web. You can find their mobile site at http://mobile.usairways.com/mt/flights-mobile.usairways.com.
At that link you'll find the form to look up a flight's status, which you can do either by flight number or origin/destination.
Your flight status will appear, which is all well and good. But note the button at the top right corner? That's the ticket…
Finally, we click on the Upgrade list button, and up comes…
Standby List
Those of you who have been paying close attention have probably noticed that these identical procedures can be used when you're flying standby on US Airways to see your position on the standby list. Just choose the "Standby" button either on the mobile web page (upper left corner of the Flight Status page) or the app (just to the left of the "Upgrade" button) and you'll see the Standby list instead.
I'm not sure why US Airways has made finding these lists so difficult, but I suppose we should consider ourselves fortunate that they've deigned to give us access to them at all.  In the old days we'd have to ask a gate agent where we were on the list, and there's nothing a gate agent likes more when they're trying to load a plane than having a dozen people come up to them asking whether they can expect to get free alcohol.  So thanks US Airways… kinda.
And to T. Mue, J. Sud, and R. Eme… until we meet again.  By then I'll be Gold, so you best watch your backs.

Loading ...
Other Recent Posts From The "Bet You Didn't Know" Series:
How to setup credit fraud alerts by text or email
Maximizing Marriott's 5th Night Free on longer stays
Getting a second US Airways Mastercard
Find all the "Bet You Didn't Know" posts here.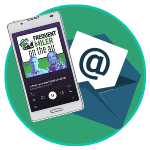 Want to learn more about miles and points?
Subscribe to email updates
 or check out 
our podcast
 on your favorite podcast platform.