UPDATE: As of 2/13/2015 there are mixed reports as to whether Barclaycard has reprogrammed their computers to reject applicants who already have existing US Airways cards. At least one applicant reported receiving a computer reply that they already had "max # of this product." However, other reports on FlyerTalk indicate additional cards are still being granted via instant approval or soon thereafter. I recommend monitoring the relevant FlyerTalk thread here for the most recent data points and following the steps in this post below before applying.
================================
Barclaycard will soon cease issuing the US Airways Mastercard to new users, since Citibank will be the official U.S. bank for American once their merger with US Airways is complete. However, Barclaycard will be allowed to continue to service their existing US Airways cardmembers with a new American-branded card called the AAdvantage Aviator.
This has led Barclaycard to get rather aggressive in trying to acquire new US Airways cardmembers while they still can before their window closes. In recent months, we've seen the standard offer on the US Airways Mastercard rise to 50,000 miles with no spending requirement — all you have to do is use the card one time. There's also an offer available for 50,000 miles plus an additional 10,000 miles on the first anniversary of keeping the card, but there's been recent reports of that offer only working for the US Airways Preferred members so it depends on how much risk you want to take when applying. (By the way, if you recently signed up for a US Airways Preferred Status Trial as part of the #30ktoNowhere mileage run, you are definitely eligible for the Preferred offer).
Either way, it's a pretty terrific signup offer and I wanted it. I'm a lazy, overentitled American, and if I want it, I should be able to have it, right?
Except I had one problem.  I already have a US Airways Mastercard.
Now, I could cancel my current US Airways Mastercard and then reapply. That's exactly what my friend did last week. He cancelled his current card, then reapplied for a new one 3 days later. Instant approval.
But I didn't want to do that because my current US Airways Mastercard is an old version (which is no longer available) that gives me 10,000 bonus miles on every single anniversary. Barclaycard has already announced that they intend to keep that perk going even after the merger and I don't want to lose that benefit, which I would if I cancelled the card.
That meant if I wanted the signup bonus again, I'd need to somehow get Barclaycard to approve me for a second US Airways card while I was still holding the first one.
This actually used to be super easy. In the not too distant past Barclaycard would approve you for as many cards as you wanted, even on the same day. But they've tightened up considerably in the last couple of years and now it can sometimes be difficult getting any new Barclaycard cards, especially if you already hold a Barclaycard that you haven't used very much or very long.
But it's not impossible.
Much of what I'm going to lay out here has been reported on FlyerTalk, but I'm also writing from recent personal experience and from other reports around the web. As with everything we do, some people are more lucky than others, and what works for one person may not work for another every single time. The best we can do is to maximize our chances. So while I believe your odds of success will improve if you take the following steps, as the kids say, your mileage may vary.
The key to getting approval on a second US Airways card is to get Barclaycard's computers to give you an instant approval when you apply. Their computers are not programmed to check if you already have a US Airways card, so if you satisfy all their other requirements, you're home free. But their human agents are programmed to check, and they will most likely notice your existing card and deny your application.
That means if you don't get an instant approval but instead your application goes "pending," you're likely dead in the water. Calls to Barclaycard's reconsideration line usually fail if you already have the card you're applying for.
So how can you maximize your chances of an instant approval (or of being reapproved for a recently cancelled card as my friend was)? By following these 3 steps before applying…
1) Wait six months between Barclaycard applications… if you can.
While there's some recent reports of 90 days being long enough between Barclaycard applications, there appears to be a much higher success rate for folks who waited at least 6 months. Obviously if you applied recently for a Barclaycard, you probably can't wait that long since the US Airways card is likely to be gone in a lot less than 6 months from now. So in that case, you may want to take a stab at it at 91 days out since it'll probably be your last chance.
But if you applied 4 or 5 months ago, it may be worth waiting to hit that 6-month mark to go for your application (though there's no guarantees that the card will hang around that long, so you're taking a risk). Personally, I waited 9 months after my last Barclaycard approval, but 6 months should be enough.
2) Lower your existing Barclaycard credit lines.
This sounds counterintuitive, right? Based on the conventional wisdom about applying for credit cards, most people think you should never close or reduce a credit line unless it's to avoid an annual fee. That way you can move existing credit lines around when dealing with reconsideration.
I've disputed this idea in general in my Devil's Advocate column on Travel Codex (see "Close That Unused Credit Line!"), But in this particular instance, we're not going to be calling reconsideration because we can't have any humans involved. We need the computer to give us a credit line, and the best way to do that is to reduce our already-existing Barclaycard lines so that the computer has available credit that it still wants to give us.
So call Barclaycard and tell the representative that you want to reduce your credit lines. If they ask why, you can say you're trying to reduce your overall open credit, or you're about to apply for a mortgage and your bank wants you to reduce your existing credit lines. If you don't want to call, some folks have done it by secure message on the Barclaycard website, but my phone representative was more than happy to knock down my credit lines on both my existing US Airways and Lufthansa cards and the reductions took effect instantly.
3) Put some spend on your existing Barclaycard cards.
This doesn't have to be thousands of dollars, so no need to go out and buy a boat. But Barclaycard likes to see some activity on existing cards. So spread the wealth a bit.
It also doesn't have to be months worth of activity (and probably can't be since we're likely close to the end of the US Airways card). I put about $750 in total on my existing cards for a little more than a month, and that was enough.
Finally, if all else fails…
If you try all these steps before pulling the trigger, you'll have a decent chance at an instant approval. But if you get unlucky and your application goes pending, the best advice at the moment is to NOT call reconsideration. There's a few reports of folks eventually getting approved even after their application was flagged as pending. But those people appear to have been successful because they did not call reconsideration and may have avoided having a human being put eyes on their existing Barclaycard accounts.
Keep in mind that, as always, the worst that can happen if you apply and get denied is that you'll have an extra inquiry on your credit report (which, by the way, is usually TransUnion with Barclaycard so even that's not such a big deal). So follow the steps, give it a shot, and see if you can bank another 50,000 miles while you can! Good luck!

Loading ...
Other Recent Posts From The "Bet You Didn't Know" Series:
Dining bonuses without expensive dining checks
What to do when British Airways doesn't show partner availability
Never miss an Amex Sync deal with Offersbot
Find all the "Bet You Didn't Know" posts here.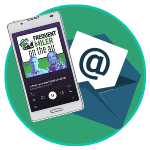 Want to learn more about miles and points?
Subscribe to email updates
 or check out 
our podcast
 on your favorite podcast platform.