Just because this series is called "Bet You Didn't Know" doesn't mean I personally know everything. Oh, sure, I might have a few little-known tips that I enjoy sharing with Frequent Miler readers from week to week. But there's plenty I don't know. In fact, there's so much more I don't know than I do know that one could easily fill an entire encyclopedia with all of it. They could call it the "Encyclopedia of Things the Devil's Advocate Doesn't Know."
But one of the reasons I love writing here at Frequent Miler is that often a reader shares a tip on the blog that I personally didn't know, but which I can pass along to everyone. Also, when someone does that it means a lot less work for me, which is another reason I love writing here at Frequent Miler.
So today's "Bet You Didn't Know" tip is from Mike, a Frequent Miler reader who gets a major hat tip for sharing this simple way of looking up Priority Pass guest benefits.
Priority Pass lounge membership.
Most Frequent Miler readers know about the Priority Pass lounge system, but for those who don't, Priority Pass is a membership program which provides access to over 900 affiliated airport lounges around the world. Most of these are third-party lounges separate from the Big 3 domestic airlines, but Priority Pass still has decent coverage at major airports in the United States and excellent coverage internationally.
You can purchase a Priority Pass membership outright for $399 a year, but most folks in the points and miles game get their memberships via premium credit cards. For instance, all versions of the Amex Platinum card (the personal, the business, the Mercedes Benz, the Ameriprise) include a Priority Pass membership. The Citi Prestige also has a Priority Pass membership, as does City National Bank's Crystal Visa Infinite card.
Any of these cards will get you access to every Priority Pass lounge, so at first glance they all seem identical. But interestingly, all of them have rather different guest policies…
The Amex Platinum Priority Pass charges $27 per guest on each visit.
The Citi Prestige Priority Pass gives free entry to the first 2 guests on each visit (or your immediate family), then $27 for each guest thereafter.
The CNB Crystal Visa Infinite Priority Pass allows unlimited guest access for free.
Obviously each credit card issuer has negotiated a slightly different deal with Priority Pass. So if you travel regularly with extended family or colleagues and use Priority Pass lounges, it's important to know exactly which guest policy applies to your membership.
But there's one little problem.
The Priority Pass membership cards themselves don't indicate which credit card account they're connected to. So if you have more than one of the above premium credit cards (as many Frequent Miler readers do) and you've long ago misplaced the original letters that came with each Priority Pass membership, you may have lost track of which card has what guest policy.
Fortunately, there's a way to look up the Priority Pass guest policy and it comes to us thanks to Mike, our aforementioned Frequent Miler reader. A few months ago I wrote a post about how you can enter many Priority Pass lounges without the membership card by using a digital card on your phone. In the comments of that post, Mike kindly pointed out this valuable tip…
He's 100% correct. If you sign into your Priority Pass account at prioritypass.com, you'll see the following main screen…
On the right side of this screen is the guest policy language, which will differ depending on which premium credit card is attached to your Priority Pass membership. The above image is from my own Amex Mercedes Benz Platinum Priority Pass membership, so it correctly notes I'll be charged $27 per person per visit for all guests.
However, when I sign into the Priority Pass associated with my Citi Prestige card, the main screen guest language changes to this…
This language is a little less specific than the Amex language, but what it's trying to convey is the Citi Prestige guest policy that the first 2 guests will be free and guests beyond that will be charged at a rate of $27 per person per visit. It'd be nice if they clarified that a bit more on this screen, but if you see this language, that's what it means.
When I sign into the Priority Pass associated with my City National Bank Crystal Visa Infinite account, the guest policy is very simple…
I have unlimited guest visits with this CNB-related membership, so I only see the one line about "unlimited inclusive member and accompanying guest visits." I'll never be charged a fee for guests with this membership, even if I bring the entire Brady Bunch with me. Even if Marcia is a pain.
Find your lounge guest history as well.
Finally, if you're ever wondering which Priority Pass account you might have used on a lounge visit, Mike points out that you can find a record of all your visits under the "My Visits" tab of the main screen. Click on it and you'll see not only all the lounges you've visited with that membership, but how many guests you had with you and how many were charged a fee.
So if you have multiple Priority Pass memberships and you've lost track of which one is which, or simply can't remember the guest policies that relate to each membership, just sign into your Priority Pass account online and look for the guest language on the main page.
Thanks again to Mike for his help, and if you've got your own tips you'd like to share with Frequent Miler readers, don't hesitate to comment or drop us a line anytime!

Loading ...
Other Recent Posts From The "Bet You Didn't Know" Series:
•  A New Way To Book Flights Directly From ITA Matrix
•  When Is The Best Shopping Portal Rate Not Really The Best?
•  Last Chance To Transfer Points Between Bank of America and Fidelity
Find all the "Bet You Didn't Know" posts here.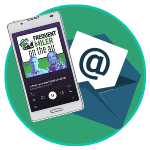 Want to learn more about miles and points?
Subscribe to email updates
 or check out 
our podcast
 on your favorite podcast platform.