Update: This post includes offers that were valid at the time of publication, but have since expired. Please click here to see the best offers currently available.
Amex business cards are still a bountiful source for signup bonus points. Unlike the Amex personal cards which are now limited to just one signup bonus per lifetime, the business cards normally only require that you have not held the same card in the last 12 months. This effectively means you can alternate between a new Amex Business Gold and Enhanced Business Platinum (offer expired) card every year and pick up a signup bonus each time.
However, recently there's been a couple of ways to get those business signup bonuses without any wait between cards at all.
The first option is somewhat recent and I can report about it directly from my own successful personal experience with both Amex Enhanced Business Platinum (offer expired) and Gold card offers. The second option has been discussed a bit on the comments of this blog and elsewhere in the past, but I'm including it here as well for those who might not already know about it.
Amex Offers on your online account.
A few months ago Will at Doctor of Credit wrote about a signup offer for the Enhanced Business Platinum card that I had personally found in my Amex Offers. The bonus was 75,000 Membership Rewards points for $5,000 in spend, which was pretty good since the standard offer on that card is 40,000 points. But it was also the first time either of us had seen a targeted offer directly in an existing Amex online account.
The really intriguing part of this particular offer was that even though I had literally just canceled an Amex Enhanced Business Platinum card about 10 days beforehand, this particular targeted offer didn't include any 12 month language restriction.
I like having an Amex Platinum and I had been considering signing up for the Ameriprise version of the Platinum personal card with 25,000 bonus points (now expired) to get a Platinum back in my wallet. But since I was presented with this particular opportunity and I knew it would be useful to test it out, I went ahead and applied for this Business offer without the 12 month rule, and was instantly approved. Note that I used a different business than my previous Enhanced Business Platinum card (offer expired)(I have several legitimate businesses) but the identical personal information which was already pre-filled in the application from my Amex login.
Some folks felt I wouldn't get the bonus points regardless of the lack of 12 month language since I had held the identical card just a few weeks before. But I'm pleased to report that, after completing the required spend, the 75,000 bonus points appeared in my account within a day.
So, all's well that ends well, right?
Except here's the really interesting part…
A few days after I applied, when I went back into my Amex Offers again, I found another targeted offer. This time it was for an Enhanced Business Gold Rewards card with 75,000 additional Membership Rewards points for another $5,000 spend.
The 75,000 bonus points is the standard offer on the Enhanced Business Gold Rewards card, though it usually requires a $10,000 spend instead of just $5,000. But again, this offer did not have any 12 month restriction for previously holding the same card. In my case it wouldn't have mattered since I've never had this card, but I'm quite certain based on my experience with the Platinum that I would have gotten the bonus regardless.
There's also the targeted mail offer.
Greg the Frequent Miler has previously written about a way to get yourself targeted for Amex business cards. This is helpful in general because often the best signup offers are the targeted ones. In the last year we've seen targeted offers on the Amex Enhanced Business Platinum reach as high as 150,000 points (offer expired) (albeit with a high spend requirement).
Now, if you already have an Amex business card or have had one in the not too distant past, you may have been ignoring these mailed offers even if you received them under the assumption that you wouldn't qualify for the bonus so soon after previously having the same card. Like many other credit card companies, Amex is not known for being terribly judicious about who is "targeted" by these targeted offers, and it's entirely possible they might send a targeted offer to someone who isn't even eligible for the card they're being targeted for.
But if you're fortunate enough to receive one of these targeted offers, it's extremely important to open it and read the terms and conditions carefully. This is because it's been reported that targeted Amex business offers in the mail do not always have the 12 month restriction in them.
So if you look carefully through the T&C's and don't see the 12 month language or something similar, then guess what — you just hit the jackpot. You should be able to apply for that offer and receive the signup bonus even if you just had the card. Of course, make sure you save all the paperwork so if Amex doesn't come through with the bonus, you have the terms and conditions in writing to argue with them.
Oh, and one last very important note: when I was speaking at the Ann Arbor Art Fair DO last weekend, I got a report from a fellow attendee who had received a targeted mail offer without a bonus restriction on a personal Amex card. While I believe this is much less common than the business offers, it still demonstrates that it pays to open every one of those mailings from Amex.

Loading ...
Other Recent Posts From The "Bet You Didn't Know" Series:
3 ways to automate multiple Twitter accounts for Amex Offers
Automatically Register for Only the Amex Offers You Want
How to NOT Break the Walmart MoneyCenter Express
Find all the "Bet You Didn't Know" posts here.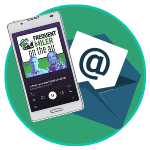 Want to learn more about miles and points?
Subscribe to email updates
 or check out 
our podcast
 on your favorite podcast platform.