For those who may have missed the announcement earlier this week at Travel Codex, this will be my final "Bet You Didn't Know" column here at Frequent Miler, as I'm moving to work full time at The Points Guy.
I've already written about the hows and whys in that announcement so I won't say it all again here. But I do have to take a moment to talk about the man who has become a sounding board, a confidante, and a true friend to me — the creator of this blog, Greg The Frequent Miler.
Like many of you, Frequent Miler (the blog) was the place where I first discovered one could earn points and miles on credit cards without spending any money. At the time, it didn't even have a name – only later was it deemed "manufactured spend" – but Greg was at the forefront of how to do it, breaking news on Vanilla Reloads and Bluebird long before anyone else. And he had the info first because he was willing to actively experiment and probe and push to find the loopholes on deals and systems.
This might sound ridiculous, but to me, Greg was mythic. Here was a guy who had the guts to try anything just to see if it worked (anything legal, at least). He would do things I wouldn't even consider. And he'd succeed! As far as I was concerned, he was a hero. Seriously.
So can you imagine how it feels when your hero sends you an e-mail out of the blue?
When Greg wrote to tell me he was a fan of my "Devil's Advocate" column, I literally jumped out of my chair. Here was the guy I thought the world of telling me he liked what I did. But then when he asked if I would consider becoming the first outside writer to post regularly on Frequent Miler alongside him… I just can't describe how special this was to me, or how much I appreciated the leap of faith it takes to let someone write under the banner you've created and nourished for years and years.
So Greg, I thank you… for your confidence in me, your trust, and your friendship. And I hope you'll still e-mail me from time to time. Because even two years later, I still get excited when I see a message in my inbox from The Frequent Miler.
But we can't leave without a few last helpful tips, can we? So for our final hurrah, let's do our semi-annual update to the "Bet You Didn't Know" archives. Since information changes so often in the points and miles world, it's important to occasionally revisit posts and share the most current info.
Another bulk fare language note.
In November I wrote "Cracking the Bulk Fare Code! How to Tell When a Flight is a Bulk Fare" outlining a way to determine when a travel portal, such as Chase's Ultimate Rewards Travel or Citibank's ThankYou Travel Center, was selling you a bulk fare flight instead of a published fare. The difference between the two can cause redeemable miles and even elite qualifying dollars to credit much differently than you might expect.
In that post, I mentioned that when it comes to American tickets, the key word to search for in the fare rules text is "wholesale." However, there's one exception to that. As it happens, on flights to and from Hawaii, the bulk fare language is slightly different. So if you're looking at a Hawaii flight, the term you'll want to search for instead is "bulk fares."
If you find that term in the American Hawaii fare rules, you're looking at a bulk fare, which you may or may not want. So be wary!
Due dates on Amex charge cards.
Last week's post on the upcoming change to the due date system on Amex charge cards garnered several comments with useful data points. And in combination with additional reports from our friends at Doctor of Credit, it seems clear now that Amex intends to shift their charge card due dates to 25 days out from the previous closing date instead of the current 15 days.
This change is coming in conjunction with the elimination of the extra time Amex used to grant on its charge cards, whereby you could pay up until the next closing date without penalty. Keep in mind the new due dates are still a few days earlier than the next closing date, so if you previously considered the closing date to be your due date, you will still need to pay slightly earlier than before. It's also super important to check any payments you may have planned or already set, especially in January when the new rules go into effect, to be certain they conform to the new due dates.
As I noted in the original post, I was hopeful Amex would lengthen this payment period, so I'm glad to see the change happening. However, Amex has still not actually made any sort of announcement about these due dates moving. The only way we know is from community data points. Amex ought to do better in communicating changes to their customers.
The LaGuardia shortcut and the demise of RadPad
During the long Thanksgiving weekend I wrote about "The Secret Shortcut to LaGuardia's Amex Centurion Lounge" and mentioned that this unpublicized routing could get you to the back entrance of the United Club as well.
Well, as Frequent Miler reader Phil noted in a comment on that post, the same shortcut will also get you to the Air Canada Maple Leaf lounge, which is part of the Priority Pass network. Just go a few more yards down the hallway and you'll find yourself there!
And finally, my September post covering recent important news raised questions about whether RadPad's service that allowed people to pay their rent with credit cards was liquid enough to stay afloat.
At the time the company made assurances that all was well, but it turned out that at least it must not have been profitable for them because on October 13th the RadPad rent payment service ended. Since that announcement I haven't heard of any problems with existing RadPad checks, but if you're still holding onto one, you absolutely shouldn't be. Deposit it today.
And the others…
Even after I'm gone, if there's any new info we should know about other recent "Bet You Didn't Know" posts, such as the ones listed below or others from the past, please let us know in the comments below as I know Greg wants to keep everything as current and up-to-date as possible.
I also want to thank Shawn Coomer, our Senior Editor here at Frequent Miler and the owner of his own terrific blog Miles to Memories, Anita our Lab Manager, and the rest of the team. I'll miss you all!
Finally, a million thanks to all the fantastic readers here at Frequent Miler. You're an extremely smart bunch and you always kept me on my toes, which was a good thing! Thanks for being so welcoming to me during my time here. Safe travels, everyone.
"Two Quirks in the Hyatt Changeover That Might Be Mattress Run Worthy"
(90% of poll respondents learned a new tip)
"A Quicker Way to Finish Draining Prepaid Gift Cards at Amazon"
(59% of poll respondents learned a new tip)
"Is Chase Using Bulk Fares for Sapphire Reserve Tickets? Does It Matter? (Hint: Yes!)"
(83% of poll respondents learned a new tip)
"Left an Item on the Plane? Use the Online Automated Lost and Found"
(90% of poll respondents learned a new tip)
"JetBlue Blue Flex Fares Are Cancelable, But NOT Refundable"
(72% of poll respondents learned a new tip)
"How To Look Up Your Priority Pass Guest Policy Online"
(90% of poll respondents learned a new tip)
"A New Way To Book Flights Directly From ITA Matrix"
(86% of poll respondents learned a new tip)
"When Is The Best Shopping Portal Rate Not Really The Best?"
(33% of poll respondents learned a new tip)
"Last Chance To Transfer Points Between Bank of America and Fidelity"
(62% of poll respondents learned a new tip)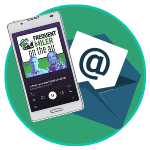 Want to learn more about miles and points?
Subscribe to email updates
 or check out 
our podcast
 on your favorite podcast platform.