A few weeks ago my flight was delayed out of LAX, which of course meant I had extra time to engage in my favorite activity – people watching. Seeing folks from different walks of life intermingle with each other is fascinating to me, and so I made myself comfortable on the floor next to one of the 3 available power outlets in LAX Terminal 2 and occupied myself with a bit of real life Americana.
No, of course I'm totally kidding. The last thing any of us want to do during a flight delay is spend time with the ham 'n' eggers in the terminal who only fly once a year and think their baby screaming at 120 decibels is just the cutest thing you've ever seen in your life.
When my flight is delayed, I'm looking for the nearest lounge, and I mean stat. For me that usually means an American lounge since I get free access with my Citi ThankYou Prestige card. But in this case, I happened to be flying Virgin America which doesn't have access to any American lounges (and I wouldn't get access without an American boarding pass anyway).
However, this is where another feature of certain credit cards can really make a difference.
Priority Pass to the rescue?
As many of you already know, Priority Pass is a network of over 900 lounges around the world, many (but not all) of them independent of the major carriers. You can buy an annual subscription to Priority Pass, but it also comes free with higher end credit cards such as the Citi Prestige, the Amex Platinum, the City National Bank Crystal Visa Infinite, and a few others.
Personally, I think Priority Pass gets a bit of a bum rap. Yes, their coverage in the U.S. isn't anywhere near as good as it is overseas, where a Priority Pass card recently got me into a Swiss Business Class lounge in Zurich. But even during domestic flights, when you're not on one of the Big 3 carriers, you can often find a Priority Pass lounge in the secondary terminals of many major U.S. airports.
In this case, that's exactly what I found – the Virgin America Loft in Terminal 2 Terminal 3 at LAX is part of the Priority Pass network.
My day was saved! Except when I looked in my wallet… I realized I didn't have my Priority Pass card with me. It was probably sitting unopened in the pile of mail on my desk at home.
It would appear I was doomed to several hours of unintelligible P.A. announcements and $12 over refrigerated sandwiches in the main terminal.  Except…
Your smartphone as an entry card.
Priority Pass offers apps for iPhone, Android, and even the old school Blackberry, which means if you have a Priority Pass account, you can get access to lounges even if you haven't activated the physical card yet. You can do this by using a digital card that's available via the app.
Now, to get this digital card, you'll need to register an online account. When you first load the Priority Pass app, you have the option to create an online account using your membership number. Of course, if you don't know your membership number because you don't have your physical Priority Pass card with you, this would seem to be a Catch-22.
But it isn't. Because as the app itself notes, your membership number is available on any e-mails you've previously received from Priority Pass.
So just perform a simple search of your e-mails from your smartphone for any messages from Priority Pass, which will include your membership number. Once you've found the number, you can create an account and then select the option to get "My Digital Card" from the main menu on the right side of the screen.
The digital card that appears will have a QR code that's readable by most Priority Pass lounges (and also saveable as a permanent digital card in apps such as Apple Wallet). Hand the lounge agent your smartphone for scanning and you'll have immediate access to the lounge.
But what if I can't find an e-mail?
It's always possible you won't be able to track down your membership number. Perhaps one was never sent to you, or maybe you don't have access to e-mails at the moment. Don't worry, there's still a way to get the number without leaving the airport.
If you tap on the "Contact Us" link in the Priority Pass app, you'll find both domestic and international customer service numbers available 24 hours a day.
The agents at these desks can look up your membership number via your name and member date (which would be roughly the month you applied for the related credit card). Even if you don't know the exact date or have multiple accounts, in my experience they seem to be able to retrieve at least one of your membership numbers without too much effort. And once you've got a membership number in hand, it's just a matter of creating your online account and generating your digital card via the app.
Yes, Priority Pass lounges aren't always the greatest in the world, and yes, this might not be the world's most groundbreaking tip. But if it's the difference between having a peaceful place to work and that kid who insists on kicking the back of your chair at gate 33 every 10 seconds, a Priority Pass digital entry card might very well end up being the most valuable lounge access you'll ever have.

Loading ...
Other Recent Posts From The "Bet You Didn't Know" Series:
How To Change Credit Card Due Dates Online at Each Bank
New(ish) Rules on Hyatt Free Night Certificates
Unlimited Ticket Changes on Virgin America For $25
Find all the "Bet You Didn't Know" posts here.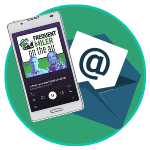 Want to learn more about miles and points?
Subscribe to email updates
 or check out 
our podcast
 on your favorite podcast platform.