Last week I wrote about some of the tools I use to quickly find and book mistake fares (see "Bet You Didn't Know: A Toolkit for Chasing Mistake Fares). It was a popular post, but a number of folks mentioned that subscribing via text to every tweet from @TheFlightDeal and @FareDealAlert can mean getting a lot of daily texts, many of which might not be relevant.
Personally, I like receiving every deal those guys find, even if many of them don't directly apply to me. Sometimes seeing a routing can give you ideas that you might not anticipate. For instance, I live in Los Angeles but travel to New York often enough that mistake fares from both the East and West Coasts, and even the middle of the country, can be potentially useful to me.
However, I realize not everyone is insane like me. Actually, I like to think that I'm insane in my own special way, but that's probably part of my insanity. In any case, it's certainly fair to ask if there's a way to cull all the texts down a bit.
So with thanks and hat tips to several commenters from last week, including Carlos, Yihwan, and a guest, today we'll cover exactly how to filter all those mistake fares so you can be alerted immediately to the deals only for your hometown, or a specific airline, or both.
First, do not panic!
The method I noted last week to turn on mobile notifications from Twitter is the simplest way to get informed of these deals. Today's procedure is slightly more complicated, but far from difficult. Also, while this technique involves using an RSS feed, you do NOT need to setup or maintain an RSS reader of any sort. We're only using the RSS feed as a source, so if you're not an RSS expert, don't worry, you don't need to become one anytime soon.
What you will need is to sign up for a free service known as "If This Then That" (or IFTTT for short). You can find it at www.ifttt.com. Signing up takes about 10 seconds and requires nothing more than a username, an e-mail address, and a password.
IFTTT is a great little tool that allows you to create what are technically known as "conditional statements." A conditional statement is just what it sounds like — it's a statement that if one action occurs, then another will occur as well. The most prominent conditional statement in my own life goes something like "if I continue to eat all this chili, then I will continue to get as fat as an elephant."
In this case, we're going to use IFTTT to set up a conditional statement using the RSS feeds from The Flight Deal and Fare Deal Alert. We're going to tell IFTTT that if The Flight Deal posts a deal involving our hometown or airline, then send us a text.
Setting up IFTTT for a specific city or airline
Once you've signed up for IFTTT, you'll want to click on "My Recipes." Recipes are what IFTTT calls their conditional statements. Click the blue "Create a Recipe" button on the right to start building your Flight Deal or Fare Deal Alert recipe.
On the page that follows, when you click on the blue word "this" in the words "if this then that" IFTTT will ask you to choose a "trigger." A trigger is just the "if" part of your conditional statement.
There's about a gazillion possible triggers, but the one we're looking for is the RSS feed, which is labeled with the standard internet Feed Icon. If you don't know what that looks like, it's an orange square with white radio waves and labeled "Feed."
Click on the Feed Icon and IFTTT will ask if you want to be alerted for every new feed item, or if you want to filter what you receive. Since we're trying to restrict our texts, we want to click on the "New feed item matches" box.
Here's where we get to decide what we want to see. If you live in New York and only want fare deals from there, you can enter "New York" into the keyword box. If you have Diamond status on Delta and only want to fly Delta, enter "Delta." You can put anything you want in the keyword box, and IFTTT will only alert you when fares are posted with that keyword.
But what about both?
Of course, some of us want to filter our alerts even further, perhaps by both city and airline at the same time. Unfortunately IFTTT doesn't support search operators or complex search terms (such as "New York AND Delta") but there's a way around this. Luckily both The Flight Deal and Fare Deal Alert provide separate RSS feeds by city, which we can use to our advantage.
If we want all the Delta fares from any city posted on The Flight Deal, all we have to do is type "Delta" in the keyword box and add "www.theflightdeal.com/feed/" (without the quotes) in the Feed URL box. Note that for both The Flight Deal and Fare Deal Alert, you can see their webpages in an RSS feed by simply adding the word /feed/ to the end of the URL.
But if we only want to see Delta flights to or from New York, we'll keep Delta in the keyword box but change the URL to only use The Flight Deal's NYC feed…
You can find all the various city feeds on The Flight Deal and Fare Deal Alert's websites under the "Flight Deals" tab at the top left of their main pages. Just don't forget to add /feed/ to the end of the URL when you enter it here on IFTTT.
Once you're finished with your filtering and RSS choices, click the blue "Create Trigger" button and IFTTT will confirm your choices.
And now it's time for Then.
The hardest work is done — the rest is easy. All we have to do is tell IFTTT how we want to be alerted when a fare post hits that matches our filters. In other words, the "then" portion of our recipe, which IFTTT calls "actions."
Click on the blue word "then" in the main "if this then that" text and you'll be given a list of options for actions. As I mentioned last week, my personal preference is to receive alerts by text, as I find that's the fastest and easiest way to get them to my phone. But you can choose any way you want to be alerted — text, e-mail, iPhone or Android notification. Even a Facebook post, though I'm not sure how that would be useful here. Of course I believe Facebook is destroying the fabric of the universe, so I'm probably not the best person to ask on that one.
Whatever method you choose, just pick it from the Actions menu. Most of the choices are self explanatory, but for texts, you'll want to choose the dark green "SMS" icon.
The very first time you choose an action, you may be prompted to "activate the channel." This just means setting up your cell number or e-mail for use on IFTTT. The prompts are very easy to follow, so I won't spell them all out here. For SMS texts, it's the usual process of having IFTTT send you a text with a PIN to be certain you're trying to set up your own cell phone and not someone else's.
Once you've done that and selected "Send me an SMS," you can customize the format of the text you'll be receiving. Usually the default settings will be fine.
Click on the blue "Create Action" button and you'll be at the final step, which is confirming everything you've done on one screen…
All you have to do is click on that final blue "Create Recipe" button and you're off and running!
If at any point you want to alter the settings on your recipe — either to filter a different airline or city or to change where you want the alerts sent — click the edit button (it looks like a pencil) on the main "My Recipes" page and you'll be able to change anything you need. You can also create multiple recipes for different cities and airlines and have them all running at the same time.
The one danger if you're filtering airfare alerts is that when a big mistake fare hits that doesn't conform to your filters, you won't get the message. For instance, if you had our example filter in place, you wouldn't have gotten alerted about last week's American Airlines mistake fare from Washington to Beijing because it wasn't from New York and it wasn't on Delta. But if you don't live anywhere near Washington and don't want to be bothered with a positioning flight, then you can safely use IFTTT to filter out anything that isn't useful to you.

Loading ...
Other Recent Posts From The "Bet You Didn't Know" Series:
A Toolkit for Chasing Mistake Fares
3 Ways to Earn the Most Points at Disney
Waitlisting for United First or Business Class
Find all the "Bet You Didn't Know" posts here.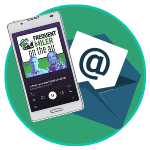 Want to learn more about miles and points?
Subscribe to email updates
 or check out 
our podcast
 on your favorite podcast platform.