Despite the recent untimely death of Bluebird and Serve for many Frequent Miler readers, it can sometimes still be useful to purchase Visa or MasterCard gift cards at Staples. For those with a Chase Ink or an Amex Simply Cash, being able to acquire a gift card that can be utilized anywhere for 5x Ultimate Rewards or 5% cash back can still be worth some time and effort.
However, the long-running "gift card rebate-of-the-week" promotion at Staples remains the best time to buy gift cards and get the office supply multiplier. Fortunately Staples seem to offer this rebate practically on a monthly basis.
The $20 rebate offsets the fees for either two $200 cards ($13.90 in fees) or three $100 cards ($17.85 in fees), thereby making the extra points essentially free. Even if you simply use the purchased gift card for everyday spend as an alternative to your usual 1x earnings card, that's 4x extra for any purchases you would make anyway.
Sometimes the rebate is for buying $300 in Visa cards and sometimes it's for $300 in MasterCards. There's no rhyme or reason to which one it will be in any given week — it just seems to depend which version Staples and the gift card issuer feel like promoting.
Similarly, the rebate has always been either a $20 Visa prepaid rebate card or a $20 Staples gift card, but you couldn't choose between them. The "rebate of the week" specified which one you got and that was that.
Except…
A new Staples rebate choice?
During the most recent rebate week of January 3rd-9th, the advertised rebate was a $20 Visa Prepaid Card when purchasing $300 worth of Visa cards. As always, the rebate can be submitted online via www.stapleseasyrebates.com in a matter of minutes. Just type in the Easy Rebate ID from your receipt and your rebate is found instantly.
But this time when I went to submit my rebate, I got the following screen instead:
As you can see, Staples is now offering the option of either a $20 prepaid Visa or a $20 Staples gift card, even though the rebate itself only specifies a Visa prepaid card. The rebate amount remains at $20 regardless, but it's up to you as to which one you prefer.
But why consider a Staples gift card?
You might be asking how a gift card restricted to Staples and staples.com would be better than a Visa prepaid card that can be used anywhere. Well, there are three reasons you might consider the Staples gift card…
There's a fairly decent resale market for Staples gift cards. You can find the current prices at Gift Card Wiki or Gift Card Granny, but it's usually around 80%-85% of the card's value. So even if you flip the card at $17, you're still covering most if not all of your fees and you get cold hard cash.
The Visa rebate card comes with an expiration date, usually about 6 months. It might not seem like a difficult task to use it up in that timeframe, unless you're dealing with two dozen of these $20 rebates at the same time. Then it becomes a bit more challenging. On the other hand, there's no expiration on the Staples gift card.
The Visa rebate card doesn't have a PIN. So even if your Bluebird or Serve survived Bird Armageddon, you can't load it with the rebate card.
Is this a permanent change?
That's an excellent question, and honestly, I don't know. Staples isn't advertising this option anywhere, but it doesn't seem to be a glitch either. I tried it with several rebate receipts from the same January rebate period and got the same choice each time, so it's definitely available as an unannounced option for the most recent rebate week.
The real question is whether we'll see the same choices in future gift card rebate weeks. My guess is we will, and we might even begin to see it advertised that way. It's entirely possible that Staples decided to beta test this option without announcing it just to be sure the tech was working. This is also the first gift card rebate of 2016, so it might be something Staples has rolled out for the new year.
We could also start seeing higher rebate values if you choose a Staples gift card versus a Visa one. That's entirely speculation on my part, but it could easily be done now that the tech is in place.
Regardless, I think this is a useful option. In fact, I intend to employ it depending on my current level of points "homework." If I'm floating a minimal level of gift cards, then I'll probably choose the Visa option, knowing that I'll have time to burn it before the 6 months are up. But if I've already got a large inventory of gift cards to get rid of, then I'll pick the Staples gift card and plan to quickly flip it to a reseller for cash (or at least know that it won't expire if I don't get to it right away).
In any case, it's always nice to have more choices, right?

Loading ...
Other Recent Posts From The "Bet You Didn't Know" Series:
A Repeatable Companion Airfare Discount with the CNB Crystal Visa Infinite
A Little Noticed Improvement to Google Flights
3 Methods To Transfer Avios Between Iberia and British Airways
Find all the "Bet You Didn't Know" posts here.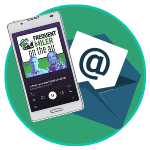 Want to learn more about miles and points?
Subscribe to email updates
 or check out 
our podcast
 on your favorite podcast platform.