Every time I rent a car, it happens.
A day or two after I've returned the vehicle, the rental charge appears on my credit card bill. It's roughly the expected amount, give or take a few bucks that aren't enough to either complain or get excited about.
But then a week or two later, I get that "other" charge…
Somewhere in the thousands of words of rental contract fine print, I agreed to pay a fee for the use of an electronic toll transponder. A few of the more responsible car rental agents will verbally inform you of this beforehand, but most conveniently neglect to mention it. Massive consumer complaints and several class action lawsuits are starting to force some transparency from the car rental companies on this issue, but it's often still standard procedure to not be told.
So when the charge appears, the first question is usually…
What the heck is that amount?
Every car rental company has a different policy on electronic tolls, and those policies change regularly. Some charge a flat daily fee that includes all tolls, but gets billed whether you used any tolls that day or not. Others charge a smaller daily fee and then add the actual cost of the tolls on top of that. The least reputable companies charge ridiculous "administrative fees" for each toll that can increase the cost of the toll by hundreds of times over, so that a $2 toll becomes a $27 toll.
Of course, when your credit card is billed for the tolls, it appears as just one overall charge with no indication as to how they arrived at that amount. Calling the rental company is generally not helpful on this front, as in most cases the rental companies have outsourced their toll charge work to third-party companies.
But with most rental car companies, there is in fact a way to retrieve the complete breakdown of the charge. You can even do it online without having to call anyone.
Which vendor handled your tolls?
There are two separate third-party vendors that handle most rental car tolls. One of them is the Highway Toll Administration (yes, that's really their name) whose systems are known as E-Toll and TollPass. They partner with Alamo, Enterprise, National, Avis, Budget, Payless, and several smaller rental companies.
Their receipt portal is at https://www.htallc.com/ReceiptRequestAgencies.aspx. Choose the button associated with your rental company and you can look up your tolls and fees either by entering the contract number or credit card.
With this set of rental car companies, you're automatically opted into the toll program when you rent the vehicle. Congratulations! No, wait, that's not the phrase I was looking for. I meant to say "tough luck!"
The rest of the majors.
Hertz, Firefly, Advantage, Dollar, and Thrifty contract with an outfit called American Traffic Solutions under a toll system named PlatePass. PlatePass provides an online webpage to retrieve your toll charge breakdown if you've rented from any of these companies. You can find it at https://bill.platepass.com/receipt/receipt.aspx.
Once you've chosen your company from the drop down menu, you'll get similar options to look up your tolls and fees either by entering the rental agreement number and return date, or by entering portions of your credit card number and a broad range of rental dates.
While this second option sounds rather clunky, in my experience it actually works better than expected, and I was able to retrieve the breakdown of charges for the transaction you saw at the beginning of this post, even as much as 6 months after the charge posted…
With PlatePass, the rules for opting in are different depending on the car company. For Hertz, Firefly, and Advantage, you'll be automatically opted into the system the first time you use an electronic toll road during the rental. However, with Dollar and Thrifty, if you don't opt into the PlatePass system at the time of rental and then use an electronic toll road anyway, you'll be lumped in with…
The worst of them all.
Fox Rental Car uses ATS Processing Services, which is basically another name for American Traffic Solutions. But in this case, ATS considers tolls to be "citations" and charges them along with hefty administrative fees.
If you've rented with Fox (or rented with Dollar or Thrifty but used an electronic toll without opting into the PlatePass program mentioned above) you're likely to have gotten socked with a considerable bill. You can look up exactly what they're charging you for by going to https://www.rentalcarticket.com/Login.aspx and entering your info in the widget on the right of the screen.
So how can you avoid these charges?
The advent of electronic toll booths has given rental car companies yet another way to pilfer even more money from customers while making it exceedingly difficult to opt out. A number of jurisdictions don't even provide a way to pay tolls in cash anymore, which means you're stuck with electronic tolls in some form.
The best bet, though inconvenient, is to have your own personal toll transponder and inform the rental company that you'll be using it instead of theirs. For the moment that means you'll need a transponder that matches the region you're traveling to, but Congress has required varying toll roads to standardize their formats by July 2016. That timetable will undoubtedly slip, but eventually you'll be able to use one transponder anywhere you go in the country.
And if you do bring your own transponder but still find an unexpected charge on your credit card bill after your next rental, now you'll know how to look up your charges and dispute them. If you're like me, you'll probably do it angrily. Very angrily.

Loading ...
Other Recent Posts From The "Bet You Didn't Know" Series:
A New and Improved Staples Rebate Option?
A Repeatable Companion Airfare Discount with the CNB Crystal Visa Infinite
A Little Noticed Improvement to Google Flights
Find all the "Bet You Didn't Know" posts here.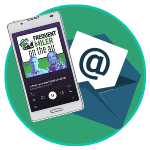 Want to learn more about miles and points?
Subscribe to email updates
 or check out 
our podcast
 on your favorite podcast platform.