A few weeks ago our friend Stefan over at Rapid Travel Chai wrote about the "zombie" CitiBusiness ThankYou card. He speculated that since all online links for the business version of the ThankYou card have either disappeared or result in an error, Citibank might in the near future embark on a relaunch of the card to complement the rest of their revamped ThankYou program.
I think Stefan's got some great points. Citibank definitely could use a strong competitor to the Chase Ink and Amex business cards, especially given how many resources they've plowed into their much improved flexible currency program. And it's entirely possible that online links have been disabled in preparation for a revamp.
However, there's another fact that perhaps argues against that proposition, which is that the ThankYou Business card is definitely still available. In fact, there's even evidence that Citibank may be actively toying with the signup bonus.
So how do you find the CitiBusiness ThankYou card? The old fashioned way — by using your feet.
A rather intriguing 40,000 point signup offer.
About 3 weeks ago I walked into a Citibank branch in New York City. Lying on the table were pamphlets for the usual Citi credit cards, all with the standard offers. But in addition to the usual cards, there was also this…
40,000 ThankYou points for $3,000 in spend is enough to get my attention, especially if you're also holding a Citi Prestige and can get 1.6 cents per ThankYou point for American revenue tickets that actually earn miles as well (though there have been some reports in the past of difficulties in tying together personal ThankYou points with business ThankYou points).
A few of the 3x bonus categories on this card, while not revolutionary, are somewhat interesting as well. Office supplies are better handled by a 5x Ink card and airline purchases can get a 3x multiplier on the Amex Premier Rewards Gold or even the ThankYou Premier. But computer equipment could be useful at a store like Best Buy that sells Visa gift cards (depending on how the transaction codes) and none of the other cards in the ThankYou family offer more than 2x on dining.
On top of all that, there's no annual fee even after the first year, so there might be enough benefits to get some actual use out of this card beyond the signup bonus.
Unfortunately I didn't have time at that particular moment to sit down with a banker and apply, but I grabbed one of the pamphlets to take with me in the hopes of returning to that branch or another one in the near future.
A much less intriguing 20,000 point offer.
About 2 weeks later I was in Los Angeles and decided to walk into a branch with the 40,000 point pamphlet to see if I could apply for the card with that offer. The CSR who worked with me was quite pleasant and competent, but when she brought up the CitiBusiness ThankYou card on her internal computer, the only signup offer that was available was this one…
She called over a manager to see if there was another offer that he could make appear, but the 20,000 point offer was the only one either of them could find. I suggested perhaps there might be a difference between branch offers in NYC and LA, but both of them said all branches had access to the same offers and that there should be no regional differences.
Needless to say, 20,000 ThankYou points is a lot less attractive to me than 40,000, and I declined to apply for the card with the lower offer.
But where did the 40,000 point offer go?
There's a couple of possibilities here, and one potential solution as well. It could be that in the 2 weeks between finding the pamphlet and getting back to a branch, the offer expired or was withdrawn. Or perhaps the NYC branch unknowingly put outdated pamphlets out. Or maybe the personnel at the LA branch are wrong and the offers really do vary in different areas of the country.
In any case, if one were so inclined and wanted to be aggressive about getting this card with 40,000 bonus points, you could apply for the card in branch with any offer and then send a message online to Citibank asking to be matched to 40,000 points based on the pamphlet.
In fact, I would be willing to attempt this myself (and probably should have if I had thought about it at the time), but I've now gotten two Citibank cards in the last month (the AT&T Access More and the ThankYou Premier when it had a 60,000 bonus point offer for about 48 hours a few weeks ago) so I can't do another Citibank card for a while. If anyone would like to give it a shot, feel free to use the image of the pamphlet above in attempting to match, and definitely report back to let us know how it goes.
But in the meantime, the CitiBusiness ThankYou card does have some interesting possibilities.  Even if Stefan is right and the card gets revamped soon, there's a good chance that a new and improved version of the card would be considered a different product and therefore would not require waiting 18 months in order to apply for it again (which is the current Citibank policy regarding repeated signup bonuses).  So keep your eyes peeled at your local Citibank branch and you might find a nice ThankYou Business offer floating around.

Loading ...
Other Recent Posts From The "Bet You Didn't Know" Series:
Online Credit Card Application Status For All Banks
Amex Offers via the Amex Mobile App
Citibank's New Online Bonus Spend Tracker
Find all the "Bet You Didn't Know" posts here.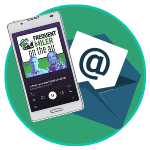 Want to learn more about miles and points?
Subscribe to email updates
 or check out 
our podcast
 on your favorite podcast platform.