Note: On January 8, 2015 American Express sent out a notice to a large number of Bluebird & Serve cardholders informing them that loading capabilities on their accounts had been terminated. For more information, see: Amex kills Bluebird and Serve for manufactured spend
If you use the American Express Bluebird card you may have been (like me) surprised in recent months to find that the "Transfer Money" button had disappeared.  It used to be front and center on the main "My Account" page.  I wrote about this missing button in a prior post: Where did Bluebird's Transfer Money button go?  Fortunately, in the comments of that post, many readers came to my rescue with various ways to get to the transfer money screen.  So, I updated the post with one of those options.  Since updating the post, though, I learned that many people read my initial post, but did not read the follow-up changes. As a result, they thought that the option to transfer money really was gone.  It's not.
Here's how
Here's a simple way to get to the Transfer Money screen (with thanks to several readers):
Log into your Bluebird account
The screen should look like this (assuming you've already registered a bank account):
Make your own button
If you don't want to try to memorize the URL shown above, here's a good alternative.  Create your own button (browser bookmark):
Log into your Bluebird account
Bookmark the current page using your browser's built in bookmark capability.
Then, next time you need to find the Transfer Money screen, simply do as follows:
Log into your Bluebird account
Click the browser bookmark that you created earlier.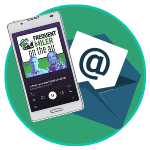 Want to learn more about miles and points?
Subscribe to email updates
 or check out 
our podcast
 on your favorite podcast platform.