Last week, Brex sent a flurry of emails to some cardholders saying that their accounts would be closed on 8/15/22. In the e-mail Brex said that these closures were because they were now "less suited to meet the needs of smaller customers". The closures seemed to be primarily targeted at single-member LLCs and sole proprietorships.
In response, Relay Financial has stepped in with an offer specifically targeting Brex customers that were affected by the shutdown. In order to help "ease" the transition from Brex, former Brex customers will get $150 when they open a new Relay account and deposit at least $1.
The Deal
Former Brex customers get $150 when opening a new Relay account and depositing at least $1.
Bonus requires proof of being subject to a Brex's decision shutdown by forwarding an account closure notice to support@relayfi.com.
Direct Link to Offer (must sign-up through this page in order to receive bonus)
Terms and Conditions
This promotional offer is open to organizations that were notified by Brex on June 16, 2022, that their Brex accounts would be closed due to a shift in company strategy.
Organizations impacted by Brex's decision can register for a new Relay account and receive a one-time Offer of $150 USD.
The Offer will be deposited into an organization's new Relay account once the account has been approved, and the organization has deposited a minimum of $1 into the account. Additionally, organizations will need to prove they were impacted by Brex's decision by forwarding their account closure notice email to support@relayfi.com.
The $150 USD deposits may take up to fourteen (14) days after an organization has deposited requisite funds into their new Relay account and email proof has been sent to support@relayfi.com
Quick Thoughts
I've heard from many folks who have been impacted by Brex's decision to "not support small businesses" (as Relay puts it), including several members on the Frequent Miler team. This had everyone scrambling to figure out a "Brexit" strategy prior to the August doomsday. Now Relay Financial is there to welcome them with open arms.
Relay Financial is a virtual bank that pitches itself as being primarily for small business banking. Accounts have no fees, come with functional ACH and also have the ability to issue up to fifty (!) physical or virtual debit cards.
Getting $150 for a $1 deposit is a no-brainer for anyone with a Brex account closure notice, regardless of whether or not they were actually depending on Brex as their primary small business banking platform. Thanks to Relay for helping us wipe away those tears.
(h/t: DOC)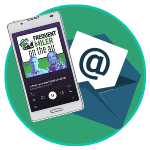 Want to learn more about miles and points?
Subscribe to email updates
 or check out 
our podcast
 on your favorite podcast platform.