Business Class Awards To Europe For Less
The most valuable award sweet spots are the ones that you actually use. With that in mind, today I will be sharing the first post in a series about award sweet spots that will help you get more from your miles when heading to Europe. While you can typically expect to spend between 115,000 and 140,000 miles for business class awards to Europe, today's sweet spot will get it done for 80,000 miles and I've even found a way to drop the fuel surcharges that are usually attached to this particular partner award.
Why Planning Your Trip To Europe Should Involve Korean Air
When planning a trip to Europe I would guess that the first airline that pops into your mind isn't Korean Air. Despite the fact that they don't fly between the US and Europe, you'll have a hard time beating their price for business class awards to Europe. 80,000 Korean Air SkyPass miles gets you round-trip business class between anywhere in the US and anywhere in Europe on their SkyTeam partners, which include Delta, Air France, Alitalia and KLM.
Looking at a typical non-stop business class award between Atlanta and London we can see that while Korean Air charges only 80,000 miles for this trip, Delta charges 140,000 miles for the same round-trip award, though with less onerous fuel surcharges. By booking these flights with Korean Air rather than Delta you would save 60,000 miles but incur an additional $336 in fuel surcharges. Personally, I would buy 60,000 miles for $300 any day of the week, so I pretty much would always use Korean if I was looking to fly Delta to Europe.
This first example gets you to London, which many of you already know charges very high airport taxes. I mean, I get that maintaining a giant clock is as expensive as it is anachronistic but do you really have to pay for it every time you visit London Heathrow Airport? The answer is apparently "yes."
When we start looking at carriers other than Delta, such as Air France or KLM, then the fuel surcharges increase pretty dramatically and the value proposition might shift for many travelers.
As you can see with the above example, traveling on a direct flight from New York to Paris the fuel surcharges can get pretty insane. Yes, you are still only spending 80,000 miles for a round-trip flight in business class, but you are also coughing up quite a bit of cash.
Delta charges more miles to fly on their SkyTeam partners, so the price for flying Air France to Europe on Delta jumps to 170,000 miles for this trip, but they don't pass on the additional $1,000 in fuel surcharges, unlike Korean Air.
With the London example we were saving 60,000 miles by paying about $300 in fuel surcharges to travel on Delta metal. For the Air France flight to Paris we would be saving 90,000 miles by paying $1,000 in fuel surcharges. In the London example you are getting about 2 cents per mile for your $300. In the Paris example you are getting less than 1 cent per mile saved, a very large difference. Different partners charge different fuel surcharges, so it may be worth your time to look into different SkyTeam partners and see which ones offer you the right balance of cost and convenience.
Is it actually possible to completely avoid fuel surcharges with Korean?

As sexy as it is to spend $500 in fuel surcharges on an award ticket, what if there actually was a way to completely drop the fuel surcharges on a Korean Air partner award to Europe? This 2016 Frequent Flyer Book post led me to believe that there actually was a way and that all you had to do to was be willing to route through "Mother Russia" in order to kiss those fuel surcharges goodbye. Which led me to…
Aeroflot has quietly stopped releasing trans-Atlantic space to SkyTeam partners
Russia may not be a beacon for transparency but Aeroflot's decision to not release partner award space on trans-Atlantic flights was so secretive not even their SkyTeam partners knew about it. After checking over all their routes manually for award space between the US and Moscow, with multiple programs (that's a couple days of my life that I will never get back), I went ahead and called Korean Air under the misguided assumption that Korean Air's, Air France's and Delta's online search tools were just not displaying Aerflot space correctly.
Korean air agents were also unable to see any space, in any cabin, on any date on Aeroflot flights from the US to Moscow. I mentioned to her that I was able to see space when using the multiple city tool, but not when looking for round-trip space. Agents have a different search interface than we do when we use the website, so this information was not really of any use to her.
Further, other search tools, like Delta's search engine, were unable to see any space. So not precisely sure what's happening with the multi-city tool being able to see space that no one else can, but I would guess that it is erroniusly pulling up space for paid fares, rather than for award seats.
I requested that the agent do a "long-sell" query, which is a way to manually request a seat, and she said that she had tried that as well and that she could not get any seats to come back confirmed.
Interestingly enough, once you are in Europe, there is plenty of space from European hubs to Moscow on Aerflot, but they are just not giving up the seats for journeys across the pond. This is odd, as historically they have been a reliable, if not all that desirable, option for SkyTeam awards to Europe.
So for now, we are stuck not knowing whether or not flying Aeroflot is a legitimate way to drop the fuel surcharges from a Korean Air Partner award ticket.
As much as I can already hear readers softly weeping about the (temporary?) loss of "Russia's most prestigious airline of SkyTeam" awards to Europe, dry those tears as I have discovered a new way to drop fuel surcharges on Korean Air partner awards.
A New Way to Fly To Europe Without Fuel Surcharges
Korean Air has a wonderfully inclusive award region for North America and we can use that neat little fact to completely drop the surcharges from our award tickets to Europe.
Routing Through Mexico To Avoid Fuel Surcharges
Unlike many SkyTeam partners, Aeromexico does not add fuel surcharges onto their tickets. This is huge, because that means that unlike with all the other airlines we were looking at, we aren't going to be spending all of our hard earned cash on an award ticket to Europe.
Editor's note: This part of the post may be breaking the promise of 'award sweet spots that you'll actually use', but John has uncovered an awesome trick for those willing to do a bit of creative routing.
I called Korean Air to place an award on hold and check on the taxes and fees for the award. Direct flights from Mexico city to Madrid priced out as expected at 80,000 miles for round-trip business class. The surprise came when she told me the taxes and fees, $86.47! I had expected there to be no fuel surcharges but I had also expected them to pass along the $201.10 "Mexican Transportation Tax IVA International" which I was seeing when looking at the ticket via Matrix ITA. Instead, they are seemingly just charging the departure and security taxes on the ticket, which is awesome!
For those of you that actually add up the taxes and fees you will notice that they add up to $86.39. I'm not sure what the additional $0.08 is for but my guess would be currency conversion rounding differences. Of note, as well, is that if I add a connecting flight to the US on an itinerary like this one then I will be paying additional departure, immigration and airport taxes and fees as well. So the total will probably be closer to about $120 when all of those are included. Greg had a great post that goes over finding Delta "Saver Level" award space for domestic flights that should be of use when adding segments from the US to MEX.
If you are able to route through Mexico City and drop the fuel surcharges, then Korean Air now offers the absolute best value in terms of both miles and taxes and fees to Europe.
Considering that Aeromexico flies non-stop from MEX to:
London
Amsterdam
Paris
Madrid
I think there is some really excellent potential for these fuel-surcharge-free partner awards.
Now that you've seen how using Korean Air SkyPass miles to fly to Europe can save you a ton of miles, and we've gone over how to ditch those obnoxious fuel surcharges, I'm sure that you are ready to book you and everyone you've ever met on a little Bavarian summer getaway. Not so fast! Korean Air has unquestionably the most stringent criteria for whom you can use your miles to book a ticket for.
Keeping It In The Family

Unlike most airlines that allow you to use your miles to book an award for anyone, Korean Air has a list of approved relations that you may use your miles to book your ticket for. Even more amazing is that they require you to prove that relationship prior to issuing the ticket. In preparation for booking your Korean Air award you might just want to dust off that birth certificate.
SkyTeam Partner Award Routing Rules
You are allowed one stopover and one open-jaw on your round-trip SkyTeam partner award. The stop can be on the outbound or return but the open-jaw must occur after arriving at your destination and must depart from the same region. You are only allowed 2 connections between your origin and departure (I know it says 3 in the image below but I've never heard of anyone being able to successfully ticket a 3-connection partner award with Korean, if you've been successful at doing this then please let me know in the comments section), so no clever 21-stop routings for those of you who enjoy take-offs and landings.
All Korean partner awards must be round-trip. If you wanted to fly one-way then you will pay the same price as round trip, which is silly, because 80,000 miles is not a cheap price for a one-way flight to Europe.
Earning The Miles
There are several ways to get Korean Air SkyPass miles without flying back and forth to Seoul. Chase Ultimate Rewards points transfer to Korean air at a 1:1 ratio (update: this option will no longer be available as of 8/25/18), as do Starwood Preferred Guest Starpoints, though you get a 25% bonus for every 20,000 Starpoints that you transfer to an airline partner, making the Starpoints ratio effectively 1:1.25 if you do it in 20,000 point increments. Update: with Starpoints being converted to 3X rewards points on 8/18, the transfer ratio becomes 3:1.25 if you do it in 60K increments.
If you are boycotting Chase and Amex there is also a US Bank co-branded Korean Air SkyPass credit card, though the offer on the personal and business cards is usually pretty weak. When I first signed up for a Korean Air SkyPass Club Card (frequent flyer account, not credit card) I received a targeted offer on the Skypass personal credit card for 40,000 SkyPass miles after meeting the minimum spend. That's a pretty decent deal considering that it will earn you 50% of the amount needed for a round-trip award to Europe in business class. So if you are likely going to be headed to Europe in the near future and want to book an award through Korean Air then I would first sign up for a SkyPass account and keep an eye on your mailbox to see if you are targeted for the higher signup bonus.
If you aren't targeted for a higher sign-up bonus then I would focus on getting the miles by transferring from Chase Ultimate Rewards or Starwood Preferred Guest as both programs have higher signup bonuses on their cards and their points are all around much more useful than Korean Air SkyPass miles.
Searching For Award Space
Korean Air has a pretty underwhelming award search tool that seems to not want to actually help you find space. If one of your dates doesn't have space then it will error out and say that it didn't find anything and prompt you to go back and search again. It won't mention which of the two dates you entered didn't have the space, so it's an all-or-nothing approach to award searches.
Use Delta or Air France's sites first to get an idea of the space that might be available, though Delta's "magical mystery award matrix" in conjunction with their married segment logic makes it hard to know if saver space is really available for your dates (for Delta flights). For general SkyTeam award availability you are likely better off searching on Air France than Delta, but both sites feature calendar views which will get you pointed in the right direction. Once you are pointed in the right direction you can head back to Korean's site and start plugging dates into their search engine.
You should note that Korean Air's online search tool cannot see Aeromexico space. So for this award you will need to first search on Delta and then call in to speak with an agent and place the award on hold. The agents were able to see the same award space that I was finding on Delta.
Award Availability

Award availability should generally be pretty much identical to what any SkyTeam partner airline can book, which is to say that award space is generally pretty good shortly after the booking calendar opens and for off-peak travel times. With a little flexibility, and a fair amount of planning, one can even find 3-4 seats in business class to Europe and back.
Specifically for Aeromexico, space is OK for business class awards, but certainly not amazing. They do release partner award seats in business class and, from what I saw, it seemed to open up a bit in the Autumn. As you can see from the screenshot above, 8 days out of a 30-day period had award space in business class directly from MEX to a city in Europe (which I leave to you, my friends, to sniff out). While this month was better than some of the previous months, I was definitely able to find at least a little space to Europe in business class pretty much every month.
Actually Booking The Award
As much as their search engine is not-so-straightforward their booking process is even less so. At first glance it seems like you can just select your flights, hit calculate for the taxes and fees and then when you click the "continue" button it tells you that now you have to call in. Doh!
When you call in to the SkyPass call center at 1-800-438-5000 they should be able to pull up the flights that you found and place them on hold for you, at which time they will issue you a booking reference number. This begins the labyrinth that you must run if you want to be the proud recipient of a Korean Air SkyPass partner award.
Next you need to fill out the SkyPass Award Application form and send that and a scan/picture of your passport to engskypass@koreanair.com. If you are traveling with family members then you will have to complete the SkyPass Award Application as well as the SkyPass Family Registration Application and send both forms, along with all supporting documents, to engskypass@koreanair.com. Once you have sent the email with your documents, then you will need to call them again and from there they should be able to issue the ticket.
An interesting issue that I have run into when working with clients to book these awards is that if you are sending in your documents from a Gmail account and you drag and drop a .jpg into the document it embeds the image. For whatever reason, Korean Air's email servers seem to be blocking emails with embedded content, meaning that they will not receive your email with the documents. The workaround here is to actually use the little paperclip icon to attach the files rather than dragging and dropping the documents into the message. Hopefully that will save all of you Gmail users a couple hours of crying and hair-pulling.
If you aren't quite ready to book your award then Korean Air's award ticket hold can be pretty awesome. They will allow you to hold flights for up to 30 days for Delta Partner flights, 5-7 days for most other partners and a very brief 24 hours for Aeromexico awards. This allows you to lock in your award flights while you transfer in points or just to hold a flight while you look at other options.
I would imagine they have such a liberal hold policy partly because their booking process can be so challenging. Being able to hold the seats for between a week and a month, in the case of most awards, should provide you enough time to locate and send in all of the appropriate forms to prove that you are related to the other travelers on your itinerary.
Recap
Korean Air partner awards represent one of the best options business class awards to Europe. At only 80,000 miles round-trip, their partner awards are significantly cheaper than most other programs. These awards are usually subject to high fuel-surcharges, but by flying with Aeromexico out of Mexico City it is possible to completely drop fuel surcharges on Korean Air partner awards to Europe. Korean Air partner awards have access to Skyteam partner award space, which is usually quite good when booking far in advance or during off-peak times. Korean Air is very strict about whom you can use your miles to ticket an award for and their partner award ticketing process involves both calling in to hold the award and then sending in supporting documents. There are several options for easily earning Korean Air Skypass miles including a co-branded credit card and transferring points from Chase Ultimate Rewards (through 8/24/18) or Starwood Preferred Guest Starpoints. Given that it is now possible to use Korean Air Skypass miles to get to Europe without fuel surcharges, they may well be one of the most valuable programs for booking business class awards to Europe.
Happy Hacking!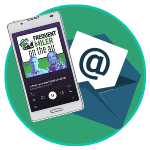 Want to learn more about miles and points?
Subscribe to email updates
 or check out 
our podcast
 on your favorite podcast platform.