At the beginning of the month, Amex announced many new benefits for cardholders in response to the COVID-19 pandemic. One of those benefits was set to be a a Premium membership with the Calm sleep and meditation app. That benefit is now live — all US consumer and corporate card holders can now get complimentary premium access for one year and then half off the following year with auto-renewal. The Premium subscription is ordinarily $69.99 per year, so that's quite a decent freebie to add to all cards.
While I initially found the announcement of this particular benefit to be a sleep aid in and of itself since I wasn't terribly interested, we've had many readers comment to note that they'd already been using the app and were excited for the ability to sign up for a Premium account, so this is obviously a more popular app than I'd realized.
How to get your premium membership
Cardholders can go to Calm.com/Amex through September 30, 2020 to enroll for the Premium subscription for one year. You'll also get 50% off the second year with auto-renewal.
What is the Calm app?
Truthfully, I don't know much more than what the marketing material says:
The app has over 100+ hours of original meditation, sleep, music and mindfulness audio content covering a variety of topics including: stress, gratitude, anxiety, confidence and more
There are apparently daily meditations, "bedtime stories for grown ups" (including some read by celebrities) and more. If you're looking for something to ease your anxiety so you can relax, this probably won't hurt and may just help.
Bottom line
This benefit was an interesting addition that demonstrates a clear focus on adding unique benefits that consumers find useful during what has surely been a stressful time for many. While it didn't stand out to me at first, it's really interesting to see something out of the box and free added not just to ultra-premium cards but all consumer cards. We certainly haven't seen anything similar from other issuers, so at the very least it's a good move to emphasize what's unique about Amex. It's also good to see this become available after waiting a couple of weeks since the announcement.
H/T: CNN Underscored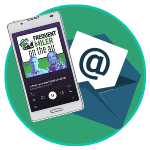 Want to learn more about miles and points?
Subscribe to email updates
 or check out 
our podcast
 on your favorite podcast platform.