Note: As of October 13, 2015, the Target REDcard (REDbird) can only be loaded with cash in-store at Target. Gift cards and/or debit cards no longer work to load REDcard. For more info, see: Here is the REDbird memo, "Cash is the only tender guests can use"
As of May 6, 2015, Target no longer accepts credit cards for in-store REDbird reloads. For more information, please see "REDbird Post Memo Answers", and "REDbird grounded. Now what?"
My wife's REDbird registered without a problem.  Same for my niece.  My REDbird, though, was another story.  Every time I tried to register the card, I received an error.  Every time I called support I was told it would be fixed within a day or two.  The whole thing was maddening until I figured out a simple solution…
Background
The Target Prepaid REDcard (AKA REDbird) is an American Express prepaid reloadable card similar to Bluebird and Serve.  In fact, it is so similar to those products that Amex allows each person to have only one.  For details about REDbird, please see "REDcard changes everything."  For more about the three similar Amex products, please see "The complete guide to Bluebird, REDcard, Serve, and SoftServe."
One thing that is unique to REDbird, is that it has three stages of existence (see "The REDbird Life-cycle [Infographic]."  When you buy the card at Target, assuming all goes well, it is now activated, but unregistered.  In this state, it can only be used like a credit card and cannot be reloaded.  Once you register the card online, it is now registered, but still temporary.  In this state, you can load up to $1500 at Target (inclusive of the original load amount) and can withdraw cash at Allpoint ATMs.  Once the permanent card arrives at your address and you activate it online, it is now permanent and registered.  Now, you can reload the card up to $5,000 per month, use it to pay bills, etc.
This is all great, except that many people have had trouble activating their temporary cards at Target, and/or registering the cards online.  I documented some of these issues here: REDbird technical issues.
Dealing with failed activation
Technically, you're supposed to be able to activate the REDcard, in store, with as little as 1 cent on the card.  In reality, it seems that activations fail when less than $1 is loaded to the temporary card.
Additionally, for some reason stores in North Carolina have been unable to properly register cards to-date.
If you paid for a card that didn't register (and your credit card was actually charged), I don't have shortcut for you, but there is a useful number to call: (800) 438-6468.  Hopefully they can help get you sorted out.
Dealing with failed registration
If, like me, your card activated fine, but you're unable to register the card online you can try calling the number on the back of the card and sending in documentation, and waiting and waiting.  Or, you can do this (assuming you have ready access to a Target store with REDbird cards):
Go to Target.
Buy a new temporary REDbird card.
Pay with the REDbird card that refuses to register online.
I had been struggling for weeks to register my card until realizing this simple work-around.  I had no trouble paying for the initial load of a new REDbird with an existing temporary un-registered REDbird.  In this way, I effectively transferred the balance from my broken REDbird to a new one.  And, best of all, the new one registered without complaint!  I've already loaded it to the maximum $1500 allowed and I'm eagerly waiting for the permanent card to arrive (hopefully early this week so that I can max out the full $5K per month of loads allowed).
I realize that this work around isn't particularly helpful for those who don't live near a participating Target store, but for those who do, maybe it will save you some frustration.
Read more about REDbird:
Also: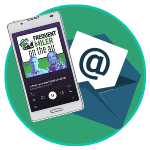 Want to learn more about miles and points?
Subscribe to email updates
 or check out 
our podcast
 on your favorite podcast platform.