Update 12/5/22: A Frequent Miler Insiders reaeder alerted us that this offer has changed yet again…and it keeps getting better. Now it offers $75 off flights to/from ANY US airport to/from any airport in Canada OR $75 off any hotel booking in Canada. The new offer is pictured below:
I tested it out and found that the discount could be used on hotels where the discount covers the entire nightly rate of the hotel (and the leftover is then applied to taxes and fees:
Being able to use it from any US airport or any Canadian hotel makes this an incredible deal…check for it if you have any travel to or in Canada in the near future.
Original post follows:
Capital One is out with something that looks new: offers specific to the Capital One Travel portal (and in this case it seems the offer is targeted to Capital One Venture X cardholders). While this specific offer is fairly narrow, I am particularly excited to see Capital One coming out with a new avenue to save, particularly since this type of thing might make the annual travel credit on the Venture X even easier to use for good value. Credit for this find goes to someone in our Frequent Miler Insiders Facebook group who reported it earlier this evening.
The Deal
Capital One Travel has introduced an "offers" section with a current offer that appears to be targeted to Venture X cardholders: Get $40 now $75 off any flight to Canada to/from New York, New Jersey and Texas any US airport when booking with Capital One Travel
Alternatively, you can use the same offer for $75 off any hotel booking in Canada.
Must be targeted and see the offer upon logging into Capital One travel.
Key Terms
Expires 12/31/22
Valid one time only
Valid only on flights to Canada to/from New York, New Jersey and Texas any US airport
Quick Thoughts
This offer has a pretty narrow target: you need to be looking to book a flight to Canada from one of only three US states. That feels pretty random to me. I might have assumed that Capital One was targeting us by general region (New York and New Jersey), but the inclusion of Texas seems to debunk that theory. Still, I think it's encouraging to see offers pop up specific to the Capital One Travel portal. That's particularly true with a flight offer given that we just don't often see ways to save money on flights apart from Amex Offers or the occasional discounted gift card.
On the other hand, I can't help but wonder if Capital One is just making things too confusing with the multitude of different types of offers they have. There is the Capital One Shopping website, which is a public shopping portal (no Capital One card required), the Capital One Shopping app, which is an extension of that public portal but it often features targeted higher payout offer, Capital One Shopping targeted offers that come via email, and Capital One Offers that appear within a Capital One cardholder's credit card login (that operate exactly like a shopping portal, but which are only found within a cardholder login. Adding yet another section of offers seems like it has the potential to confuse cardholders. Still, if it means another way to save, I don't mean to discourage them — and in this case, the $40 discount will appear during checkout, so it seems pretty straightforward.
I noted that this targeted offer appears to be just for Capital One Venture X cardholders because while my wife sees the offer as soon as she logs in to Capital One Travel, I do not. I assume that this offer would stack with the card's annual $300 travel credit. The card came out a year ago last week, so some people are likely coming up on their first anniversary. My wife opened her account within the first days of the card being launched, so her 1-year mark has passed, but the benefit tracker still shows her $300 credit has been fully used (and it says that the new credit will be available in November 2022). I assume it will renew after her next statement cuts and she would be able to stack here if we had a need to book a flight to Canada.
I'll certainly now log in to Capital One Travel now and then to see if they have new offers — and I'll count that as a win for Capital One for now — hopefully it'll be a win for all of us.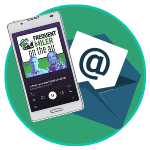 Want to learn more about miles and points?
Subscribe to email updates
 or check out 
our podcast
 on your favorite podcast platform.