Unofficially, Chase doesn't like to approve credit card applications where the applicant has opened 5 or more cards with any bank in the past 24 months.  This is known as the 5/24 Rule.  In the recent post, "How to count your 5/24 status," I asked the question "Do Chase Business cards add to your 5/24 total?"  I wrote:
Chase business cards do not appear on personal credit reports, but obviously Chase knows if you have opened those cards in the past 24 months.  The question is whether Chase includes those cards in the total for 5/24 Rule purposes?  If you have first-hand information that would help answer this, please comment below. Ideal evidence one way or another would be if Chase tells you during a recon call how many cards you opened in the past 24 months.  You can then compare that number to the number you calculate yourself with and without counting Chase business cards.
In response to this, a number of readers replied via comments, email, and Facebook.  Here are some examples:
"Chase Business cards do count"
Here's my experience, others might have a different experience. Last month I was at 4/24 for personal cards and applied for the Freedom Unlimited. I was denied for too many new accounts in last 24 months. I opened an Ink Plus card back in March and when I called recon three times they all told me that I had opened 5 cards in the last 24 months. YMMV, but I struck out three times!
"Chase Business cards don't count"
I applied for the reserve with 3/24. If you include the Chase business cards I've applied for then I would be 5/24 (southwest and ink plus) so i don't believe it counts towards the actual 5/24 limit. I was not instant approved because I had too much "exposure" as they put it, meaning I had to much credit availability. I was however able to get he card by moving credit around. The minimum for opening a line on this card is $10,000.
I had opened 5 cards in the past 22 months. One card was the Southwest Business card. I was instantly approved for the CSR. In my case, a chase business card did not count.
I didn't get my "count" from Chase (didn't know you could do that), but can confirm anecdotally that I have opened 4 personal cards plus 1 Chase Ink business card in the last 24 months. I was instantly approved for the CSR card yesterday.
All of the above examples are border cases.  They're compelling only if Chase draws an absolutely hard line at 5 cards in 24 months.  Many have long suspected though that Chase's cut-off number may be a bit squishy.  That is, they may draw the line at 5 or 6 or even 7.  If that's true, then the reports listed above don't tell us much.  On the other hand, it may be the belief that Chase business cards count that has led people to think that the rules were a bit squishy.  I don't know.
Much more compelling was a Facebook conversation in which a reader asked a Chase reconsideration rep to list all of the cards that they included in their 24 month count.  He reports that they did not list his Chase business cards which were definitely opened within the last 24 months.
Similar information was reported via Twitter by a reader who unfortunately was turned down by multiple reconsideration agents due to an authorized user card that pushed his total to 5 cards in 24 months not counting his Chase business card:
@FrequentMiler without. My SW Biz and Ink AU not counting. They said I have 5, 4 are mine and 5th is Freedom AU but still won't reconsider

— Andy (@andyselvy) August 31, 2016
Do Chase Business cards add to your 5/24 total? Tentative answer
The results are murky, but the weight of evidence leans towards "no, Chase business cards do not count towards 5/24".  Am I sure of this? Absolutely not, but at this point I believe that it is the most likely answer.  And, I believe it makes sense.  In order to process an application, Chase pulls your credit report from one or more bureaus.  In order to code the 5/24 Rule into their system, the easiest approach is to simply count new credit cards from that report.  Yes, since they have the data they could also count Chase business cards tied to your SSN, but that would add complication with minimal gain.
Why the answer is important
In the posts "Flying under 5/24" and "Business card advantages (and a straw man plan)" I suggested an approach for staying under 5/24: Sign up primarily for business cards that don't report to the personal credit bureaus.  This includes business cards from Amex, Bank of America, Cit, US Bank, Wells Fargo, and… Chase.
Aside from Amex, Chase tends to have the most and best business card offers: Ink Plus, Ink Cash, Southwest Premier Business, United MileagePlus Explorer Business, and the Marriott Rewards Premier Business.
If Chase business cards truly do not count towards 5/24, then the idea of flying under 5/24 by applying mostly for business cards suddenly makes a lot more sense.  By managing your 5/24 count carefully, you could still sign up for 2 personal cards per year.  And by regularly signing up for  business cards from Amex, Chase, Bank of America, etc. you can keep the points flowing.
Note: Business cards from Barclaycard, Capital One, and Discover do get reported to personal credit bureaus, so you'll want to avoid those cards if your goal is to fly under 5/24.
Reader Input
Do you have experience that helps answer the question of whether Chase Business cards add to your 5/24 total?  Please comment below.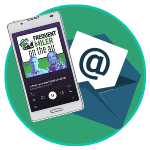 Want to learn more about miles and points?
Subscribe to email updates
 or check out 
our podcast
 on your favorite podcast platform.