This morning, Greg published a post about how Citi Thank You cards just became more valuable with the addition of a new transfer partner (See: Citi ThankYou gets more valuable and adds a way out). I love to see banks competing to make their cards more valuable — and so it was good news when I saw that two Chase cards also became a bit more valuable today. An interesting new benefit has been introduced that is currently only available on the Chase Marriott Rewards Premier card and the Chase Slate card: Chase Offers. This is very similar to Amex Offers. While the initial roll-out is somewhat limited, this looks like it could have a lot of potential if they look to compete with Amex. I have the Chase Marriott card, so I just registered and took a look — and I'm intrigued.
The Deal
New offers site to sync offers with your card (similar to Amex Offers)
Example Offers
At this point, offers are only available on those two cards. I found the URL at the top of the screenshot interesting (chase.visaoffers.com/marriott). That makes me wonder if Visa Offers could roll out with other banks. Doctor of Credit reports that this may be working on the TrialPay platform, so we don't know how it will affect Uber offers.
You will need your card number in order to register, which includes providing an email address and creating a password. This is separate from your Chase login information. I find that curious because I saw a link in one of our online logins the other day that said "Chase Offers". It just said there were no offers available at the time when I clicked it, but I wondered whether something like this may be coming. At any rate, you need to include your location during the registration. Don't worry — you won't be locked into a single geographical location later:
I put in my location and it gave me a list of offers like this (the list continued on for a while):
Above this list, there was a box to enter a location. I put in another city to test it. When I hit enter to search, it came up with a message saying that this was just a temporary location switch and that if I needed to change my default location, I could do so under My Account. I though that was perfect if you're planning to travel or just want to see what's available in other spots. I certainly didn't try every city in America, but I went through a number of major cities (New York, Boston, Chicago, San Francisco, Los Angeles) and then tried some other random cities around the US to see what might come up (Little Rock, Tulsa, Myrtle Beach, etc). Most of the offers were the same — though there were a couple I saw regionally. For example, Steak 'n Shake didn't come up in my home area, but it came up in some Midwestern cities I tried. I saw Quick Trip in Tulsa, but not in any of the other cities I tested.
Some offers are in-store only, others are online only, and a number of them are valid both in-store and online. Here is the full list of offers I saw:
In-store only:
Whole Foods: $10 back on $25+
Lowe's: $10 back on $50
Texas Roadhouse: 10% back (up to $25)
Arby's: 10% (up to $10)
Einstein Bros Bagels: 10% back (up to $10)
Steak 'n Shake: 10% back (up to $10)
Noah's New York Bagels: 10% back (up to $10)
Quick Trip: 10% back (up to $10)
Online only:
Nordstrom: 20% back (up to $30)
Neiman Marcus: 10% back (uo to $30)
Gamefly: $10 back for new subscribers
Hulu: $20 back on Hulu Life TV subscription
Wingstop: 10% back (up to $25)
Poshmark: 10% back (up to $10) when you spend $50+
eBags: $20 back on $100 or more
In-store and online:
Regal Cinemas: 10% back (up to $50)
Olive Garden: 10% back (up to $25)
Denny's: 10% back (up to $25)
Papa John's: 10% back (up to $25)
Chili's: 10% back (up to $25)
Staples: 10% back (up to $20)
Bottom line
I'm happy to see more offers to save money at popular merchants. The next great challenge is going to be remembering which offers I have on Amex cards and which on my Chase Marriott card — but that's a problem I'm happy to face. Note that you should check the terms of each offer to be sure your purchase will meet the terms. For example, the Quick Trip (gas station) offer specifically said that it is not available if you pay at the pump. The Staples offer says it is not valid on gift cards. We don't yet know how closely the terms are enforced. All of the offers I saw expire on either 12/15/17 or 12/31/17. We'll keep an eye on these to see if any new offers are added in the coming weeks.
H/T: Doctor of Credit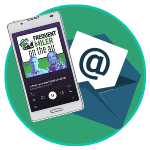 Want to learn more about miles and points?
Subscribe to email updates
 or check out 
our podcast
 on your favorite podcast platform.