There is a new public offer out on the Capital One Spark Cash business credit card that looks terrific if you like cash back: $1,000 cash back after $10,000 spend in the first 3 months. We previously wrote about a targeted mail offer for this — but now there is a public signup link. That's a lot of spend, but with the 2% back everywhere offered by this card, that's a total of a 12% return ($1200) back after you've spent $10K. For those who can make the spend, this is a very attractive offer. If you can't spend quite that much, there is also an offer for $750 cash back after $7,500 spend (and the usual $450 back after $4,500 spend). I don't know whether the $1,000 cash back offer will last, but here are the details:
The Offer
Earn a bonus $1,000 cash back after spending $10,000 on purchases within the first 3 months
Key Card Details
Earn 2% cash back everywhere
$59 annual fee is waived the first year
Quick Thoughts
I usually prefer to earn miles over cash back because I use the miles for experiences that I wouldn't otherwise buy. However, cash is king for many people — and when it comes to cash back, this offer is hard to beat and hard to ignore. The spending requirement is high, but so too are the rewards. If you have the capacity to spend $10,000 in three months, this offer is probably worthwhile. It's probably the right time of year for hitting spend, especially if you resell things as a business.
An interesting note — the annual fee in the offer is listed as $59. That's less than the annual fee on other public offers, making this an even better deal of you're going to keep it (though keep in mind the fact that there are cards on the market offering 2% cash back everywhere with no annual fee like the Citi Double Cash and Fidelity cash back Visa). With the fee being waived the first year, it's probably not much of consideration.
Also worth noting is the fact that Capital One is known to pull credit reports from all three bureaus when you apply. In the past, I have applied for a Capital One card with my Experian report frozen and been instantly approved with pulls from both Transunion and Equifax.
You should additionally keep in mind the fact that Capital One reports business cards to the personal credit bureaus, so this card will count against your 5/24 status. One other thing to consider: Doctor of Credit reported a rumor from Reddit that Capital One may have recently instituted its own 5/24 rule. My initial read-through shows some conflicting information, so I can't say for sure one way or the other.
As always, we have added a link to this offer on our Best Offers page.
H/T: Doctor of Credit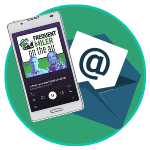 Want to learn more about miles and points?
Subscribe to email updates
 or check out 
our podcast
 on your favorite podcast platform.