Every other week, Greg and Nick tackle reader questions live on Youtube. You can watch the full video below, or click the timestamp next to each question to navigate directly to its location in Youtube.
Timestamped questions below…
6:09 – How is your 10x grocery/gas spend on the platinum progressing? What's your general strategy? Approx. what % of your spend is on gift cards?
11:27 – Where do you see the MS world heading now that Walmart money orders are tough to get? ​
14:03 – Hey Greg and Nick, do you expect any other hotel loyalty program to slash elite status requirements for 2021? Do you think any of them could be more tempting than Hyatt Globalist?
20:34 – What is the most beautiful and inexpensive place you have ever visited?
22:55 – Is it safe (Covid edition) to apply for Chase personal or Biz CC given I have 4-7 Chase CC already?
26:42 – Should I do the American Airlines gold ( MasterCard status challenge for 2 flights) or get a United credit card ($95)? I have CSR and I chose United for my Amex Plat incidental fees.
32:39 – Can you recommend any good Wyndham properties/resorts you have stayed at?
34:53 – Any data points on the safety of using the Amex Amazon 8x bonus to purchase Amazon e-gift cards?
36:47 – Does it ever make sense to purchase southwest points with companion pass.
41:06 – Do you need a AA cobranded credit card to redeem Aadvantage miles?
45:57 – How are you guys planning to qualify for Hyatt Globalist in 2021?
48:16 – Does the Hyatt double elite night credit promo beginning in December count toward the requirements for Globalist in 2021 ?
50:52 – Can you talk to a multi night mattress run where you check in person but dont plan on staying (due to environment)? Strategies? Best practices? thinking for Hyatt promo.
53:24 – Wanting to do a Disney World trip in Nov/Dec 2021 and to stay at Dolphin or Swan (Marriott properties) worth it to get the Bonvoy Business CC specifically for the Platinum Elite status (have Gold)
57:36 – My Hyatt cardmember year renews on Jan. 20, did I understand from your recent post, that I could earn 1 -4 category cert with $15K spend before Jan. 20, and then another before Dec. 31?
59:16 – I received a mailer for an Amex high-yield savings account (0.6% APY). Do you think doing this would help to circumvent the Amex popup when applying for cards?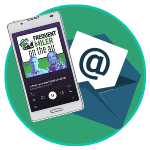 Want to learn more about miles and points?
Subscribe to email updates
 or check out 
our podcast
 on your favorite podcast platform.