Chime is back with another $250+ sign-up offer, this time on My Points. It's structured exactly the same way as previous SwagBucks and MyPoints offers that we've written about, and this time the bonus is $276 (44,000 MYP) on new accounts.  Chime is an app with a debit card tied to an online checking account without any particularly noteworthy spending bonuses.  I signed-up for this offer when it was 25,000 SB in February and used a Wells Fargo transfer for my DD. Although it never went pending, the SB were credited within two days of opening a ticket after the 70-day waiting period and sending a screehshot of two deposits. This is consistent with other comments about the deal. It sounds like the same things happens with the MyPoints offer.
The Deal
Earn 44,000 MyPoints (worth $276 when cashed out via PayPal) when clicking through and opening a new Chime account and making a first direct deposit of $200 or more within 30 days of account opening.
Key Terms
Must complete the following steps:
1) Signup with Chime between 4/1/22 and 4/30/22
2) Download the Chime App.
3) Access your account number and routing number from the app.
4) Add your account number and routing number to your payroll contact or service.
5) Set up payroll direct deposit and receive your first paycheck within 30 days of your sign up date to earn 44,000 Points!*
Other terms which are applicable:

Must make a minimum first deposit of $200 to qualify.
Offer may only be completed once per user.
AIf you do not receive your award Points within 70 days from setting up payroll direct deposit you must provide proof of two or more payroll direct deposits. By signing up for this offer you acknowledge that Chime will have to share your Direct Deposit status with its partner for Points to be credited to your account. Please allow up to 70 days for Points to be credited to your account.
Quick Thoughts
It's important to note that this offer rarely seems to go pending and often requires a ticket be opened after the waiting period with a screenshot of the deposits in order for the points to be credited. They have new terms that say when doing this you must provide proof of TWO direct deposits as opposed to just the one $200 (which seems like a gotcha). So, I would plan on scheduling two transfers of the same amount in two consecutive months. DO NOT CANCEL YOUR CHIME ACCOUNT BEFORE POINTS POST. This method worked fine for me (and others that I've read about doing it) by making two deposits of $267.22, but it's important to set a calendar reminder so that you remember to open the ticket at 70 days.
I don't ever do deals that require me to actually change direct deposit information, but in this case there are other options. Doctor of Credit has a very useful page listing data points of what counts as a direct deposit with Chime, and my primary bank is one whose transfers are acknowledged as DD by Chime.  If I didn't have access to one of the options DOC lists, I most likely wouldn't bother with it.
The entire sign-up process took less than five minutes and there is no hard pull.  This screen that pops up is worth noting:
Don't auto-agree as the bottom two options will enroll you in a secured credit card that you almost surely don't need.
Be aware that there have been numerous reports of Chime closing accounts with no reason given. Reading into it now, it seems like most of the shutdowns involved multiple referrals and I haven't seen anything recently.  Just to be safe, I only "direct deposited" two deposits of $267.22 into my account and am not make any referrals while I have a balance.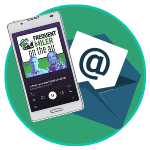 Want to learn more about miles and points?
Subscribe to email updates
 or check out 
our podcast
 on your favorite podcast platform.