The National Retail Federation reported last year that consumers planned on spending an average of $998 on gifts and other holiday items – roughly equivalent to the median weekly salary (reported here). Rather than work for a week, why not work for an hour or two and let some easy cash bonuses take care of the heavy lifting? Here are my favorite current easy money bonuses (including checking, brokerage, and a one-time "side gig") that could cover all of this year's holiday expenses with relatively low effort and high reward.
Low effort, high reward bonuses
Uber Eats Delivey: $250 with *one* delivery
The most work of any of the bonuses in this post was the ~7 minutes that it took me to earn more than $250 (though in fairness my wife's $250 delivery took just over 30 minutes — more on how to avoid that in a minute). If you live in an area with Uber and you like easy money I just can't see a good reason not to go after this one.
Stephen wrote about this deal here. In short, you sign up through shopping portal MyPoints to deliver Uber Eats and after your first delivery you get 40,000 MyPoints points (in addition to whatever you earn from Uber). You can then redeem those points for $250 cash sent via PayPal or potentially more if you choose gift cards (you could get $260 in Visa Gift Cards, etc). Uber paid me $6.99 for my first delivery and my wife got $11.69, so we each made a couple bucks more than the $250 bonus from MyPoints.
Our experience with it was pretty simple: we clicked through from MyPoints to sign up for Uber Eats delivery (we did this part on our laptops) and Uber had us sign in to our accounts and eventually prompted us to download the driver app. From there, we had to provide standard personal information (name, address, SSN, birthday, driver's license) as well as a picture (the app periodically prompts you to take a selfie in order to make deliveries so they know you are the person driving). They use a third-party background check service that takes a few days and then they text you once the background check is complete and you're up and running. You have 30 days from the date they complete your background check to complete your first delivery. I can confirm that I waited longer than 30 days from the day I clicked through from MyPoints but completed my delivery within 30 days of the background check and MyPoints tracked without a problem, updating a day or two after I completed the delivery.
Note that the Uber driver app requires taking a selfie when you first go online so that Uber can match up your face with your profile photo. The app requires you to be parked in order to take a selfie, so start it up before you start driving (and note that you can't do this offer for Player 2 since they will need to be there for the selfie).
When you get a delivery request, the app makes a loud ringing sound and you just have to tap the screen to accept the delivery. The app shows the total distance and how long it is expected to take in terms of time as well as an estimate of how much money you'll earn from the delivery (independent from the MyPoints bonus).
The only problem is that we couldn't figure out how to silence the notification for a delivery that we didn't want to accept. My wife's first delivery was from Burger King and when we got there the food wasn't quite ready yet. While waiting, she got another delivery notification. As her phone was ringing loudly, she had the natural reaction of trying to to swipe the notification away to decline it. However, tapping the screen to swipe accepted the delivery, so now she had to pick up a second order.
That second order was a pain because the restaurant didn't have the food ready and was very understaffed. Several other delivery drivers were waiting and it turned out that someone else took the bag my wife was supposed to get, so after waiting about 15 minutes they had to start over on making the order.
Luckily, both deliveries were a short distance, but it would have been faster if not for that extra delivery. When it was my turn to do this bonus and I got a second delivery notification, I tried pressing the volume rocker on my phone to turn down the ringing but couldn't — I ultimately just had to let it ring until it disappeared. It's worth the 13 seconds of embarrassment to just let the phone ring it out.
My first delivery was very easy. I turned on the app and started driving to pick up a free coffee at Panera with my free coffee subscription and on the way there I got a delivery request from Panera to a destination that added maybe 7 minutes to the drive I was intending to make anyway. The order was ready when I walked in, I got my coffee, dropped off the food, and brought my kids to the park $256.99 richer (I got $6.99 from Uber).
In total, my wife and I spent maybe 35 minutes on this and made $518.68. One of my wife's two deliveries was totally contactless — she just had to leave it outside the door and take a photo. The other two deliveries did involve handing off the package to college students, but in both cases the students met us masked. Easy breezy. Half of the average holidays locked up in half an hour.
Easy checking / banking app bonuses
Note that some of the checking accounts below require direct deposits. Doctor of Credit has an excellent resource about what counts as a direct deposit that you should consult because the requirements can often be met more easily than you may expect. Keep in mind that you typically owe tax on bank bonuses as they are typically considered interest income, though portal bonuses may be considered rebates (consult with a tax professional as this post is not financial advice and I am not an accountant).
Note that none of the accounts below perform a hard credit pull (all will likely do a soft pull, so make sure your reports are not frozen before applying).
Monifi Checking: $250 with $2K in direct deposits
Monifi is one of the myriad of new FinTech banking apps to hit the market in the last couple of years. To my knowledge, all of these new wave banking apps (like SoFi, NorthOne, Varo, Chime, etc) have some sort of backing bank that actually handles the account (so money is typically FDIC-insured), but a million different apps have created their own takes on a "pretty" interface. Monifi is willing to pay you handsomely to check theirs out.
Monifi offers both a "Spend" (checking) and "Save" (savings) account and when you open an account with them you get both.
The current offer which has mostly been available since the summertime is to open an account and get a $250 bonus after two direct deposits of $1,000 or more. Doctor of Credit has info on what counts as a direct deposit and I can confirm that the info there worked for my wife. She made direct deposits on two consecutive days within a week of opening her account and 5 days later she had $250 in her Monifi Spend account. Within a couple of days she also got a $25 bonus in her "Save" account for meeting her first savings goal. That was totally unprompted (but more on that in a minute).
I had tried opening an account over the summer, but I got declined. I actually tried several times and got declined each time I tried. I think the problem was with my phone's GPS. For some reason, my GPS was mislocating me in Virginia (Preceding my applicaiton, I was getting weather info for some random town in Virginia on my phone at the time, so something was wrong with my GPS). Apparently, it is important to Monifi that their app can geo-locate you when you're doing the application (you can decline to let it access your location, but trust me that doesn't work). My phone's GPS issues eventually resolved and this past week I decided to take another swing at the easy money. Sure enough, this time my application was successful without a hiccup.
I still haven't completed my direct deposits, but I did receive an email alerting me to the $250 promotion. I also received an email telling me that I can get a $25 bonus when I create and fund my first savings goal by 11/13/21. It looks like I can create a goal to save $100 and once I put $100 in my Save account I should get $25 for a total bonus of $275 just like my wife (though she got the $25 bonus without even depositing money in the Save account. YMMV). That's a total of $550 in two-player mode for about 4 minutes filling out the application and maybe 4 minutes to set up the direct deposits for each of us (if I'm slow with the mouse). I won't add the 20 minutes of failed applications over the summer because it was my fault for not resolving my phone's GPS issue sooner.
The nice thing here is that I don't think there is any minimum timeframe that the money needs to stay at Monifi, there is no monthly fee on the account, and Doctor of Credit reports no early termination fee for closing it (my wife hasn't gotten around to closing hers yet). So if you have $1,000 that you can spare for at least a few days to a week, you should be able to pick up an easy $275.
Here is a link to more info about this account at Doctor of Credit and here is a direct link to the promotion at Monifi.
Chime: Easy $275 bonus
Chime is another of the many FinTech banking apps offering a great account bonus. In this case, the bonus comes not from Chime itself but rather via a shopping portal. Swagbucks is currently offering $250 worth of Swagbucks (which can be redeemed for $250 via PayPal payment or potentially more for third party gift cards). MyPoints is offering 44,000 points, which can be redeemed for $275 in PayPal payment or potentially more in third party gift cards (About $285 in Visa Gift Cards and very nearly enough for $300).
Regarding MyPoints, I still see this offer via CashBackMonitor and when I go to MyPoints and choose "web" and search for "Chime" as seen below.
Unfortunately, I can't seem to access the details on MyPoints (clicking "More Details" just takes you to Chime). In good news, I can see the details of the promo on Swagbucks. The requirement for the bonus on Swagbucks is to make a payroll deposit of at least $200 within 30 days of signing up.
Personally, I went through MyPoints over the summer and deposited $201 in cash back from Dosh to my Chime account and about 58 days later I got my 44,000 points from MyPoints (incidentally, cashing out from Dosh triggered a direct deposit bonus for another bank recently also). Interestingly, my wife forgot about this one and never did get around to making the direct deposit and still got the 44,000 points. I don't recommend trying that move as it isn't worth the risk of not getting your $275, but it was a pleasant surprise to see the points post despite the mistake.
Note that Rakuten also has an offer for Chime, but it has only been $50 / 5,000 points. The current Swagbucks terms note that this deal is on for those who open an account from 11/1 to 11/30/21. Overall, this was $275 each ($550 in 2-player mode) for maybe a combined 7 minutes of effort. You can keep an eye on portal rates at Cashbackmonitor if you're holding out for an increase from Rakuten (note that CashBackMonitor values the 44K MyPoints at $308. I think that total is based on the cash value assuming that you continue to earn enough points to cash out every point at maximum value, but I value this bonus at the base level $275 cash-out rate without assuming you'll earn enough points to cash out the leftovers).
Doctor of Credit has a post with more details about this account.
SoFi Money: $275 with direct deposit of $1K or more
A more established FinTech account is SoFi Money. We wrote extensively about SoFi Money a couple of years ago when they were offering awesome new account bonuses that were even better in two-player mode. The new bonus, which is an even better deal for those in one-player mode and is the best deal we've seen for SoFi Money in quite a while, requires stacking two bonuses.
First, Swagbucks is offering 17,500 Swagbucks (worth $175 cashed out via PayPal or potentially more in third-party gift cards) when you click through their link and open account and your first deposit is a direct deposit of $200 or more. Be sure not to deposit money into SoFi via a means other than direct deposit until your first direct deposit goes through. I don't see data points at Doctor of Credit as to what counts as a direct deposit with SoFi, so I would recommend only doing this one with a legit direct deposit.
If you can do that, you'll get $175 from Swagbucks. On top of that, SoFi is separately offering a bonus of $100 for receiving $1,000 or more in direct deposits within a 30-day period before the end of the year. Receiving $1K in direct deposits should therefore trigger both bonuses, yielding $275. That's a nice deal that may be worth the effort in terms of setting up direct deposit.
We have a guide to SoFi Money, but Doctor of Credit has a consolidated post about this bonus here.
Easy brokerage bonus
Fidelity: $100 bonus with a $50 deposit
I usually only chase bonuses worth at least $200 per person, but this bonus is too easy not to include it. Fidelity is offering a new account bonus of $100 when you open a new account (including Cash Management (like a checking account), The Fidelity Account (a simple brokerage / investment account), or a Roth or Traditional IRA) with promo code FIDELITY100 and deposit $50. We wrote about this bonus here. The bonus posts within 10 days of funding the account with $50, so this one is quick & easy. A single $50 deposit is a pretty low bar for a $100 win. We did this in two-player mode for $200 total. Since we both already had Fidelity accounts, we were able to sign in and pre-fill the new account application. We each opened a "Cash Management" account and deposited $50. It took less than 5 minutes total for both of us.
Note that there are lots of more valuable brokerage bonuses, but the fact that this one requires such little money deposited and the bonus is just paid in money in your account rather than random shares of stock that you need to sell is what put it on this list.
Honorable mentions
Tastyworks: Deposit $10K, get $500
This one is in my "honorable mention" list because it will not be applicable to everyone. You need to be able to set aside $10,000 for 90 days to complete it, but if you have the cash to set aside this is a lucrative and simple bonus.
In short, online brokerage Tastyworks is offering a $500 bonus when you deposit $10,000. Reports at Doctor of Credit indicate the $500 bonus posting within a couple of days of the $10,000 deposit — but the catch is that you have to leave both the $10K and the bonus $500 for 90 days (not a deal-breaker for me as that works out to better than 20% APY annualized!). You aren't forced to actually invest the money, so you can just make your deposit and leave it there if you want (the money isn't swept into a money market fund but is SIPC-insured according to Investopedia). Tastyworks was established in 2017, so it isn't brand new but neither is it long-proven.
Several months ago, my wife and I each did the "free stock" bonus (that may still be offered, though note that the promo page is live here but notes an end date of 10/31/21): deposit $2K and get 100 free shares of stock worth $1-$6 each. Unfortunately, since we did that bonus, we aren't eligible for this better bonus. We each got stocks worth a bit less than $2 per share at the time they were awarded that have since fluctuated mostly lower, but we're holding the free stock because why not? I would totally do $10K for $500 that is deposited as money in the account rather than random stock if I were eligible. I will note that I hate the Tastyworks trading platform, so I'm not sticking around with them for long. If you trade options, you may feel differently…but I don't trade options.
Here is a link to more info about this promotion at Doctor of Credit and here is a direct link to the $500 promotion at Tastyworks.
Kabbage: $300 with 5 debit card purchases
Kabbage, owned by American Express, offers a business checking account. Stephen wrote about the targeted promotion they ran over the summer and then last month they rolled out a nationwide easy $300 promotion that is not targeted (here is our post about this current deal). Kabbage is offering $300 when you open an account and make 5 debit card purchases within 30 days. That's it. The requirements for the bonus are super easy, though some people have run into difficulty opening the account itself.
Whereas most checking account bonuses (even business ones in my experience) have a very easy application process that just requires simple personal info, Kabbage has required more business documentation. In my case, they asked for my most recent bank statement (I used Brex), my Articles of Incorporation, and a scanned copy of my ID. Some people have reported being asked for far more documentation (and I only got around to submitting mine recently and haven't yet heard back, so they may yet ask me for more). Because of the requests for additional documentation, I put this one in the "honorable mention" category.
That said, a number of readers have completed this offer and reported getting the $300 bonus as scheduled (it takes something like 12 weeks). I think it is probably worth the still-not-very-strenuous effort if you have a business, but some will disagree. YMMV.
Bottom line
If you skip the honorable mentions and just do the Uber, checking, and Fidelity brokerage bonuses, you could pick up $1,050 in easy money in one-player mode (double that to more than two grand in two-player mode!). If you're able to pull off Tastyworks and Kabbage, that's another $800 per person. In total, it shouldn't require more than 2 hours to complete everything in this post and none of these accounts have ongoing fees or minimums. I've written before about easy bank bonuses, but the plethora of really simple offers available right now (that I can easily recommend based on experience) combined with the timing of increased holiday spend makes the present seem like a great time to give yourself an always-appreciated present: more cash in your pocket.
Regular readers know that the natural companion play to opening these easy bonuses that can cover your holiday spend is first opening a new credit card with a good welcome bonus and using your holiday purchases to earn that welcome bonus. As one example, the Barclays JetBlue Plus card is currently offering 70K points (which can easily buy more than $900 worth of flights) after $1K in purchases in the first 90 days. If you planned to make $1,000 in holiday purchases, you could open that card, put the purchases on it, and use the bonuses from this post to pay yourself back. You could end up with holiday gifts and flights for a future vacation without depleting your long-term savings (note that you can do far better with some offers that require more spend — I'm not recommending that card but rather using it as a simple example that fits the typical expected holiday spend threshold). You may need to temporarily tap into savings to pay off the credit card bill right away, but the bonuses in this post should ensure that the money goes back into your pocket — perhaps the ultimate holiday gift to yourself.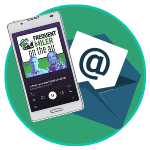 Want to learn more about miles and points?
Subscribe to email updates
 or check out 
our podcast
 on your favorite podcast platform.