Choice Privileges has launched its familiar, and very regular, offer where members who complete two separate, qualifying stays at participating hotels will earn a maximum of 8,000 points and a minimum of 5,000 points.
The Deal
Stay twice at Choice Hotels properties and earn 5,000-8,000 bonus points.
Key Terms
Registration required here before checking out from your first qualifying stay.
The promotion is only available to members of the Choice Privileges Rewards Program who register for this promotion, and then make two separate qualifying stays at participating hotels (WoodSpring Suites hotels and Ascend Hotel Collection all-inclusive resorts, among others, are not participating) with arrival between 3/14/2022 and 05/08/2022.
A "stay" is any number of consecutive nights at one hotel regardless of check-ins or check-outs. A "qualifying stay" is a stay that is during this promotion at a participating hotel through a qualifying channel (see Qualifying Channel, below) that is eligible to earn Choice Privileges points.
Most stays are eligible to earn Choice Privileges points EXCEPT: rooms booked at rates below $40 USD per night, certain hotel initiated promotions, reward night stays, complimentary rooms, rooms paid for as part of a convention or meeting, rooms booked through a third party online retailer including online travel agencies, wholesale packages, group tours, and stays booked using the employee discount or the friends and family discount.
You must maintain an address in the U.S. (includes U.S. territories) to be eligible.
Qualifying Channel: Members must book stays via ChoiceHotels.com, the Choice Hotels mobile app, or 800.4CHOICE. Stays directly booked through Book by Google are also eligible, if the member adds their Choice Privileges number to the reservation prior to check-in. Corporate travelers may book through their online booking tool, GDS, or with a travel agent; however, reservations booked through Egencia's Preferred Rate Program do not qualify for promotional bonus points.
Choice Privileges member number must be provided upon check-in.
To be eligible to earn bonus points, members must set their earning preference to Choice Privileges points in their online account. Any change made to earning preference will remain in effect after the promotion has ended, unless the member changes it.
Allow 72 hours from check-out for points to post.
Request for bonus points made by members who did not register for the promotion will only be considered up to 60 days after the promotion ends; request thereafter will be automatically denied.
Registered members will be awarded a minimum of 5,000 to a maximum of 8,000 bonus points after the second qualifying stay. The number of bonus points awarded depends on the number of base points earned from the two separate qualifying stays, with points varying by hotel.
Quick Thoughts
This promotion works in the same way as many of Choice's past promos. After staying twice during the promotion period you'll earn at least 5,000 bonus points, with the number of bonus points depending on how many base points you earned on your two paid stays as they top it up to ensure you end up with a minimum of 8,000 points.
Choice states that you'll earn 5,000-8,000 bonus points, but the 8,000 point figure is mathematically impossible. Eligible stays require staying twice in rooms costing at least $40 per night. If you manage to find rooms which cost precisely $40 before tax and booked two stays of one night at that price, you'd earn a total of 800 base points. That's because Choice offers 10x points per dollar. They'd then top that up to 8,000 points which means the maximum number of bonus points available is 7,200.
If you book two stays that are more expensive, you'll likely only end up with 5,000 bonus points. For example, we're considering booking a week-long stay at an Econo Lodge this summer (yep, we're ballers) which costs $91 per night before tax. That'll earn us 6,370 base points, so even if our second stay was somewhere for $40 for a single night, we'd have earned a total of 6,770 base points. Seeing as that puts us close to the 8,000 base point threshold, Choice would award us with 5,000 bonus points seeing as that's the minimum number of points you can earn. These types of promotions are therefore strange from a loyalty perspective because it rewards Choice Privileges members with more bonus points for staying fewer nights or at cheaper rates.
In the past I believe that it was possible to earn more than one set of bonus points if you had another set of two stays. The terms unfortunately don't state this time around whether that's the case or not.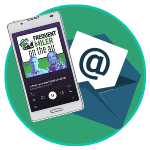 Want to learn more about miles and points?
Subscribe to email updates
 or check out 
our podcast
 on your favorite podcast platform.