Spring has sprung, as has the return of Choice's annual "stay-twice-and-get-a-$50-gift-card-free-which-is-really-8,000-bonus-points-but-not-really-because-it's-a-maximum-of-7,200-bonus-points" promotion.
The Deal
Earn 5,000-7,200 bonus points when staying twice with Choice Hotels. Staying twice also allows you to redeem 8,000 points for a $50 card for select brands.
Key Terms
Registration required at https://www.choicehotels.com/choice-privileges/promo/gift-card before checking out from your first qualifying stay.
The promotion is only available to members of the Choice Privileges® Rewards Program who register for this promotion, and then make two separate qualifying stays at participating hotels (WoodSpring Suites hotels and Ascend HotelCollection all-inclusive resorts, among others, are not participating) with arrival between 03/27/2023 and 06/30/2023.
A "stay" is any number of consecutive nights at one hotel regardless of check-ins or check-outs.
A "qualifying stay" is a stay that is during this promotion at a participating hotel through a qualifying channel (see Qualifying Channel, below) that is eligible to earn Choice Privileges points.
Most stays are eligible to earn Choice Privileges points EXCEPT: rooms booked at rates below $40 USD per night, certain hotel-initiated promotions, reward night stays, complimentary rooms, rooms paid for as part of a convention or meeting, rooms booked through a third party online retailer including online travel agencies, wholesale packages, group tours, and stays booked using the employee discount or the friends and family discount.
Stays at Choice Hotels properties in the following countries are excluded from this promotion: Norway, Sweden, Denmark, Finland, Iceland, Lithuania, Estonia, and Latvia.
Qualifying Channel: Members must book stays via ChoiceHotels.com, the Choice Hotels mobile app, or 800.4CHOICE.
Stays directly booked through Book by Google are also eligible, if the member adds their Choice Privileges number to the reservation prior to check-in.
Corporate travelers may book through their online booking tool, GDS, or with a travel agent; however, reservations booked through Egencia's Preferred Rate Program do not qualify for promotional bonus points.
Choice Privileges member number must be provided upon check-in.
To be eligible to earn bonus points, members must set their earning preference to Choice Privileges points in their online account.
Any change made to earning preference will remain in effect after the promotion has ended unless the member changes it.
Allow 72 hours from check-out for points to post.
Request for bonus points made by members who did not register for the promotion will only be considered up to 60 days after the promotion ends; request thereafter will be automatically denied.
Registered members will be awarded a minimum of 5,000 to a maximum of 8,000 bonus points after the second qualifying stay.
The number of bonus points awarded depends on the number of base points earned from the two separate qualifying stays, with points varying by hotel. The total of base points plus bonus points awarded, however, will be at least 8,000 points, which is the number of points required to redeem for a $50 gift card from participating retailers.
A selection of gift cards is available at the discounted redemption rate of 8,000 points from 03/27/2023 through 06/30/2023. Members will have 60 days after the promotion ends to redeem their points for a $50 gift card at the reduced point level. Beginning 08/30/2023, the $50 gift cards will return to their standard redemption rate of 16,000 points.
Quick Thoughts
This is a common promotion run by Choice Privileges, but if you're not familiar with it, here's how it works. When staying twice at Choice properties during the promo period, you'll earn enough bonus points to ensure you earn at least 8,000 points across those two stays, with a minimum of 5,000 bonus points being guaranteed.
The minimum qualifying room rate is $40 and you earn 10 base points per dollar. If you managed to find a room for exactly $40, you'd earn 800 base points across the two stays ($40 * 10 points per dollar * 2 stays). To ensure you end up with at least 8,000 points, Choice would therefore award you with 7,200 bonus points.
Here's another scenario. Rather than booking two super-cheap one night stays, you book two week-long stays where the room rate is $100 per night. That would mean you'd be spending a total of $1,400 across that combined fortnight, earning 14,000 base points in the process. Choice wouldn't need to top up your points balance as you'd already be at more than 8,000 points, but their guarantee of a minimum of 5,000 bonus points from the promotion mean you'd end up with a total of 19,000 points.
In addition to the bonus points earned as part of this promo, Choice is also giving Privileges members the opportunity to redeem 8,000 points for a $50 gift card. There's usually a limited selection of brands you can choose from, but that normally includes some high value brands like Shell and Best Buy. I think you can only take advantage of that pricing if you've stayed twice during the promotion period, but I've never tried redeeming as you can get more value than $50 redeeming Choice points for award nights.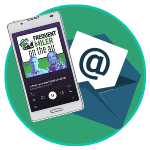 Want to learn more about miles and points?
Subscribe to email updates
 or check out 
our podcast
 on your favorite podcast platform.