The Daily Getaways is an annual travel promotion run by the US Travel Association that provides the opportunity to buy travel-related ppackages at discounted prices. It will be returning next week, and ustravel.org just provided a preview of the first two weeks of offers:
You can find a link to all these deals here. The calendar view provided above doesn't state the cost for each package, but if you click on the individual dates (such as here for the first date) then you'll see the different pricing options.
The first day's deal is IHG Rewards Club points. The five different packages are being sold at 0.5cpp, which is a decent value, especially with cash prices where they are right now. IHG used to frequently sell their points at 0.5cpp themselves through Points.com, but that's decreased in frequency over the last year, so this could be a good opportunity to top up.
On 7/26, Choice Privileges points are being sold for as low as 0.52cpp but also as high as 0.60cpp. I've had some good luck booking decent quality properties for 8,000 points, so the 55,000 point package would effectively be buying stays at those types of properties for less than $40 per night. That said, the Reasonable Redemption Value for Choice points is 0.68cpp, so for most people these packages are probably best used to top up balances.
Lastly, Daily Getaways is selling World of Hyatt points on 7/29 for 1.2-1.32 cents each, significantly less than our Reasonable Redemption Value of 1.6cpp. It's also significantly cheaper than the cost at which World of Hyatt sells points directly. I've been getting upwards of 2.5-3.0 cpp on Hyatt redemptions lately, so this offer would be tempting. That said, the Hyatt offers normally sell out within minutes and it feels almost like winning the lottery to get one.
Daily Getaways used to be a can't miss event each Summer, with absolutely fabulous deals that were worth setting alarms for. Now, it seems like there's less and less deals that move the needle and the deals that are appealing are more and more difficult to get. We'll continue to keep up-to-date on the offers and have more in-depth posts on the better offers before they go live.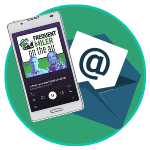 Want to learn more about miles and points?
Subscribe to email updates
 or check out 
our podcast
 on your favorite podcast platform.