Ever since Delta announced their new Delta One Suites with lie flat seats and doors that open and close, I've been eager to give it a try.  This month, I finally had a chance.  My wife, son, and I flew Delta's A350 from Detroit to Tokyo Narita and returned just over a week later.  On the outbound, my wife and I were upgraded from Premium Select to Delta One Suites.  On the return, we all flew Delta One Suites thanks to a low award price I had snagged 11 months earlier.
On our way to Japan, in-flight service was poor.  On the return, the service was phenomenal, but the in-flight entertainment didn't work.  You never know what you're going to get.  So, for this review, I'll focus instead on the hard product: the suites, the seats, and the cabin.  And since I've flown Delta One (AKA business class) many times on older jets, I'll compare the new suites to the old seats where appropriate.
Conclusion First
I don't know about you, but when I read reviews I usually jump down to the final paragraph to read the author's recap.  So, let me do that for you now and I'll skip the long review altogether.
The Delta One Suites are terrific.  I loved the suite privacy, ample near-seat storage, wider seats (wider than Delta's old Delta One seats, not necessarily wider than competition), enormous and bright video screen, and high ceiling.  I also liked the fact that they provide every Delta One passenger two pillows (one large, one small), and a cushy blanket.
But they're not perfect.
The seats are hard.  Delta should really provide pads for when the seats are laid flat.  Yes, you can use the provided Westin bedding for this purpose, but then you may be cold without a blanket on top.
The headphones aren't very good.  I found that they hurt my ears over time and would buzz if I used the A/C power plug at the same time (to charge my laptop, for example).  Worse, when I tried to use my own headphones (without a two-prong adapter), I could only hear on one side.  I recommend traveling with your own headphones, but make sure to bring an adapter for in-flight use.  I had a cheap adapter with me, but I discovered it was broken.
Window seats can feel a bit claustrophobic.  This was a very minor issue for me, but could be big for others. I didn't feel this way at all in a middle seat, but the window seat made me feel a little uncomfortable due to having walls close and all around, and a ceiling not too far away.  The ceiling is much lower over the window seats due to the curvature of the plane plus the fact that there are luggage bins above the window seats, but not above the middle seats.
Touch controls aren't very responsive. This is a very minor issue, but it's hard not to notice that you may have to tap the controls a number of times to get the lights to dim properly (for example).
Some doors are hard to open. The doors to my suites were fine, but my son's suite on the return flight proved to be very difficult to open.  He was in a window seat where the seat is up against the window instead of the aisle.  I don't know if that had anything to do with the issue, but it is another reason to consider avoiding that particular configuration.
Bottom line
Despite a few quibbles, I'd happily fly Delta One Suites any time, and far prefer Delta One Suites over most other business class options.  No, they're not on par with the top first class products, but they're competitive with the best business class products with the exception of Qatar's Qsuites (which I haven't yet flown).
Seat Recommendation
Many business class seat configurations (such as those found on Delta's 767 aircraft) stagger the window seats such that on every other row the seat is either against the window with the side console between the seat and the aisle, or the console is against the window and the seat is closer to the aisle.  This is true on Delta's A350 as well.  Usually I prefer the "true" window seats with the console between the seat and aisle because they offer more privacy.  In this case, though, I'd argue that those seats may be the worst choice since they have less near seat storage and have other downsides of window seats on this aircraft (less privacy and lower ceiling).  For the first time ever, I'd argue that middle seats are a better choice on the Delta One Suites (at least on the A350 — as they roll out this configuration on the 777s, I can't promise the same result).
Premium Select
Wondering about Delta's other premium cabin on the Airbus A350?  See: Half an hour in Delta's Premium Select. A mini review.
The rest of this post contains photos, videos, and captions…
Delta One Suite Cabin
Delta One Suite Seats
Suite Features

The door is the star of the show, so I made a little video to demonstrate.

I couldn't find the reading light until a flight attendant showed me the trick…

Meals Detroit to Tokyo Narita
As an added bonus, here are photos of the food menus and my food.  The food was good, but I don't recommend picking a flight for its food quality.  That will vary over time and by route.
Meals Tokyo Narita to Detroit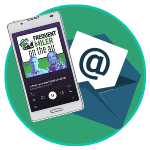 Want to learn more about miles and points?
Subscribe to email updates
 or check out 
our podcast
 on your favorite podcast platform.