Regardless of which hotel program you use, beachfront hotels in most of Florida have become increasingly expensive for both cash and points stays over the last couple of years. So, I was surprised to find a beachfront DoubleTree with excellent TripAdvisor reviews in the Tampa Bay area that was priced around 60,000 Hilton Honors points per night…with no resort fee to boot. This was about 20,000-30,000 less points per night than any other beachfront Hilton property on the Gulf Coast for my dates. Based on that alone, I decided to give the DoubleTree Redington Beach a try on a five night stay. I was hoping for a hidden gem on the Gulf Coast. That's not quite what I found.
DoubleTree North Redington Beach Bottom Line Review
I wish that I could give the DoubleTree North Redington Beach an unreserved thumbs-up based on value alone…but I can't. It's right on the beach and the ocean-view balconies and beachfront seating both provide great places to kick back with a drink and watch the sunset. But the city-view rooms are unappealing, the property seems a bit worse for wear and the f&b is average, at best. On a five-night stay at the low end of the redemption scale, it's a good option just to be on the beach. At 80k/night, I would spend my points elsewhere.
Price: Standard room rewards vary from 55,000-80,000 points per night. We stayed 5 nights at 62,000 points per night, totalling 245,000 points after the 5th night free benefit was applied.
Value: Good, if you can get it at the low end of the points spectrum. Cash prices seem to hover between $300-$500/night. When we stayed, the cash price was ~$400 night, giving a redemption value of ~0.8cpp, very good for Hilton. At 80,000 points/night, it's not as compelling.
Location: Excellent. It's on a lovely stretch of beach, which is presumably why you came here to begin with. Like many of the Tampa-area beach towns, it's not terribly convenient to the rest of the metro area. It's about a 25-30 minute drive to most of St. Pete or a 40-45 minute drive to Tampa.
Room: Fine, but unexceptional. An average DoubleTree room. There is a substantial difference in desireability between the gulf-view and city-view rooms, as the latter's balconies overlook the road (and have the traffic noise to prove it).
Parking: Self-parking is $20 and on two levels directly in front of the hotel. The hotel was full when we were there but we never had an issue finding parking.
Resort/Destination Fee: None.
Internet: Good, able to stream throughout the hotel.
Service: It's a DoubleTree and service reflects that. Most folks we interacted with were friendly and efficient, but nothing noteworthy. Oddly, housekeeping is only on request, no matter how long you stay.
Turndown service: None.
Dining:

Mangos Restaurant and Tiki Bar is fairly sizeable and spread out over the ground floor and two levels of beachfront deck. Views are great throughout. The breakfast entrées are substantal and about the quality of an average diner. The Tiki Bar during sunset gets pretty hopping and is a fun place to take in a sundowner. Mangos is open for breakfast, lunch and dinner daily from 7:30am-10pm Monday-Friday, 8am-10m Sat+Sun. The Tiki Bar opens mid-afternoon.

Spa: None.
Fitness Room:None on property. They have an arrangement with a small (and somewhat dingy) gym about two blocks away. You check out a fob at the front desk and that gets you into the gym.
Hilton Diamond Elite Benefits: 

Suite Upgrade: I booked a standard city-view room and was upgraded to an gulf-view room.
F&B Benefit: $15 per person, per day. Breakfast at the onsite restaurant was about $35/day after tax for two including 2 entrées and 2 coffees. After tip, it cost us about $12/day out-of-pocket for breakfast.
Late Checkout: None.

Would I stay again?  I wouldn't rush back, but I wouldn't be opposed to another 5-night redemption if I was going to be in the area AND if I could get it at at around 60,000pts/night as opposed to 80,000/pts/night.
Pros and Cons
Pros
Oceanfront on a beautiful stretch of beach.
Lots of beachfront, outdoor seating; both common areas and the restaurant.
It can be a good value on the low end of points redemption scale.
Cons
The property itself is feeling its age. There were multiple maintenance issues during our stay with elevators, doors, etc.
Rooms are unexceptional.
The city-view rooms face the road and are subject to a significant amount of traffic noise.
Lame pool area
Image Gallery
DoubleTree North Redington Beach King Gulf View Room
Pool, Beach and Common Areas
Mangos Restaurant and Tiki Bar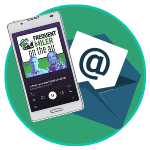 Want to learn more about miles and points?
Subscribe to email updates
 or check out 
our podcast
 on your favorite podcast platform.