Uber Travel is a new-ish (and not universally available) feature that lets you manage and store flights, hotels reservations, car rentals and other travel plans by connecting the app to your email. Uber then uses these shared plans to suggest rides using their Uber Reserve service, which allows you to schedule rides up to 30 days in advance.
In order to incentivize folks to link up and schedule rides, Uber has launched a promotion that awards up to 20,000 bonus Marriott Bonvoy points for linking your email account to Uber Travel and completing four Uber Reserve rides by September 30, 2023. In addition, folks who have their e-mail linked to Uber Travel currently get 10% back in Uber Cash when using Uber Reserve. (h/t: Award Wallet)
Note that Uber Travel isn't available in all locations. I wasn't able to access it while visiting family in Nebraska (and neither were a couple of other FM team members in smaller towns), but friends were able to find it in larger urban areas. Uber Reserve, on the other hand, is widely available.
The Deal
Earn up to 20,000 bonus Marriott Bonvoy points by completing the following tasks with Uber Reserve and Uber Travel

Earn 1,000 Bonvoy points for linking your Marriott Bonvoy account with your Uber account by 12/31/23
Earn 2,000 Bonvoy points by linking your e-mail with Uber Travel by 9/30/23
Earn 4,000 Bonvoy points for each ride taken with Uber Reserve by 9/30/23
Earn 2,000 Bonvoy points after completing a total of four Uber Reserve rides by 9/30/23
Linking your Uber and Bonvoy accounts
Open the Uber app
Tap "Account" in lower right-hand corner
Tap "Settings" and scroll down.
Scroll down and tap "Marriott Bonvoy."
Tap "Link Account."
Sign in to your Marriott Bonvoy account with your email or membership number you'll get get confirmation that your accounts have

been linked

.
Linking your e-mail to Uber Travel
This is a little trickier, as you can't access Uber Travel in many locations (from what I can tell, it's available in about 10,000 cities). It wasn't on my app in Omaha, but friends in LA and Chicago were able to see it.
Once you click on the pictured icon, you'll be given instructions on how to link your e-mail to the service. If you don't see it under "suggestions," try "services."
Terms and Conditions
Only valid for residents of the United States.
Marriott Bonvoy points are awarded within 4-6 weeks of completing a task
Quick Thoughts
This seems to be a good deal, provided you have access to Uber Travel on your app. Neither Stephen nor I were able to see it. I was in Omaha, NE when I looked, but evidently Uber Travel considers that the sticks.
Assuming you do have access, this is fairly easy to take advantage of, and could be especially rewarding given the 10% back on Uber Reserve rides. These rides can be scheduled as soon as 30 minutes before departure and don't cost anything more than regular Uber rides (several commenters have noted that the rides they see through Uber Reserve are fairly inflated compared to not reserving). If you link your Bonvoy e-mail and take four rides in the next seven weeks, you'll get 20,000 bonus points (above and beyond your normal Uber Bonvoy earnings).
It sounds like Uber Travel is somehow affiliated with Award Wallet, and uses the same functionality to store travel reservations. After the promo, if you don't want Uber Travel to continue to have access to your e-mail, you can opt back out of the service. I already use Award Wallet, so it's not a big deal for me.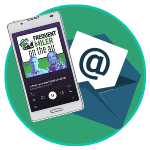 Want to learn more about miles and points?
Subscribe to email updates
 or check out 
our podcast
 on your favorite podcast platform.