During our 3 Cards 3 Continents Challenge, I flew from Washington, DC (IAD) to Cairo, Egypt (CAI) in Egyptair's 787 business class and it was a lot nicer than I had previously expected Egyptair business class to be. While Egyptair's catering probably won't win any awards and nothing about the experience was industry-leading, the cabin layout and seats were as nice as most other airlines in business class and service was better than I expected based on reviews I had read in the past. I wouldn't seek out Egyptair for the in-flight experience, but neither would I avoid them in the future when they offer an option that can meet my needs, particularly on their 787.
Photos and details
Cabin
I found their 787 business class to be competitive with most other airlines. It definitely wasn't as nice as Qatar's Qsuites, but the reverse herringbone seats were in a very familiar layout with enough storage and shelf space to accommodate my needs comfortably. Most importantly, I found my window seat to be plenty cozy to get a full night's uninterrupted rest — and since every seat has direct aisle access in the 1-2-1 business class layout, I'm sure the same could be said by anyone else on my flight. I neither found the seats notable comfortable or uncomfortable — they were a solid "fine" that met expectations of any modern business class cabin.
One thing I liked was that the tray table folded out from the TV to create a really nice-size surface that was easy to use for working on my laptop (I did a bit of work before dinner).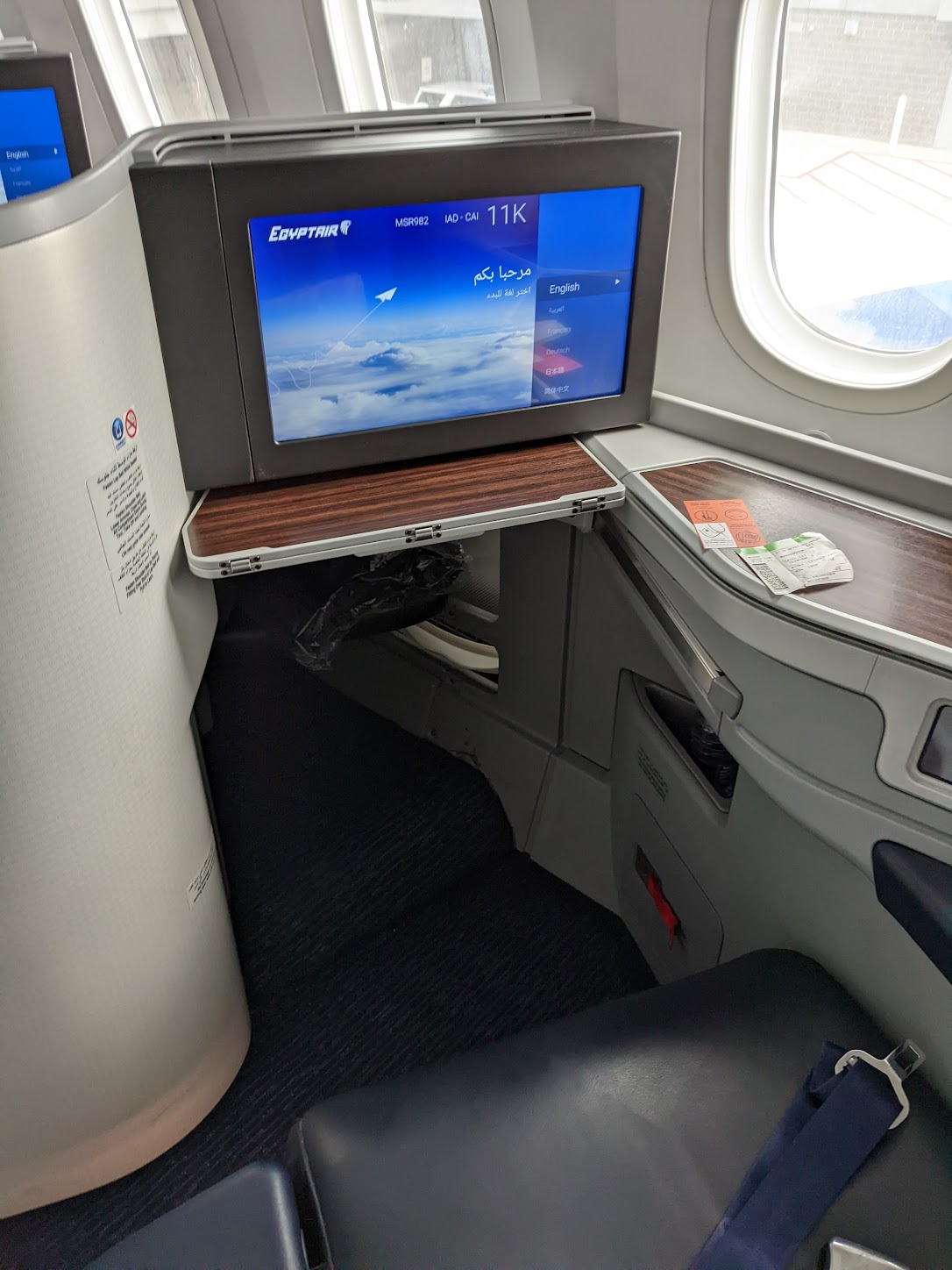 Amenities and entertainment
The Egyptair amenity kit was surprisingly extensive. Not only did it include standard stuff like an eye shade, socks, lip balm and lotion, but it also included a shoehorn and wooden brush along with hand sanitizer, a pen, a standard toothbrush kit, and ear plugs. That was far more than what was found in any of my other amenity kits this trip (Qatar had a nice box of Dyptique amenities, but no zip-up bag and it didn't include things like the shoehorn and brush). I haven't actually used the lotion / lip balm, so I can't speak to the fragrance, but the bag became handy for collecting other lotions / toiletries from other stops and airlines on the trip. The bag is a nylon-type material with a fake leather bottom — it actually seems kind of durable if not the most stylish kit I've ever received.
In terms of entertainment, this was where Egyptair was severely lacking. I think I counted 13 Hollywood movies in total, and they weren't particularly recent releases.
This was a non-issue for me as I'd already downloaded some things to watch on both my phone and laptop should I spend any time awake where I wasn't either working on a post or eating a meal. As it turned out, I ate dinner and proceeded to sleep for the vast majority of this 10.5hr flight. In-flight entertainment wasn't something I needed.
Catering
Egyptair is a dry airline. That's a common complaint among travelers, but it's really a non-issue for me. While I enjoy a glass of good wine now and then, I don't regularly drink wine and have never had most hard liquors. I'll enjoy the Dom Perignon-vs-Krug taste test in Singapore Airlines First Class when the opportunity arises, but I can certainly handle a long flight without alcohol. I know some will disagree, saying that premium alcohol is part of the premium cabin experience and I can understand that perspective and that Egyptair isn't for everyone.
In terms of food, dinner was served on a tray with plastic wrap or plastic tops still on all of the dishes (surely as part of COVID precautions).I guess I somehow managed to forget to take pictures of the menu. This was a sesame-encrusted tuna starter. I'm not a big seafood eater, so I didn't finish it, but I do eat tuna now and then and I found it to be decently flavorful.
For dinner I had a chicken dish over mashed potatoes. It was OK — not a lot better than it looks, but not bad. Again, this wasn't a "premium" premium cabin experience, but it was sufficient.
The problem with everything being served with a plastic top is that my chocolate mousse cake dessert basically came apart because it had stuck to the plastic top.
Breakfast was decent. It consisted of a couple of bread choices (I went with a croissant and a cinnamon roll), some fruit, cheese and sliced turkey, yogurt (not pictured), and crepes. I am writing this review from Paris, where I had an absolutely delectable Nutella-banana-and-chantilly-cream crepe this afternoon. The crepes below look awful, and they wouldn't hold a handle to the one I had this afternoon, but believe me when I tell you that they tasted way better than they looked. They were filled with strawberry and I quite enjoyed them believe it or not.
Overall, the catering was probably better than you expect, just not far better. It doesn't compete with what you'll get on Qatar or Emirates or Singapore or Turkish or ANA, but it wasn't worse than what I've had on recent American Airlines flights across the pond in business and first class.
Service
I don't have any photos of the service, but I thought it was worth a note here to say that service was far better than I'd expected. Again, it wouldn't hold a candle to flying with an airline like Singapore or Qatar, but based on previews reviews I'd read, I had an expectation of poor service that definitely didn't materialize. I was offered more bread with my meal, asked whether I needed anything more to drink, and generally checked on several times throughout the time that I was awake on this flight. Again, it wasn't like Singapore where a flight attendant will likely notice that your water or wine is getting low before you do and proactively bring you more, but neither was it difficult to get everything I wanted without needing to ring the call button.
Business class lounges in Cairo
There were two Egyptair business class lounges in the terminal I visited in Cairo on my departure after my long layover in Cairo (which was on Turkish Airlines in business class). Oddly, they will only let you use the lounge near your departure gate. I know this because I went to the lounge near my gate first and they first checked to see which gate my flight was scheduled to use before letting me in. Later, there was a gate change. I walked toward the gate for my new flight and found the second lounge. When I brought in my boarding pass and the agent saw my original gate on it, she told me that I couldn't enter as I had to go to the lounge near my gate. I explained that there was a gate change and she looked at the monitor and said, "Oh, you're right" and proceeded to let me in.
Take it from me: there's not really much difference between the two, so don't feel like you're missing out on anything. Both lounges feature the same dark wood theme and porthole windows to the tarmac.
Power outlets built into the seats didn't work at the first few seats I tried (though I eventually found one that worked). Food was all individually packaged, though they had a decent variety of options if you're into breads / muffins / cookies and other desserts.
I'd say that the lounges were on pair with a mediocre Priority Pass lounge: like everything else about the experience, they were sufficient even if not exciting.
Bottom line
Obviously experiences can vary from one flight crew to the next, but based on my overall experience, I wouldn't avoid flying on Egyptair. Since the catering isn't very good and there is nothing about the experience that is necessarily exciting, I wouldn't seek out the opportunity to fly Egyptair, but neither would I avoid them if they offered the most convenient option for my desired itinerary (as they did in this case). Their 787 was much nicer than pictures I had seen of their 777 business class product and everything about the experience provided a sufficient business class experience even if not particularly aspirational. This made for a great way to kick off my 3 Cards 3 Continents trip since I was able to finally see the pyramids of Egypt and position myself to move onward on my six-segment, 5-airline, 6-country, 5-day one-way Air Canada Aeroplan award ticket.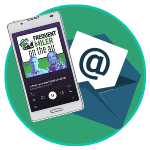 Want to learn more about miles and points?
Subscribe to email updates
 or check out 
our podcast
 on your favorite podcast platform.