Signing up for credit cards is, by far, the fastest and easiest way to amass a fortune in points and miles.  Chase, in particular, often offers the best welcome bonuses.  They also offer a number of co-branded cards that you can't get anywhere else (Hyatt, IHG, Southwest, United, etc.).  Unfortunately, Chase's 5/24 Rule makes it difficult to get all of the cards you may want.  There is, though, an approach where you can keep signing up for cards even while staying under 5/24.
What is the 5/24 rule?
In a nutshell: if you apply for a Chase credit card, they will deny your application if you have opened 5 or more credit card accounts, from any issuer, in the past 24 months.
To determine your 5/24 status, see: 3 Easy Ways to Count Your 5/24 Status.
The trick to flying under 5/24
Many business cards do not add to 5/24
. Chase uses your personal credit report to determine how many cards you've opened in the past 24 months.
However, most business credit cards are not routinely reported on personal credit reports
. Even Chase's own business cards aren't routinely reported and therefore do not count towards your 5/24 total.  That is, if you are under 5/24 you can get approved for a Chase business card.  Once approved, that card will not worsen your 5/24 status.
---
More:

According to Doctor of Credit, the following banks do not routinely report business accounts to the personal credit bureaus:

American Express (except for Canadian Amex)
Bank of America
Barclaycard
Capital One Spark Cash
Chase
Citi
FNBO
Navy Federal CU
PNC
US Bank
Wells Fargo

---

The following banks do report business cards on personal credit reports (and therefore do count towards 5/24):

---
So, the trick is simply to focus applications on business credit cards from the banks listed above that do not report them to the personal credit bureaus.
Other benefits
When you apply for business credit cards, banks do issue hard inquiries that appear on your credit report.  And those do have a small short term negative impact on your credit score.  That said, when business cards do not show up on your credit report they won't hurt your average age of credit (good!), and they won't impact your credit utilization (this can be good or bad, depending upon how much spend you put on these cards).
Regarding credit utilization: Usually, signing up for new cards helps your credit score in the long run by making more credit available.  This way, if your spend remains constant, your credit utilization ratio gets lower and you get a better score.  If you plan to spend a lot more than before, though, the spend can hurt your utilization ratio and would therefore hurt your credit score.  With business cards that don't show up on your credit report, neither happens: your available credit does not appear to be larger and spend put on the card is not reported.  For those who manufacture spend, this is an obvious big plus, but for others it may be a small negative.
Are you eligible for business cards?
You must have a business to apply for business cards.  That said, its not uncommon for people to have businesses without realizing it.  If you regularly sell items on eBay, for example, then you have a business.  Similar examples include: consulting, writing (e.g. blog authorship!), handyman services, owning rental property, etc.  In any of these cases, your business is considered a Sole Proprietorship unless you form a corporation of some sort.  If you want to keep things simple, you can use your own name as the business name and your own social security number as the business Tax ID.
Finding business card Best Offers
To help people find credit card offers, I usually point them towards our Best Credit card Offers page.  In this case, though, you may prefer our page dedicated to business card offers:
Note that this page includes the banks that report business cards to personal credit bureaus. If your goal is to get cards that don't add to 5/24, make sure to ignore the cards from Capital One, Discover, and UBS.
More Info
For more info about credit scores and inquiries, please see: Free Credit Scores, Reports, and Monitoring: Complete guide.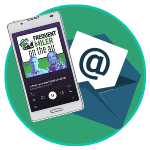 Want to learn more about miles and points?
Subscribe to email updates
 or check out 
our podcast
 on your favorite podcast platform.