Intro: Over the Christmas holidays I had my first opportunity to try out Silvercar – a high end rental car company – at the Fort Lauderdale airport. My intention was to write a simple review, but I found it impossible to detangle my impression of Silvercar from the overall Fort Lauderdale Airport (FLL) rental car situation.  In other words, I can say how Silvercar compares to other rental options at FLL, but I think it would be a mistake to generalize beyond that.  So, in addition to a brief Silvercar review, here is my take on FLL's rental car situation and how to make the most of it…
At least once a year, usually over the holidays, my family and I head to southern Florida to escape Michigan's miserable weather and to visit my wife's family.  While we prefer to fly into Palm Beach International airport (PBI), flights to Fort Lauderdale Airport (FLL) are almost always more convenient and significantly less expensive.  As a result, we have lots of experience with renting cars at FLL during the busiest times of year (joy!).
Fort Lauderdale Rental Car On-site / Off-site Center
Going far back into my hazy memories from long ago (side note: my memory doesn't tend to be very good, so pretty much any memory is a hazy memory), there was a time when I landed at FLL and walked to the in-airport rental car center to pickup my car.  I was surprised and disappointed when, a year or two later, upon arrival at FLL we were directed to a rental car shuttle to take us to the Rental Car Center where all major rental car agency cars were available.  I figured that either my memory was wrong or that they had moved the Rental Car Center off-site.  This was disappointing because I've never liked rental car shuttles.  In-airport car rentals are so much better.  And, this particular shuttle seemed to take forever to make its way to the Rental Car Center.
Not only do I have poor memory (see above paragraph), but I'm extraordinarily unobservant.  For several years we took this rental car shuttle on what seemed like a tour of the southern states to the far off rental car center.  Then, finally, upon arriving at the rental car center one year, I (or probably my wife, to be honest), noticed that we were back at the airport.  The freakin' rental car center is an in-airport center, after all!  My distant memory was right.  I must have flown into Terminal 1 way back when, probably on United or Southwest.  Only Terminal 1 is connected to the rental car center.  Terminals 2, 3, and 4 are separate.  But, and this is important for those of us that don't mind walking, Terminal 2 (where my family usually fly into via Delta) is a short walk from Terminal 1!  In fact, as I learned later, Terminal 3 isn't far away either.  I haven't tried Terminal 4, but I bet you can walk through the Palm Garage to Terminal 2 and from there to Terminal 1 (or, as you exit Terminal 4, walk to the left to Terminal 3, and then to Terminal 2, and then Terminal 1).  Here's the airport map:
If you arrive FLL on Southwest, United, or a number of other popular airlines, you'll arrive in Terminal 1 and you'll be good to go (since the Rental Car Center is attached to Terminal 1).  Here's a list of who flies to each terminal:
Terminal 1: Alaska, Allegiant, Frontier, Silver, Southwest, United, Virgin America, Westjet
Terminal 2: Air Canada, Delta,
Terminal 3: Air Transat, American, Azul (Departures), Bahamasair, Dynamic International (Departures), JetBlue, Nor​wegian​ (Departures), Spirit
Terminal 4: [All international arrivals requiring Customs], Air Transat, Avianca, Cape Air, Copa, IBC, Spirit, Sunwing, TAME, Volaris
In-Airport Options
Now that FLL has magically converted back in my mind to an airport with an in-airport rental car center, I like the airport better than I did before.  I usually rent from National, so it's a simple matter to walk to the Rental Car Center, find the National Emerald Aisle, pick a car, and drive away.  Even better, National Executive status is available to anyone with a World Elite MasterCard (found here: Update: Unfortunately this deal has expired) or an Amex Platinum card (details here).  My Executive status lets me pick from any car in the Executive Aisle section (these are a step-up from those in the regular Emerald Aisle).
Off-Airport Options
Over the holidays, the in-airport rental car options become outlandishly expensive.  However, many small off-site rental car companies that no one has ever heard of are generally available at reasonable prices.  The trick with these is that you have to make your way to the Rental Car Center where there's a phone for calling these off-site agencies so that they can come get you.  They then drive you back to their location where you can fill out paperwork and get on your way.
The main problem with these off-airport options is that you likely will have a long wait both to get picked up and again to fill out paperwork once you get to their location.  And, another long wait when you return the car.
Off-Airport / On-Airport Hybrid Option
Another way to save a lot of money (and this is true at many airport locations, not just FLL) is to select a rental car agency that has in-airport rentals, but book your pickup location from a nearby off-airport location.  Here's the trick: you can usually setup your booking to return the car to the airport itself at the end of your stay for no extra charge.
I've done this several times where I took a cab (but today would take Uber or Lyft) to the rental car agency to pickup my car.  And, at the end of my trip, I simply returned the car to the airport.
Silvercar (and my mini review)
Silvercar is a high-end rental car company that rents out only Audi A4s.  They advertise the following benefits:
No lines
No paperwork
Premium features at no extra cost
Fair toll tracking
Free in-car Wi-Fi & GPS
Free Satellite Radio
Fair Fuel Plan (pay only for the gas you use plus a $5 fill-up fee)
Leading up to my most recent trip to FLL, when I went to book a rental car I found that the in-airport prices were crazy high.  Silvercar wasn't at all cheap, at $89 per day, but it was cheaper than other in-airport options, and as a new user I did get the first day free with the code COMEDY (I don't know if it still works).  I have no doubt I could have saved a ton of money by going off-airport or maybe by using discount codes in-airport, but I wanted to give Silvercar a spin.
After a harrowing day (see: My final AA mileage run involved actual running. Here's the story), I arrived at FLL Terminal 3 only minutes after my wife and son arrived in Terminal 2.  I told them to wait outside for me.  I then used the SilverCar app to text and let them know that I had arrived.  The instructions were to make my way to the rental car center and wait for pickup at the same place that other off-airport companies pickup passengers.
I exited Terminal 3 and turned left.  It was a very short walk to Terminal 2 where I met up with my family.  We then walked to Terminal 1 and then crossed the bridge to the Rental Car Center.  We noticed that it would save time to dart across the street instead of taking the bridge, but it would also be unsafe since there are no crosswalks there.
We arrived at the designated wait-location and we waited.  And waited.  Finally I called Silvercar and they said that they would come pick us up.  There was no acknowledgment that we had requested pickup before.  The rest was uneventful.  A nice woman picked us up in an Audi and took us to the SilverCar office where she then showed me that I could open our rental car with the Silvercar App.  That was pretty cool.  And, as promised, we were quickly on our way.
Remember when I used the SilverCar app to let them know to come pick me up?  Several hours after we left with our car, I received a text message saying that they had received my request and a car was on its way to the Rental Car Center to pick us up.  Great!
The car was very nice, but to be honest, I've been just as happy with some of the cars I've picked up from the National Executive Aisle.  We enjoyed listening to Satellite radio and my son enjoyed playing with the in-car wi-fi.  He declared that it wasn't fast enough to stream video but that it streamed music well.  Good for our shared data plan!
I tried the nav-system with two different destinations, but it failed to find either one by name.  I had to enter the addresses manually, which was a pain.  Once it was set with a location, turn by turn directions worked well.  Overall, though, I prefer to simply use Google Maps on my phone, so I reverted to that for the rest of the trip.
Returning the car proved to be as easy as advertised.  We drove to the Silvercar office where a Silvercar employee (who happened to be the same woman who picked us up at the beginning of the trip) drove us in our car to the airport to drop us off.  This was great because we didn't have to move our luggage from one vehicle to another.  I wasn't sure whether tipping was expected, but I did give the driver $5 or so.  I hate those situations, not because I'm cheap, but because of the uncertainty.  Should I tip or not?  And, what if I only have $20s or no cash at all?  Was I bad because I hadn't tipped at the beginning of the trip?  Ugh.
As promised, gas refill charges were quite reasonable ($27.44).  I didn't go through any tolls on this trip, so there were no toll charges.
Bottom line
My Silvercar experience at Fort Lauderdale was… fine.
I've read that at some airports Silvercar picks up passengers directly outside the terminal.  I think that would be better than having passengers make their way first to the Rental Car Center.  After all, once you're there, its just as easy to pickup any other rental car in which you're a member of their loyalty program (so that you don't have to fill out paperwork at that time).  In fact, I prefer the experience of picking up a car from National's Executive Aisle over the Silvercar experience at FLL.
The rental return experience was good – certainly much better than returning a car to any other off-site location.  But, I prefer on-airport returns whenever they're available (as is possible at FLL with National and many other agencies).  And, with on-airport returns there's no tip anxiety.  I simply don't.
Would I rent with Silvercar again?  Yes, definitely, if the conditions warrant it.  Prices aside, I prefer National at FLL, but at other airports I might prefer Silvercar.  At other airports, if National has an in-airport presence, then I'll still go with them.  However, if National is off-site, and if Silvercar's prices are competitive, I would happily rent with them again.
| Name / Link | Offer | Frequent Miler Notes: |
| --- | --- | --- |
| SilverCar Use referral code GDAVISKEAN1 | We will each get $25 when you complete your first rental | High end all-Audi rental cars available in only select airports. At times the prices can be competitive with low end options. |
See also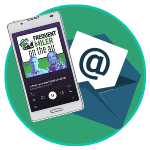 Want to learn more about miles and points?
Subscribe to email updates
 or check out 
our podcast
 on your favorite podcast platform.