AT&T is offering a free mobile hotspot device with 50GB of LTE data for 30 days for businesses with a valid EIN (though what constitutes a valid EIN is a bit murky as seen below). As I recently created an LLC and I've wondered about AT&T hotspot coverage where I live, I happily signed up for this.
The Deal
AT&T is offering a free mobile hotspot with 50GB of data for 30 days to new business customers with an EIN (no need to enter billing information, just business name / address / phone number / EIN)
Key Terms
Limited time offer; subject to change. Avail. to small businesses while supplies last.
Req's valid tax ID.
1 free Moxee™ Mobile Hotspot per shipping address.
Data access for 30 days or 50GB, whichever comes first, at which point trial service will end.
You remain subject to your AT&T or non-AT&T service terms, as applicable.
At end of trial, you can return the Moxee™ Mobile Hotspot to an AT&T store or keep it.
Device is only compatible with the AT&T network for one year after shipping date.
You may need to upgrade when you switch to AT&T to get full coverage.
LTE coverage not available everywhere; see here for coverage details. Not for international use.
You consent to receive periodic marketing communications from AT&T during and after the trial.  Add'l terms apply.
Quick Thoughts
I saw this deal when Doctor of Credit posted it last night and the only comment at the time was from a reader who noted being unable to sign up with their EIN because the AT&T site seemed to suggest that it needed to start with a 9 (the blank space below says "9xxxxx").
The problem there is that my EIN does not start with the number 9. I kept getting an error saying that my EIN was not valid when I entered it correctly, so I eventually I just changed the first digit to a 9. That did the trick as it moved to the next page of the process. On the next page, you have to enter the business information and despite the leading 9 suggested again, I was able to enter my correct EIN in the blank on that second page.
My best guess is that the first page is just a verification tool, but once they have verified that you have an EIN (which they think must start with a 9), you can enter the accurate EIN on the second page. I assume that second entry is the one that actually gets associated with your account.
I placed the order and received an initial email confirming it was placed and then a second email saying the order was confirmed and would be shipped soon.
I don't particularly need this hotspot but wanted to check it out and compare to my T-Mobile home Internet. It may also be useful for me because AT&T has wider coverage on the rural rounds in my immediate vicinity, so I should be able to be more productive in the car for the next month (while my wife drives).
Note that T-Mobile offers the same thing to people who want to test out T-Mobile coverage and you don't need a business. This one mostly caught my eye because of just recently setting up a new LLC that qualified.
H/T: Doctor of Credit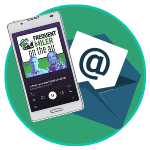 Want to learn more about miles and points?
Subscribe to email updates
 or check out 
our podcast
 on your favorite podcast platform.