The Venetian in Las Vegas is offering a complimentary night to many different types of essential workers (not just health care) through the end of 2020, including a waived resort fee for that night. Personally, I won't be planning any trips to Las Vegas this year (and nor do I work in a qualifying industry), but at the same time I know that some readers may consider it the fall or winter. If you're considering it, employees of a surprisingly broad number of industries can score a free night.
The Deal
The Venetian in Las Vegas is offering a complimentary night to essential workers when you book by 8/31/20 for stays through 12/29/20 (limited to 50,000 free nights). Guests must contact Resort Services at 866-275-9040 and reference offer codes JEVGET or JEPGET to book.

First Responders and other essential workers include employees from the following services & sectors: (source) [venetian.com]

Fire services, law enforcement agencies, emergency medical services & public safety agencies
Healthcare services
Businesses or organizations that provide food, shelter, or critical social services for disadvantaged populations
Public utilities
Trash collection
Home maintenance/repair services
Auto repair services & trucking service centers
Grocery stores, supermarkets, hardware stores, convenience & discount stores
Pharmacies, healthcare operations, & biomedical facilities
Post offices & shipping outlets
Gas stations & truck stops
Banks & financial institutions
Veterinary services & pet stores
Laundromats & dry cleaners
Food processing
Agriculture, livestock & feed mills
Logistics & Supply Chain Operations: Warehousing, storage, distribution, and supply-chain related operations
Public transportation
Air transportation
Essential stays in hotels, commercial lodging, dormitories, shelters, and homeless encampments
Educators, childcare centers and daycares
Key Terms
Resort fee is waived for the complimentary suite night; however resort fees amenities will be provided. Resort fees apply for any guest pay suite nights (i.e. additional nights)
Limited to the first 50,000 redemptions
Limit one complimentary suite night per individual for the term of the offer.
Limit one complimentary suite night per reservation.
Any additional suite nights per reservation will be charged at the Venetian Friends & Family rate.
Guests must provide proof of essential worker employment as recent as February 1st, 2020 in the form of an employment ID, employee verification letter, or pay stub upon check-in. Failure to provide such proof will result in re-rating of the reservation to the prevailing rate.
Recipients must be a resident of a US state or territory.
Quick Thoughts
Clearly, Las Vegas expects to be hurting for business for quite a while. I can't imagine the sums of money the casinos have lost in being shut down, so I'm not surprised to see an offer to get people in the door. I'd bet we'll see a lot more like it in the coming months. Obviously, like all promotions we're seeing right now, the motivation here is to get business in the door rather than to "give back" (as it will be billed by the casino). That's to be expected as businesses do what they can to stay afloat.
Let me also reiterate that I'm not planning a trip to Las Vegas this year. It's not worth the risk to me. If I worked in an essential industry where I'd been exposed every day and/or had the virus and recovered from it, maybe I would feel differently. As far as I'm concerned, they could offer me a free week and I wouldn't be interested in taking them up on it despite the fact that I've always had a desire to stay at The Venetian. Their standard rooms look nice, but I'm not at this point interested in being in a Vegas-sized crowd and don't expect to want to be by the end of the year.
At the same time, as noted above, I know that some people have a different perspective and with casinos expected to open in the coming weeks and assuming you book several months down the road, we'll likely have a clearer view on whether or not it is safe to go to Las Vegas with plenty of time to cancel your reservation if you change your mind.
The free night not being subject to the resort fee is a nice deal as that is otherwise $45 per night. I imagine that a couple who both work in qualifying industries could probably put two free nights back-to-back.
If you're in an included industry, I'd personally recommend making your reservation as far out as possible to give you the time to change your mind if need be. I'm sure that some people will rush in the door when casinos reopen. While I'm sure that I'll eventually get back to travel that resembles "normal", I have said and will say again that I don't need to be on the leading edge of testing out the relative safety when things open. I'm actively looking at booking (refundable) trips during the first half of 2021 right now in the hopes that we'll have a lot more data by then. We'll see.
H/T: Slickdeals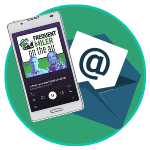 Want to learn more about miles and points?
Subscribe to email updates
 or check out 
our podcast
 on your favorite podcast platform.