We've written many times before about online brokerage Webull because they frequently offer good incentives for referring new customers, which can make them an easily profitable play if you're in a two-player household (or more). Webull is offering a really nice referral promo right now that could make it worth sharing with friends and family: refer 1 person and get at least $160 worth of Apple stock — and if you hit the lotto you could end up with up to $18K worth of Apple stock for that referral. The new user ends up with up to 12 fractional shares of stock (2 fractional shares upon account opening and up to 10 more when they fund their account with any amount). Even at just the $160 plus the minimum bonus of $34 for the person opening a new account, it's an easy $194 bonus if household Player 1 signs up and then refers Player 2. If you also have another friend or family member who may be able to pull off the same in their household, this could become an excellent deal to share given the low threshold necessary to trigger this promotion. If you know one other household that can benefit, have Player 2 refer them and you'll be up another $160 and setting them on the same path.
Keep in mind that you'll only get this offer for your first referral.
The Deal
Refer one friend to Webull & earn at least $160 worth of AAPL stock (you get a random allocation of between $80 and $9,000 worth of AAPL and then they double it for the first referral).
If you already have a WeBull account, you can find the new referral promotion in the promotion center. Note that you must opt-in in the promotion center to refer.
If you don't have an account, you must first sign-up for an account, make at least a $100 deposit, and you'll then be able to refer (our referral links are below if you'd like to use them)
Key Terms
New user must sign up and open an account with Webull via an existing referee's link between between March 16, 2023 at 12:00am and March 22, 2023 at 11:59pm.
Eligible customers will receive a fractional share of AAPL worth $80, $200, or $9,000 and will then get a chance to spin the wheel for a second fractional share worth $80, $200, or $9,000.
A successful referral is a new Webull user who

Is at least 18 years of age
Resides in the United States
Opens a Webull account using the eligible customer's unique referral link during the offer period
Has a valid social security number
Has never previously applied or opened for a Webull brokerage account with that social security number
Makes an initial deposit of any amount

Referee will receive 2 free stocks valued at $3-$300 plus four, eight, or ten free stocks valued at $7-$3,000 after depositing any amount
Offer rewards must be claimed through the Webull mobile app by 11:59pm EST on May 2, 2023 in the My Rewards page of the Webull app. Offer Rewards not claimed by the claim date will expire and cannot be reissued.
Quick Thoughts
These Webull referral promotions always offer more to the person making the referral than to the person signing up, but if you have a multi-player household or family, they can be really easy money.
The key is that if you have a Webull account, you need to opt in to the promotion on your promotions tab before you share your referral link. Open your Webull app and go here:
Then click the button to opt in to the promotion before sharing your link with others.
For what it's worth, I don't love the Webull interface, but I use it a little bit just to keep my eye out for these referral promotions since I know that plenty of people could use a quick buck and Webull often provides a good opportunity for that.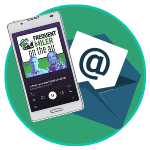 Want to learn more about miles and points?
Subscribe to email updates
 or check out 
our podcast
 on your favorite podcast platform.