After flying Egyptair business class from Washington to Cairo, Turkish regional business class to Istanbul and onward to Muscat, and Oman Air to Bangkok, I continued on my 6-segment, 5-airline, 6-country, 5-day Air Canada Aeroplan one-way business class award to the Pacific Zone by flying Gulf Air's 787 business class on a fifth freedom route from Bangkok, Thailand to Singapore. This is a relatively short flight, so it only provided a brief taste of Gulf Air. Unfortunately, that taste wasn't great. While this flight featured the same Apex Suites seats as my Oman Air flight, that's where the similarities ended. In-flight catering and service wasn't impressive. While I wouldn't necessarily go out of my way to avoid Gulf Air in the future, I'd sooner want to fly Egyptair's 787 business class.
Photos and details
Cabin
I found Gulf Air's 787 business class to look pretty snazzy with the combination of greys and brass colors. It was actually pretty eye-catching.
That said, the color scheme was about where my love for Gulf Air ended.
As noted above, Gulf Air features the same business class Apex Suites used by Oman Air, Japan Airlines, and several other carriers on 787s. As you may have read in my Oman Air review, while I recognize that Apex Suites are widely loved for the direct aisle access for all seats despite a 2-2-2 seating configuration, I really dislike the lack of width in the side table. This picture from my Gulf Air flight is a good representation of the width.
As you can see, my passport may have been wider than the side table and the ledge is just wide enough to accommodate small Arabic Coffee cup and napkin. Even a water bottle is tight when placed on the ledge. Sure, you can pull out your tray table, but I prefer more side storage space.
The seat itself also felt like it had less padding than Oman Air's version.
Again, it wasn't bad, just not my cup of tea really.
Catering
Speaking of my cup of tea, let's talk about the poor catering on this flight.
This was a relatively short flight (about 2.5 hours), but by Middle East carrier standards, that's about an hour and 45 minutes longer than many flights where I've been served complete meals.
By contrast, Gulf Air offered no menu whatsoever. About an hour into the 2.5 hour flight, attendants came around with a tray of odds and ends asking if we wanted anything to eat. The flight attendant almost seemed surprised when I said yes. Because I had a window seat, I couldn't see the cart, so she described what they had. She said they had cream cheese and caviar and described one or two other things with about as much detail. I asked for the cream cheese and caviar, at which point she asked if I'd also like something sweet and I said sure. This is what I got:
That picture makes those two items appear larger than they are. If they had an entrée option, it wasn't clear to me from the flight attendant description. Needless to say, I got off of this flight hungry.
After I received those two small bites, it was at least 20 more minutes before they asked if anyone wanted drinks (for the first time since prior to departure). Of course, everyone had already eaten . . . without drinks. I asked what they had for red wine and she said they had "the French one" or something else that I didn't catch, but whatever she said didn't sound to me like a region or varietal. I took the French one.
In fairness, I can totally understand that English was not the first language for the flight attendant and that I was flying a Bahrain-based carrier from Thailand to Singapore, so on the one hand I can certainly give the flight attendant a pass for not being able to describe the wine more clearly. My gripe is more that I'd expect a printed menu and wine list from an international carrier, particularly one coming from a region with the types of competition Gulf Air has. While I know this was a short fifth freedom flight, I've had relatively short flights on Qatar, Etihad, and Emirates (and had flown a longer flight the previous day on Oman Air) and all of them were better than Gulf Air was in this instance.
Perhaps Gulf Air is much better on their longer-haul flights, so don't take my experience as representative of what it's like to fly Gulf Air long-haul. However, if I were to compare my first impression of Qsuites from my ~45-minute flight from Doha to Dubai versus this 2.5hr flight from Bangkok to Singapore, Qatar would beat the pants off of Gulf Air. It was like night and day.
Bottom line
My experience with Bahrain-based Gulf Air was very limited given the short flight time on this Bangkok-to-Singapore fifth freedom flight, but I wasn't very impressed. Those who like Apex Suites will likely appreciate the seats, but the in-flight service and catering left something to be desired on this short flight. While I certainly wouldn't expect better on a domestic US flight of the same length, I did have higher hopes given the competition among Middle East carriers. Part of my motivation for this trip was getting the chance to fly multiple of Air Canada's more unique partners, and by that measure I'm glad I took this flight even though I didn't love it. I'd probably give Gulf Air another shot on a longer flight, but I wouldn't make an effort to do so.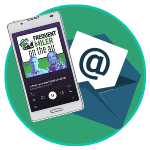 Want to learn more about miles and points?
Subscribe to email updates
 or check out 
our podcast
 on your favorite podcast platform.