Holland America is out with a cruise match program that might provide a new opportunity for a free cruise. A member of our Frequent Miler Insiders group shared this new offer last night and we've seen a mix of data points in terms of offers, from some free play money to a free interior room. My instinct is that those who previously did the Carnival match and didn't gamble much probably won't get a big offer here, but it could be worth taking a swing if you haven't yet hopped into cruise line status matching and/or if you are a gambler.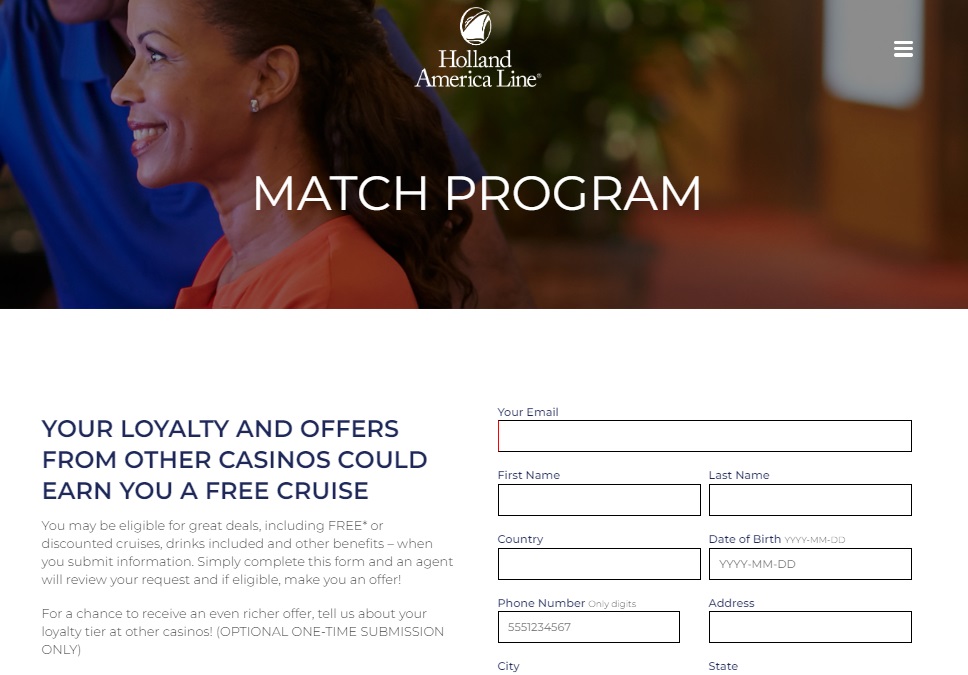 The Deal
Holland America Cruise Line is offering a match program whereby your "Loyalty and offers from other casinos could earn you a free cruise". You can submit casino status and/or competing cruise line offers and potentially get a free cruise (though read more detail below before you dive in on this one)
Key Terms
GENERAL FREE DEAL TERMS (APPLICABLE TO ANY/ALL AVAILABLE MATCH PROGRAM FREE DEALS ("DEAL(S)")) Free Deals exclude any deposit and Taxes, Fees, and Port Expenses ("TFPE").
The promotional offer is applicable for 1st/2nd guests only; 3rd/4th/5th guests are responsible for prevailing cruise rates.
Holland America Line reserves the right to assess a change fee according to the date of the request, the length of the cruise, and the actual cruise sail date.
Cancellation penalties apply.
Must be 18+ to play in the casino.
Invited Guests under the age of 21 must travel with a relative or guardian of 25 years of age or older.
Exclusions may apply to certain Deals.
Deals (and any parts) are not transferable, not substitutable, not redeemable for cash and not combinable with any other offer/deal.
Deals are only applicable to new bookings, on select sailings, and are capacity controlled (regardless of stateroom availability).
Each Deal is only available on select sailings through the date set forth in the Deal's specific terms.
Free Play offers are only valid for the first two guests in the stateroom.
Carnival Corporation ("Carnival") is not responsible or liable for any printing errors. Any Deal may be changed or revoked at any time.
Guests must be eligible for passage on Holland America Line ships to be eligible for these Deals. There is no guarantee of availability at time of booking. © 2022 Carnival Corporation. All rights reserved. Ship Registry: The Netherlands.
THE MATCH PROGRAM TERMS & CONDITIONS The Match program ("Program") is only available to legal residents of the 50 US/DC, who are 21 years of age or older.
Program may provide certain eligible consumers with deal(s) on their next Holland America Line cruise voyage (each a "Deal").
In order to be considered for the Program, a consumer must fully complete and submit all required information requested on the Program form at https://oceanplayersclub.com/hollandamericamatch/ or other applicable Program page (collectively, a "Registration Page"); such action does not guarantee that the consumer will be eligible for the Program.
Carnival Corporation ("Carnival") makes no representation that any consumer will be eligible for, or receive, any Deal in connection with this Program. All decisions regarding whether a consumer is eligible for the Program/a Deal shall be determined by Carnival in its sole discretion; numerous factors may be considered.
Approximately seven (7) business days after a consumer submits the Program form on the Registration Page, Carnival will email such guest if (and only if) they are available for any unique Deal. Please allow additional time depending on the number of submissions and other factors.
The email about the unique Deal (if any) will be sent to the consumer at the email address provided on the Registration Page. Such deals (if any) are unique to such consumer and cannot be shared.
Each Deal is subject to terms, conditions, and restrictions available on the Holland America Line website.
If the consumer does not book an available Deal within the timeline specified by the Deal, the Deal will expire and consumer will forfeit any right to such Deal.
Program and Deals are not transferrable, not redeemable for cash, may not be combined with other offers, and have no cash value. Program and Deals are void where prohibited by law. Restrictions and exclusions may apply.
Bookings must be made within 60 days of offer being made, at which point Carnival may elect to end the Program; Carnival will post notice of any end of the Program on the Registration Page. However, Program and any Deal may be changed or revoked at any time.
Quick Thoughts
We have written quite extensively about cruise line casino match offers, initially with the Carnival Fun Match that continues today (although the free room offers seem to be getting slower to come) and then with the Royal Caribbean match offer. I wrote a standalone post explaining how you can (try) to cruise for "free" (you'll still pay port taxes) on both Carnival and Royal Caribbean starting with just a credit card.
This new match offer from Holland America purports to offer a shot at a free cruise when you submit information about your loyalty status at another casino, much the same as the offers we have seen from Carnival and Royal Caribbean.
However, while many readers have reported getting offers for free cruises (including in balcony rooms) from those two match offers, the initial data points on this offer are thin.
One member of our Frequent Miler Insiders group reported submitting Caesars Diamond and MGM Gold status and receiving an offer within minutes that he summed up like this:
Received a reply SUPER fast (minutes). Unfortunately, that fast reply was basically a "we know who you are and you don't gamble enough" type message. Offer of $200 Free Play per person (1st/2nd Guest Only). Hope you all get better offers!
Unfortunately, I got the same response and the same offer of $200 of free play per person. Apparently I did not gamble enough on my previous Carnival cruise for Holland America (although Carnival has been sending me a lot of offers lately).
However, another group member submitted Caesars Diamond status and reported receiving the following offer:
Complimentary Interior Cabin + $100 Freeplay with Drinks for two (2) while playing in the casino

Offer Description: Valid on eligible sailings to Alaska, Mexico, Caribbean, Coastal, and Canada/New England from 2022-2023
My hunch based on the handful of comments so far is that since Holland America is owned by Carnival, they are likely matching up player information and if you have previously cruised with Carnival and not played much, I expect that the resulting offer may be less generous. I should note though that I don't know that for sure – we have very few data points on this match so far.
After my unexpectedly enjoyable experiences cruising with Carnival and Royal Caribbean last year, Tim set the over/under on how many cruises I take this year at 2 in our FM Predicts post at the beginning of the year and he took the over. Since I like Tim, I figured I'd do my part and throw my hat in the ring on this offer. Unfortunately, no dice for me.
After submitting the match, the confirmation screen said to expect a response in 1-2 business days. However, the immediate response I received via email indicated that they are experiencing a "higher volume than expected" and that it may take a bit longer than usual to reply. It only took about two hours for me to get a response. Note that the offer terms indicate that it may take 7 days to get a response and that you will have 60 days from the date of the offer to make a booking.
If you're looking to maybe cruise for free on Holland America, this could be worth a shot.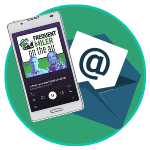 Want to learn more about miles and points?
Subscribe to email updates
 or check out 
our podcast
 on your favorite podcast platform.