Note: As of October 13, 2015, the Target REDcard (REDbird) can only be loaded with cash in-store at Target. Gift cards and/or debit cards no longer work to load REDcard. For more info, see: Here is the REDbird memo, "Cash is the only tender guests can use"
As of May 6, 2015, Target no longer accepts credit cards for in-store REDbird reloads. For more information, please see "REDbird Post Memo Answers", and "REDbird grounded. Now what?"
There's no question that the Target Prepaid REDcard (AKA REDbird) is an exciting new product.  At this time, though, it is only available in select locations across the United States (see "How to find REDbird").
I've been working on a "Complete Guide to REDbird".  In the process, I examined all of the questions that readers have posed on my previous REDbird posts.  I want to make sure that the guide I'm writing addresses all common questions.  In the course of this analysis, I found that the vast majority of questions had to do with whether or not people can buy and use REDbird if they don't live near a participating Target store.
Questions of this sort can be divided into two big buckets:
1. Can I reload REDbird at a non-participating (and out of state) Target?
2. What is the process for buying cards for other people?
The answer to the first question is easy. YES.  Once you have a registered REDbird, you can use it and reload it at any Target store in the United States.
The answer to the second question requires more detail…
How to buy REDbird for others
How to buy the Target Prepaid REDcard, REDbird
1. Find a participating store
A map and list of participating stores can be found here: How to find REDbird.  Note that some participating stores are not listed on Target's Prepaid REDcard website.  So, it makes sense to call your local Target stores to ask.  Make sure to stress that you are looking for the Prepaid REDcard, not the debit or credit REDcard.
2. Find the right card
Target offers a number of similar products including two other products with the name REDcard.  Make sure to find the one that specifically says "Prepaid REDcard" (note the stress on "prepaid").  It should look like this (but in some locations it will have a $5 purchase fee):
3. Check out, as follows…
a) Load $1 to $500
When the cashier rings up the card, you'll be asked how much to load. Make sure to load at least $1 since people have reported activation issues with less than $1.
b) On the swipe terminal, indicate that you want to register the card.  Hand your driver's license to the cashier.
The cashier will enter your drivers license number, your name, and your address into their terminal.  This is OK.  The person you are buying the card for can change the details later when they register online.
c) On the swipe terminal, you will be asked for your social security number, phone number, and to confirm the data the cashier typed in.
Go ahead and put in your information, or the info for the person you are buying for, or simply make up numbers.  I've found that it doesn't matter.  You just need to get past this step in order to pay for the card.
d) Pay
You can pay with credit, debit, or cash.  Credit card payments will not result in cash advance fees.
4. Can you buy more than one?…
If you have already bought a REDcard on the same day, the register will prevent you from buying a second one if you use the same social security number that you used before.  For an easy work-around, see step 3 C, above.
5. Send temp card info to your friend
Now that you have an activated temporary card, the person you are buying it for can register it online in their own name.  You can either send them the physical card, or send them the card information: card number, four digit security code on the front, and the expiration date.  They should be able to do the rest from home.
How to use a card bought by others
Once a friend buys you a temporary REDbird card and sends you the card (or card info), the next step is to register it online.  Go to target.com/prepaidredcard, and click "Register".  You should then see a screen like this:
Enter your card number and security code. Leave date of birth blank.
On the next screen enter in your own information:
Once you've registered the card, you can now load up to $1500 to the temporary card (assuming you have it in-hand) at Target stores.  This $1500 is inclusive of the amount originally loaded.  Once your permanent card arrives, you can load up to $2500 per day and up to $5000 per calendar month.
Read more about REDbird:
Also: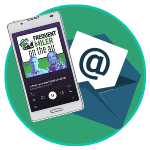 Want to learn more about miles and points?
Subscribe to email updates
 or check out 
our podcast
 on your favorite podcast platform.