Note: As of October 13, 2015, the Target REDcard (REDbird) can only be loaded with cash in-store at Target. Gift cards and/or debit cards no longer work to load REDcard. For more info, see: Here is the REDbird memo, "Cash is the only tender guests can use"
As of May 6, 2015, Target no longer accepts credit cards for in-store REDbird reloads. For more information, please see "REDbird Post Memo Answers", and "REDbird grounded. Now what?"
REDbird (AKA the Target Prepaid REDcard) is in hot demand, but it is currently available only in select areas.  Why should you care about REDbird?  If you can get over the technical hurdles involved in obtaining a card and registering it, you'll find it to be the single easiest (and fee-free) option for increasing credit card spend.  For details, please see: REDcard changes everything.
While Target slowly rolls out this new product, they provide a participating store lookup here.  For those who prefer a visual approach, though, we have something better.  A huge thanks go to Tom who scraped the data from Target's website to put into map form:
Tom's REDbird Finder
Click here, or click the above map image to jump to an interactive map view.
Target is testing selling the temporary REDcard for free in some areas and for a $5 fee in other areas.  The map shows which is which as follows:
Not completely correct. No cards in North Carolina.
The map above is not 100% correct.  Target hasn't updated their list that was published early on.  Some stores carry REDbird that aren't listed here, and some stores that are listed do not carry REDbird.  One particularly important point is that there were technical issues with loading REDbird in North Carolina and Arkansas which were never fixed.  As a result, REDbird is not available in those states (and cannot be loaded there).
Find the right REDbird
Target offers three versions of REDcards: the Prepaid REDcard (the one I refer to as REDbird), the debit REDcard, and the credit REDcard. Confusingly, there's also a perpaid American Express for Target card (which I believe is being phased out).  Make sure you're getting the right one! Here's what to look for (note: in some stores there is a $5 purchase fee):
Other options
If you can't make it to a Target store that carries REDbird, another option is to order one online.  See www.NoonRadar.com, for example.
Read more about REDbird:
Also: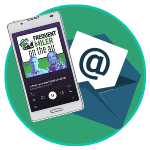 Want to learn more about miles and points?
Subscribe to email updates
 or check out 
our podcast
 on your favorite podcast platform.