Radisson Hotels — the international Radisson program that includes properties outside of the Americas — has made significant changes to its loyalty program. The changes really stink. If you have points in Radisson Hotels international, you probably want to move them to Radisson Americas sooner rather than later just in case they stop allowing that at some point since you (probably) don't want them stuck in the international program at this point. Thankfully, it's pretty easy to move them.
How to move your Radisson points from Radisson Hotels (international) to Radisson Americas
Moving your Radisson points is easy. There are two links depending on which direction you're transferring:
In either case, you'll need to log into the Radisson account that has the points you want to move. Make sure that your name and email address match on both accounts. I haven't tested to see what happens when they don't match, but I don't recommend doing that.
After logging in, you'll be prompted to enter the number of your Radisson account on the other side (i.e. if you're transferring from the international program, you'll need to provide your Radisson Americas account number).
Then you'll reach a drop-down menu that allows transfers of as few as 1 point or you can transfer larger chunks.
Once you've selected the number of points you want to transfer, you just need to check the box saying that you accept the terms and submit and your points should be on their way.
Unfortunately, this process may not be instant. I transferred points from Radisson Americas to Radisson International less than 2 weeks ago and that process was indeed instant (I used them to book something that I later cancelled).
This time around, the points did not move instantly. It's only been a couple of hours so far, but know that they won't move right away.
On the other hand, Greg moved points today and that transfer was instant for him, so YMMV.
We don't have any indication that the ability to move points will be taken away imminently, but neither did we have any indication that Radisson international was going to wipe out award charts and decimate the value of its program this morning, so I recommend moving points sooner rather than later if you want them moved.
Do you want to move your points? Probably
One Mile at a Time has a full report on the changes, but the short version of the story is that Radisson Hotels (international) has gone to a fully dynamic pricing model and eliminated its award charts overnight. I can't say that this is entirely without warning since they did send members an email last week indicating that changes were coming without specifying what those changes would be or when they would happen. Eliminating the award chart and going to a dynamic pricing model is a pretty radical change to implement without fair warning.
As fate would have it, the news does not improve from there.
Ben at One Mile at a Time reports finding points to be worth somewhere between 0.2 and 0.28c per point on average, with some hotels providing even less than two tenths of a cent per point in value.
Combine that with the fact that most members will earn far fewer points per dollar spent and the huge devaluation really comes into focus. Radisson Hotels (international) just won't be a program that most readers will find interesting moving forward based on what I've seen from today's changes.
All that said, you're probably better off moving your points to Radisson Americas. You won't get far outsized value in the Radisson Americas program, but in addition to probably getting better value than in the international program you get the hope of things getting even better if and when Radisson gets fully integrated into Choice Privileges. We don't know if or when Choice will choose to fold Radisson into its portfolio and convert Radisson points to Choice Privileges points, but by having the points in Radisson Americas you get to at least hope that will happen and be more favorable than getting two tenths of a cent per point.
Overall, the changes are disappointing, but for now you can at least move your points to Radisson Americas and hope to do better with them there in the long run. That's a shame since Radisson has some properties in Europe that I'd have liked to have tried — but with today's change, it is likely that I won't be visiting any of those properties in the future.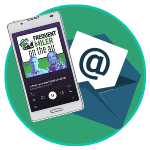 Want to learn more about miles and points?
Subscribe to email updates
 or check out 
our podcast
 on your favorite podcast platform.