A Hyatt Regency in Florida lied to guests and put them in the path of a hurricane, Visa and Mastercard look to raise merchant fees and Google Flights debuts a new "best time to buy" feature. All that and more in this week's Saturday Selection, our weekly round-up of interesting tidbits from around the interwebs (links to each article are embedded in the titles).
I grew up in the Midwest and tornado watches and warnings were a regular feature of summer life, so much so that it was easy to get a little complacent about heeding the various weather warnings and sirens. Evidently, the folks at the Hyatt Regency (HR) Clearwater, Florida have the same issue. Four hours after county officials ordered all residents to evacuate in anticipation of Hurricane Idalia's landfall, the Regency slid notes under room doors and e-mailed incoming guests telling them that there was no evacuation order for the property. 24 hours before landfall, while every other hotel on Clearwater Beach was empty or forcing the last guests to evacuate, people staying at Hyatt Regency had no idea that they were even in an evacuation zone. According to the Tampa Bay Times, local officials said that the hotel was, "negligent" and that they "put people's lives in danger." Although it sounds like it, they weren't talking about the quality of the breakfast buffet.
According to The Wall Street Journal (which I now get via my Amex Platinum credits), Visa and Mastercard are planning to raise the fees that merchants pay for accepting credit cards in October and April. The Journal estimated that the additional fees could total more than $500m annually. The timing is odd for this, since lawmakers are currently debating legislation that would allow merchants to process Visa and Mastercards via alternative networks, a change that could lower merchant fees dramatically (and which some folks think could spell doom for credit card rewards in the US). The news didn't escape Washington's notice and two lawmakers later warned Visa and MC not to go through with the increase. Mastercard, for its part, now claims that there are no plans for a fee hike. Regardless, it undoubtedly will add fuel to the regulatory fire and cause even more merchants to take the step of charging extra when paying by credit card…something that chokes us up every time.
Ever get tired of airlines continuing to strip away included benefits while flying? First, they took food, then seat selection, checked bags, carry-on bags, free changes and, in some cases, even water. American Airlines even claims that a place to sit isn't guaranteed with your fare. That said, Qantas has taken it a step further by selling tickets to flights that don't even exist. According to Australian regulators, between May and July 2022, the airline consistently sold tickets on its website after canceling flights as a way of generating additional revenue. On average, tickets were sold for more than two weeks after a flight was cancelled, with the most egregious example being 48 days afterwards. During that two month period these issues affected ~18% of Qantas' flights as, incredibly, 25% of Qantas' total schedule was cancelled (giving it an on-time performance slightly above Frontier). The airline is now facing the prospect of several hundred million dollars in fines.
Google Flights debuts new "cheapest time to buy" feature
Most of us at Frequent Miler are in that small cadre of nerdy unique folks that actually like to look for airfare. It's a fun game on both the paid (yuck) and awards (yay!) side, trying to suss out patterns, deals and complicated routings. Google Flights is an excellent tool that I use all the time for searching flights, often as an early step towards getting ideas for award bookings. It's probably the most powerful search engine out there, allowing folks to easily search by alliance, region and airline over broad ranges of dates. Last week, Google announced a new Flights feature that tells customers the exact date range that it expects flights to be cheapest for a given route and time of year. Google Flights has always told you whether or not the flights that you're looking at are expensive based on historical trends, but now it gives you the exact dates that you're most likely to get the best deal. They're so confident in their data that they've started a pilot program with Alaska and Spirit that guarantees that the flight you buy won't go down in price before departure (if you book within Google's guaranteed best dates window). It will track the price daily and, if the price does go down after you buy, it'll refund you the difference. If this succeeds and is eventually rolled out to other airlines, it could be a gamechanger for Google Flights as not only a great engine for searching, but for booking as well.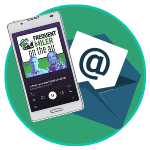 Want to learn more about miles and points?
Subscribe to email updates
 or check out 
our podcast
 on your favorite podcast platform.