My wife and I recently spent six nights at the InterContinental Mark Hopkins San Francisco. This was paid for in a number of ways – one regular paid night, two nights using an Ambassador free weekend night (i.e. paying for the first of those two nights) and three IHG free night certificates.
I don't regret us staying there, but I can't unreservedly recommend it either. It has the potential to be a great place to stay in the right circumstances, so here's my Bottom Line Review where I set out the pros and cons.
InterContinental San Francisco Mark Hopkins Bottom Line Review
There are a couple of InterContinental properties in San Francisco – the one we stayed at was the Mark Hopkins on Nob Hill.
The stay was good and its position at the top of Nob Hill ensures you should have a great view from most rooms. However, the rooms aren't particularly large, parking is extremely expensive and if you want to walk around the city, being at the top of the hill means walking back to the hotel can be strenuous.
Points Price: IHG has dynamic pricing, so the points price can vary a lot. The final three nights of our stay cost 37,000 points for two of those nights and 38,000 points for the other. Those nights were therefore a perfect use of our IHG free night certificates as those can be redeemed for nights costing up to 40,000 points.
If we'd used points for our first three nights, the first two of those would've cost 30,000 points and the third would've been 27,000 points.
Cash Price: As with points pricing, the cash price can vary a lot. Our first night was a regular paid night which cost $272.49 including tax; that was a special rate which included parking at a reduced rate. For our second and third nights, we used my Ambassador free weekend night certificate; that gets you the second night free when paying for the first night. That's based on the standard rate and so was a little more than the cheapest available rate – the cost for that was $243.38 including tax.
If we'd paid cash for our final three nights rather than using free night certificates, that would've cost us $269.38 per night including tax.
Points Value: Potentially very good. If you're using free night certificates, saving ~$250 per night in exchange for a $49 or $89 annual fee on an IHG credit card is great value.
Similarly, using points can be good value too. If you redeemed 35,000 points rather than paying $250, you'd be getting 0.71cpp of value – better than the value you could normally expect to get from IHG points. If you can take advantage of the 4th night free benefit for IHG Premier and Traveler cardholders and/or the 10% rebate for IHG Select cardholders, redeeming points becomes even better value.
Resort or Destination Fee: Yes, $33.77 on paid stays. This was introduced in February after we'd booked our stay, so I didn't know about it until checking our bill after checking out. This was only charged on our first night; it wasn't charged when redeeming free night certificates, nor the paid night we booked in order to utilize the Ambassador free weekend night certificate. We weren't advised of the fee, nor did we receive any of the benefits that the fee is supposed to provide:

$10 daily dining credit in the Nob Hill Club restaurant
Top of the Mark preferred seating
Local retail and dining savings
Complimentary electric car charging

Parking: The hotel offers valet parking for an extortionate $76.38 per night. There were other parking options nearby for ~$40 per night, but we decided to park at the hotel nonetheless. We travel full-time with everything we own and didn't want to have to bring everything in to a small hotel room, so we figured the stuff we left in our car would be safer in the hotel's private parking lot than a public lot.
We might have gotten lucky with parking though. Our first night had parking included in the rate, then the next four nights we were only charged $30 per night. I think our final night we were charged $76.38, but I can't access a copy of that night's bill on IHG's website, so can't verify as we had one or two other charges to our room that night.
I'm therefore not sure if the $30 charges were based on how much parking cost on that first night's special rate, if Ambassadors get reduced parking charges or if some other factor was at play. I certainly wasn't going to highlight it to them.
Room: It was nice enough, but cozy. We booked a one king bed standard room and I think the room upgrade we got from having Ambassador status was one on a higher floor rather than one with more square footage.
The room was clean and not run down which is something I was concerned about ahead of time seeing as it's an older property. The walls seemed to be fairly thin; we could hear the conversation of the people staying in the room next to us the first night even though they weren't shouting, but the hotel overall was quiet.
The shower had very good water pressure which I was pleasantly surprised about too given the property's age.
Pet Policy: Dogs and cats up to 50 lbs are allowed and there's no pet fee. We stayed there with our dog and the lack of the pet fee was one of the reasons we decided to stay there.
Another great feature for dog owners is that the InterContinental Mark Hopkins San Francisco is only one block from Huntington Park. One of the annoying things about staying with a dog downtown in large cities is that you often have to walk several blocks to find any semblance of grass. Huntington Park isn't huge, but has more than enough grass for your pup's needs. Just be aware that even though the park requires that dogs be on leash, we found that there were often at least half a dozen dogs off leash.
Housekeeping: I forget what their policy was. I think they offered daily service, but we tend to decline housekeeping for all hotel stays and so I'm not sure if they would've serviced our room if we didn't have the Do Not Disturb sign on our door.
Turndown service: The website lists it as being available. I don't know if it's only on request, but our Do Not Disturb sign is presumably why we didn't receive it.
Internet: Very good. My wife teaches online a couple of days a week and didn't have any issue using Zoom for each class.
Dining

Nob Hill Club: This is the main restaurant on the first floor. Seeing as IHG doesn't offer complimentary breakfast for Spire Elite or Ambassador members, we got breakfast from Starbucks each day rather than paying for it at the hotel.
Top of the Mark: This is a sky lounge on the hotel's top (18th) floor and offers panoramic views of the area.

Spa: None.
Fitness Room: Yes. This had 3 treadmills, 2 bikes, 1 recumbent bike, 2 ellipticals and weights.
Pool: None.
Service: Service was very good overall, although there were some shortcomings.

The Good

All the valet staff members were fantastic – incredibly friendly and helpful.
Due to how I'd had to book our six nights, we had five separate reservations. Aman at the front desk ensured all those reservations were linked when checking in which meant we didn't have to check out and back in each day which we greatly appreciated.
Although we declined housekeeping during our stay, the housekeeping employees we'd see out and about were friendly and always said hello.

The Bad

When checking out, I asked for a copy of our bill. I was advised one would be emailed to me, but nothing was ever sent.
I think we were overcharged for the final night as the $20 Ambassador food & beverage credit didn't seem to get applied to our bill. Despite emailing the hotel directly and contacting IHG through their website, they've ignored me.
The hotel now charges a $33.77 destination fee, but this wasn't disclosed after our booking nor when checking in. They also didn't provide any of the benefits that the destination fee is supposed to include.

The Ugly

I'm not sure if my wife and I didn't look the part or if something else was up, but the host at Top of the Mark seemed incredibly snotty. I overheard another weird interaction he had with a couple of other guests, so it might just be that he's terrible at his job rather than because we weren't dressed up to have a drink there.

IHG Elite Benefits: Ahead of our stay I paid for Ambassador status. This cost $200, but by paying for two nights I should earn 20,000 bonus points that I value at $100.

Guaranteed one category room upgrade: We were given a room on the 14th floor rather than a larger room. This ensured we had a good view when it wasn't foggy; we got lucky during our stay and had beautiful weather for nearly our entire stay.
Complimentary premium internet: As mentioned earlier, this was very good.
Restaurants & bars credit of up to USD20 for every stay: On our final night we went for a drink at Top of the Mark. The $20 is only enough to cover one cocktail and a tip.
Complimentary mineral water: We received two bottles per day; these are obtained by asking at the front desk. These came in InterContinental-branded metallic bottles/cans.
4PM late checkout: This is a benefit of Ambassador status rather than one IHG provides as part of the IHG Rewards program. This presumably would've been honored had we requested it, but we wanted to get down to Monterey in good time and so checked out by about midday.

Would I stay again? Possibly. If we flew rather than drove into San Francisco and didn't plan on renting a car (and thus wouldn't need to pay for parking at the hotel), I'd be more than happy staying there again using IHG free night certificates if I could find award availability for 40,000 points per night or fewer.
For paid stays though, you could probably make your ~$250 per night go further elsewhere, especially now that they've added a resort fee of $33.77 on top of that. Parking at more than $75 makes it hard to recommend if you'll be driving into the city.
Pros:

Great value when using free night certificates.
No pet fee.
Excellent views from many rooms and Top of the Mark.
Nob Hill seemed like a nice neighborhood.
Most of the staff members were very friendly and helpful.
Although the property is old, they've maintained it very well and it doesn't feel at all run down.
Close to a cable car line.
A couple of blocks from the free Cable Car Museum – definitely worth a visit.

Cons:

$33.77 destination fee.
$76.38 parking fee.
If you're planning on walking to and from the hotel, walking back to the hotel involves a lot of walking up steep hills.
Photos & Captions Follow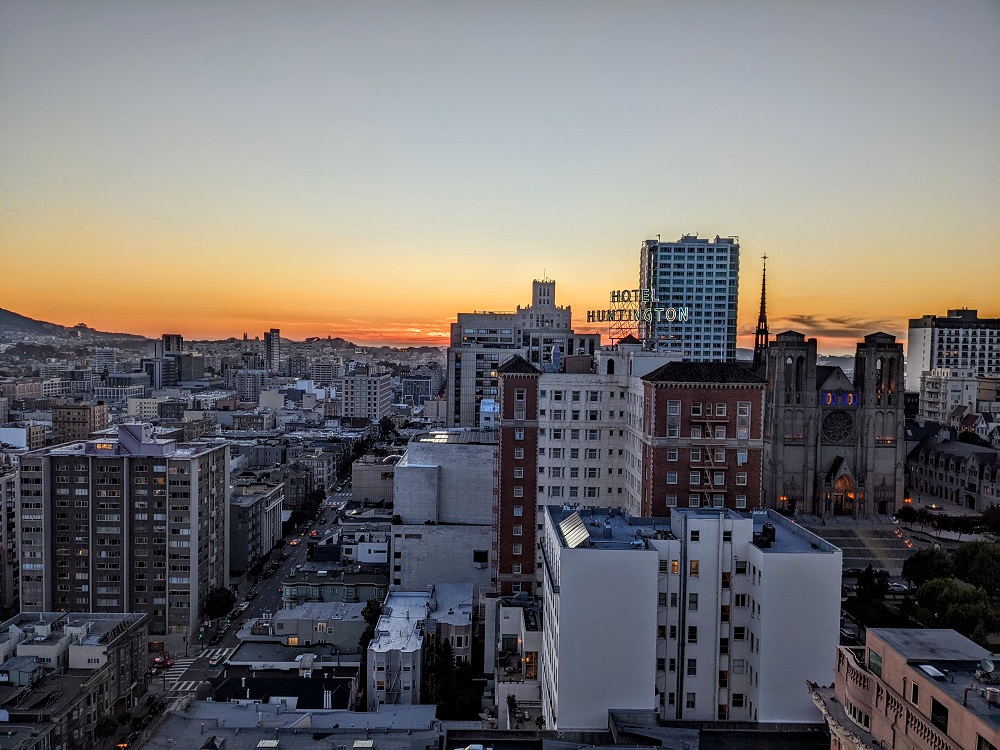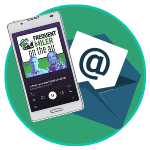 Want to learn more about miles and points?
Subscribe to email updates
 or check out 
our podcast
 on your favorite podcast platform.