Update: We have received word that this secret password is no longer active.
Kimpton hotels has a new secret password that's been out for at least a week: pick-a-stick. Mention this code at check-in at a Kimpton hotel or resort and you'll get some sort of special surprise.
Kimpton has long (but only intermittently) taken to social media to share a special secret password that will get customers some special benefit when they say it upon checking in at Kimpton properties. The value of the surprise you receive can really vary (as can its value to you personally). For instance, Greg and I both stayed at the Kimpton Surfcomer in Miami Beach last weekend. Upon uttering the secret password, we were each prompted to quite literally "pick a stick" from what resembled a Jenga setup, with each stick having a corresponding prize printed on the bottom.
Greg got a hat:
Truth be told, he wasn't particularly enthusiastic about his hat. On the other hand, I got a free cocktail. As someone who typically does not drink cocktails, that didn't excite me all that much. I bet we both would have been happier if the tables were turned and I probably should have thought about making a trade as my cocktail voucher went unused and I'm betting Greg's hat has thus far gone unused as well. I'll note that my cocktail voucher was valid for a drink — alcoholic or non-alcoholic — up to $13 in value. There were some fancy juices on the breakfast menu, but those were $14.
Sometimes secret password prizes include mini bar credits or free parking. Again, whether or not those things matter to you will vary, but it's always worth giving the password and seeing what you get. I'm not sure when the current password ends, but if you check into a Kimpton in the near future, try saying "pick-a-stick".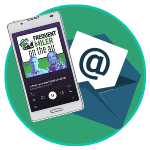 Want to learn more about miles and points?
Subscribe to email updates
 or check out 
our podcast
 on your favorite podcast platform.