There are loads of targeted Amex Offers out today that are giving $20 or $25 back when spending $40 or $50 respectively at Kroger or several of its affiliate stores. This is only valid on online orders, but represents a great way to save up to $60 on groceries.
The Deals
Spend $40 online at Kroger or one of its affiliate stores for pickup or delivery & get $20 back, or
Spend $50 online at Kroger or one of its affiliate stores for pickup or delivery & get $25 back.
Key Terms
Expires December 31, 2022.
Offer valid online only at US website kroger.com (or whichever chain your offer is for).
Not valid on purchases shipped outside of the US.
Excludes third party pickup/delivery services.
Excludes physical gift cards and electronic gift card purchases.
Excludes gas stations, Fred Meyer Jewelry Stores, restaurants inside of Kroger, clinics and pharmacies, florists, and any third party services such as Redbox and Coin star.
Excludes picking up from Walgreens.
Excludes Little Clinic site and Kroger Wireless.
$50/$25 offer has a limit of one.
$40/$20 offer has a limit of three.
Quick Thoughts
These are fantastic offers if you're targeted as they can save you up to 50% on your groceries when placing your order online for pickup or delivery. Note that this isn't valid for regular in-store purchases.
There are loads of different deals that you might be targeted for. For starters, there are two types of offers based on spend, one giving $25 back on $50 and another giving $20 back on $40. That latter offer is potentially better because even though the statement credit is less, that particular deal can be used up to three times for a total of $60 in statement credits. I don't know if spending $120 in one transaction will trigger all three $20 statement credits or if you can only receive one of those per order.
The other variation is based on grocery chains. There's an offer good at Kroger, but also different offers good at many of their other affiliate stores like Ralphs, Fred Meyer, QFC, Fred Meyer, Fry's, Smith's and possibly more.
I'm just speculating here, but these Amex Offers might be targeted based on your past in-store spending. Over the last couple of years we've driven from the west coast to the east coast back to the west coast and back to the east coast; we've shopped at all the chains I've listed above and have been targeted for these Amex Offers at all those chains. Kroger owns many other chains like Baker's, Mariono's, Pick 'N Save and more – none of which we've shopped at and none of which we've been targeted for with these Amex Offers. It's therefore worth checking your cards for offers for those other brands if they're local to you in case there are even more variations of the offer.
There's also a digital coupon giving $15 off your first $75 online purchase. That means you could save $35 or $40 on a $75 order depending on which Amex Offer version you have.
Be aware that buying gift cards from Kroger's online gift card site won't trigger the statement credit for the Kroger-specific Amex Offer because payment for those is processed by Blackhawk Network. There's a chance that a different gift card-buying option might work, but I'm far from sure about that. Kroger allows you to order some gift card brands online for in-store pickup which you then pay for and activate later. I've never done this before, so I don't know if the payment codes as a Kroger order for pickup or delivery or something else entirely. You can find the list of pickup-eligible gift card brands here; if you do happen to test this out, please let us know in the comments below if it triggers the statement credits.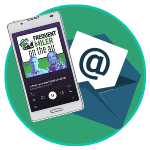 Want to learn more about miles and points?
Subscribe to email updates
 or check out 
our podcast
 on your favorite podcast platform.