While I puked off the side of the boat, someone was kind enough to hold onto the air tank strapped to my back.  Air tanks are heavy.  The guardian angel at my back lifted the tank enough to relieve some of the weight and to keep me from dropping right into the water as the boat lurched in every direction.
"Greg.  It's time to dive… Greg…  Greg…"
I puked again.  And again.
My Scuba instructor didn't let up.  "Greg, seriously, we have to dive now!"  I staggered to my feet on the swaying boat.  I put the dive mask over my eyes and nose, and bit down on the regulator (the amazing device that makes it possible to breathe underwater).  My stomach continued to lurch off-step from the swaying boat and I stumbled to the rear of the boat where I sort of stepped / fell into the water.
The rough water continued to thrash us about.  The instructor indicated that we should descend.  I found the button that releases air from the Buoyancy Control Device (BCD) and I slipped underwater.  Suddenly, everything was calm.  The rough sea was peaceful underwater.  My queasiness was gone.
It had been almost 6 months since my classroom and pool instruction, and I had forgotten a lot, but I remembered to "equalize" as we descended.  I pinched my nose and blew to release pressure on my ears.  It took me a few minutes to remember how to maintain neutral buoyancy underwater.  Then, I was free to explore.
This was a drift dive, so there was no need to exert energy swimming.  Instead, we floated underwater, just above the coral and sand, as the current gently pushed us along.  We passed slowly by tropical fish and an eel or two.  At some point, the instructor had me complete one of the many required exercises for PADI Scuba certification.  I had to allow water into my dive mask then clear the mask by blowing through my nose to force the water out.  While the idea of this exercise had scared me when I first heard of it, I had aced it in the pool 5 months ago, so I had no problem doing it again in the ocean.
I would have happily stayed underwater all day, but at some point the instructor looked at my pressure gauge.  I was low on air.  He gave me the thumbs up.  Everywhere else, this means "everything's cool," but underwater it means to ascend.  I stupidly pressed the button to inflate my BCD.  And, the instructor waved his arms, shook his head, and grabbed the device from me to release some air.  I had forgotten a key lesson that had previously been drilled into my head over and over.  Inflating the BCD underwater is only for emergencies.  Its critically important to ascend slowly.  Going up requires only a gentle kick of fins in the right direction.  Luckily, in this case, the instructor caught me in time.  Plus, we weren't so deep that it would have been dangerous.  We performed an abbreviated safety stop, then surfaced.
On the surface, waves thrashed us about as we waited for the boat to pick us up.  My queasiness came rushing back.  I debated whether to take out my regulator to puke, but I knew that it would be dangerous.  The waves were such that I would certainly swallow lots of seawater.  I vaguely remembered that regulators were designed to allow puking right into them while still making it possible to breathe, but I really didn't want to test this out.  I learned later that my instructor, Ryan Walton, had tossed his cookies into his own regulator.  Somehow he managed to smile while telling me about it.
I held off puking until I was aboard and back to the "prayer matt" on the side of the boat.  I then resumed feeding fish with gusto.
At this point I was seriously regretting my decision to finish my PADI Scuba certification in West Palm Beach.  I had completed the classroom and pool portions of the certification at Huron Scuba in Ann Arbor.  Certification requires two days of open water diving.  Most Huron Scuba students do this at the Gilboa Quarry in Ohio.  Our instructor said that the water there would be very cold, and that within a short time each day there would be very little to see since the silt would be stirred up by many divers seeking certification.  That sounded not at all fun to me.  I figured that we had a family trip to Florida planned anyway, so why not complete my certification somewhere nice?
As a kid, the idea of scuba diving always sounded awesome.  I was a big fan of Aquaman cartoon reruns.  Scuba always seemed like a great way to get superpowers in real life.
Now, many years later, I finally did something about my desire to Scuba dive.  I signed up for a Scuba class.  Actually, my wife signed me up as a gift.  Until this boat trip, it seemed like a fantastic gift.  Now, as I turned every shade of green, I thought that a tie would have been a very nice alternative – and I hardly ever wear ties.
It was far too late for me to back out.  The boat carried 15 or so divers.  They certainly weren't going to rush back to shore for me.  I puked my way to the next dive destination.  Along the way, a couple of loggerhead sea turtles were seen floating on the surface.  I paused my heaving to take a quick look, then resumed my cookie tossing.
Eventually, we dove again.  And, as before, I felt great underwater.  If I knew the way and had enough air I would have liked to swim back to shore.  Instead, I crawled back onto the boat when the dive was done.  The worst part was when the boat wasn't moving forward.  As we waited (endlessly, it seemed!) for other divers to surface and get on the boat, the sea was free to thrash us about in any and every direction.    My body somehow found an endless supply of fuel for my retching.  Others occasionally pushed me out of the way for their turn, but I always returned.  That was my spot.  Everyone acknowledged that I was king of pukedom.
Ryan (my instructor) later dubbed this outing the "ultimate puke fest of 2015".  So, my dominance in this area was meaningful.
Finally, the boat headed for shore.  It was a long drive back.  An hour, perhaps?  I used my projectile powers to speed us along.  At some point, Ryan asked if I had anti-nausea pills I could take for day 2.  "Tell me how I can finish my open dive certification without getting on a boat" I rasped.  He said that we could do "the bridge dive" instead.  We would walk from the beach into the calm Intracoastal Waterway under the Blue Heron Bridge.  Sold.
The next day's dive was awesome.  The water was calm and comfortable.  We swam effortlessly underwater, and I was able to fully enjoy the sites: all kinds of fish, many large starfish, two spotted eagle rays, an octopus, a seahorse (inches from my face!), and much more.
Despite the horrors of my first day diving, I'm looking forward to diving again.  And, I am now certified!  Scuba diving is one of the many included activities at Necker Island, where I'll visit for a week in the fall.  And, thanks to having a huge stash of airline miles, I'm sure I'll have plenty of opportunities to dive in great locations around the world.  But, going forward, I'm going to pay close attention to sea conditions.  Does the dive involve a boat?  That's fine if the water is calm.  If the water is rough – count me out.  It's not worth it.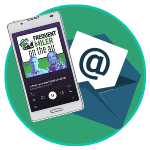 Want to learn more about miles and points?
Subscribe to email updates
 or check out 
our podcast
 on your favorite podcast platform.