Last month, on a Tuesday I decided to visit my dad for his birthday. His birthday was that Thursday. And, while I live in southeast Michigan, he lives near Greensboro North Carolina: about 500 miles away.  Thanks to airline miles, the last minute trip was both possible and cheap.
Finding Flights
Via Google Flights I checked flight prices. Most flights were well over $600. Too high.  I would use airline miles instead.
I noted flight options: Delta had non-stop and one-stop flights. AA and United offered only one-stop flights.
Hoping for non-stop flights, I logged into my Delta account first. One-way economy for the dates I wanted started at 32,500 miles. Too much.
I then logged into United. 10K one-way. Nice.  United had good options for my outbound flight, but return flight options were less appealing.  I decided to keep looking for the return…
American Airlines had saver availability (12.5K one-way) and good options for my return flight.  I wouldn't incur a close-in booking fee because I still had top tier status thanks to last year's mileage running shenanigans.  It seemed like a great option, but I didn't want to fly AA. This past year I've had horrible luck with American Airlines flights. Every time I flew AA at least one leg was terribly delayed or completely cancelled. I recently vowed never to fly AA again.
I took another look at Delta.  I found that I could lower the one-way return fare from 32,500 miles to 17,500 miles simply by setting my destination to Buffalo, NY, and picking a route with a stop in Detroit.  Of course I wouldn't fly the final leg from Detroit to Buffalo.
That was a cool trick, but the flight times weren't ideal.  I decided to take my chances with American Airlines one last time.
Booking Flights
For the outbound flight, United had saver availability via Washington Dulles. I would have booked through United.com, but they wanted to charge a close-in booking fee. I have United Silver status (thanks to my Marriott Platinum status), which reduced the fee a bit, but they still wanted $50. Too much.
I had some Singapore Krisflyer miles sitting around.  Singapore miles can be used to book flights on Star Alliance airlines including United.  Unlike most other airline miles, Singapore miles expire after 3 years, without any way to reset the clock (but you can use a trick I blogged about earlier to extend them for a year). Since I had miles getting close to expiry, I realized that this trip would be a great use for them. I called Singapore and booked the flight for 12,500 miles.  Singapore doesn't charge a fee to book awards (unless you count the obligatory TSA $5.60 fee). I received an email confirmation right away.
Through United.com, I used the booking reference number from the Singapore email to find my flight reservation and I changed the attached frequent flyer number to my Copa account. I still had Platinum status from a status match I did about a year ago and I knew this would grant me entrance to the Lufthansa lounge at the Detroit airport (details here).
I initially booked my return flight through AA.com.  Later, though, it occurred to me to check whether Greensboro or Detroit were on AA's Reduced Mileage Awards list for December.  Greensboro was there!  AA cardholders get a discount off award prices to or from the cities on the list.  I called AA and applied the discount.  The phone agent said that 7,500 miles would be refunded to me.  Cool!  Note that I have no idea how he came up with that number. Plus, when looking at my account later, I discovered that he charged me 6,500 miles for the one-way flight and refunded 12,500 (so I really got back 6,000 miles, not 7,500).  Then, I also received a 10% rebate thanks to owning an AA credit card.  My final price for the return flight was 6,500 miles – 650 = 5,850.
Instead of paying over $600 for the round trip flight, I paid a total of 18,350 miles plus $11.20 in TSA fees.  Not bad at all.
How did it go?
All of the flights were on time and quite pleasant. Yes, even the AA flights.  More importantly, my dad was overjoyed to see me.  The visit was a surprise.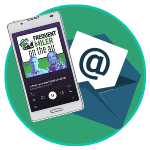 Want to learn more about miles and points?
Subscribe to email updates
 or check out 
our podcast
 on your favorite podcast platform.