When people ask what I do for a living, my answer is usually some variation of this:
I write a blog about how to get frequent flyer miles for free.
While a few people follow that up by asking about frequent flyer miles (e.g. they may ask "so, what's the answer? How do you get miles for free?"), there's one question that almost every single person asks.  If it's not the first question out of their mouth, it's usually the second…
How do you make money writing a blog?
The answer
This blog has two primary sources of income: ads and affiliate links.  Let me explain how each works in the context of this blog…
Ads
Boarding Area is a hosting platform for many frequent flyer blogs.  The business relationship works like this: Boarding Area sells ad space on its hosted blogs and splits the ad revenue with the blog author.  Boarding Area provides a number of valuable services to me as a blog author: they sell ads at higher rates than I could get on my own; they pay for all hosting costs (servers, software, backups, spam filtering, etc.); they provide graphic design services; they offer technical services; and they provide blog authorship guidance in many ways.  In return, my content helps drive viewers to the site so that they earn their cut in ad revenue.
Some people ask me why I haven't "gone independent" and left Boarding Area.  I think its important to point out that Boarding Area has no direct influence on the content of the blogs.  In forums and even in comments on my blog I've seen people refer to "BA blogs" (Boarding Area blogs) as if they are one entity.  They're not.  We each write whatever we want, and we're mostly unaware of what others are doing.  The content of my blog, including affiliate links (more on that below) is the same as it would be if I hosted my blog independently.  Or, maybe not.  If I had to do all of the technical work on my own, I would have less time to write posts.  So, the real question is, why in the world would I want to leave Boarding Area?
Back to the ads…
Ad revenue is driven by page views.  When people view pages on my site, they'll see ads along the side, between posts on the home page, and at the bottom of each post and page (if they scroll down far enough).  And, for each view of each ad, Boarding Area and I earn a bit of money.  One page view may equal only about a penny of revenue, but with enough page views it can ad up to a livable income.  And, I've been very lucky to have a steadily increasing readership over the years.  Ad revenue has grown with it.
Affiliate Links
When I started this blog in September 2011, I had no idea it was possible to earn a living doing so.  To me, blogging was just a fun hobby.  Sure, I knew that I could earn some money through ads, but I also knew that unless I had a very large audience the ad revenue wouldn't amount to much.  Then, a few months into blogging, I learned about affiliate links.  Affiliate links work like this:
A publisher (blogger) signs up with an affiliate marketing company.
The publisher requests affiliate links for products or services that they're interested in advertising.
The companies offering those products or services can approve or reject those requests.
If approved, the publisher places these links or ad banners on their website.
When people click through these links and buy the product or service, the publisher (blogger) gets paid a commission.
I didn't know it at first, but I eventually learned that there can be big money in credit card affiliate links.  Credit card companies are extremely picky in who they'll choose to work with as an affiliate.  They look for publishers with already established large readership numbers, and they can be picky about content as well.  They want publishers that are a good fit and that will promote their product the way they want it promoted.  In 2011, things were a bit looser.  When I first applied to be an affiliate publisher, the credit card companies were happy to approve almost any blog on Boarding Area.  In the same way that many readers don't understand that Boarding Area blogs are independent of each other, the credit card companies at the time didn't understand it either.
When I first started using affiliate links, I embedded them in my blog posts.  For example, I would write about how to get enough miles for this or that type of trip, and I would list the credit cards you could sign up for to fulfill that mission.  And, of course, each credit card mention would be an affiliate link.  If you clicked through and were approved, I would get paid.
I didn't like doing that.  I never liked reading blog posts whose purpose seemed to be to get me to sign up for cards.  And, I found that I didn't like writing them either.  Soon after I started using affiliate links, I changed my blog policy.  I would no longer include affiliate links within blog posts.  And, I have no intention of changing that policy going forward.
Blog authorship vs. the business of the blog
One of the great things, to me, about my decision to keep affiliate links out of my daily blog posts is that it has helped me to separate the creative act of blog authorship from the business of the blog.  Blog business, for me, is about maintaining, improving, and advertising the pages that host affiliate links.  And, to a lesser extent, blog business is about driving readership to my blog.  Blog authorship, meanwhile, is the creative process of researching new ideas, deciding what to write and how to write it, and the actual writing of my daily posts.  During the creative process, I rarely think about whether a given topic is good or bad for my business.  Instead, my decision about what to write usually boils down to a single question: Am I excited about the topic?  If the answer is yes, then I'll enjoy writing about it and there's a reasonably good chance that readers will enjoy reading it.
After I'm done writing, I return to blog business mode and spend a few minutes with the following business tasks:
I sometimes add images, as appropriate.  I believe that images help make posts (and my home screen) more pleasing to look at and help keep readers engaged.
I often write a post title that I think will grab people's attention or provoke their curiosity.  Many people see nothing but the headline before deciding whether or not to click through.  Since I took the time to write each post, of course I'd like people to take the time to read them!
I sometimes add labels and other meta-info to help with search engine optimization (SEO).  This helps to bring these posts near to the top of Google search results.
Readers first, business second
Even within the areas that are clearly the business of the blog, I always try to ensure that my desire to earn money doesn't interfere with readers getting the best deal.  For example, if you look at my Best Offers page, you'll see that very few of the listed offers are affiliate links (only those with a credit card image next to them are affiliate links).  There are two reasons for that.  One reason is that there are many cards for which I don't have affiliate links.  The second reason is that I always display the best publicly available offer for a given credit card even if I do not have an affiliate link for that offer.  For example, there were times in the past where I had affiliate links for terrific offers for the United MileagePlus card or for the Marriott Rewards Premier card.  Unfortunately (but fortunately for readers), I knew of even better offers available elsewhere.  So, in those cases, I always displayed the better offer even though it meant that I would not earn affiliate income for those cards.
This may seem like an idiotic business approach to some, but I believe it has served me well over the years.  I've heard from many readers who appreciate the fact that I provide unbiased advice and that I'm not pushy about card sales.  In return, they tell me that they always use my links and that they always recommend me to friends and family.  The proof has been the fact that this business has thrived and grown almost from the first month in which the blog changed from a hobby to a career (see this May 2012 post: Up in the air).
Changes to revenue sources
While ad revenue has increased steadily over the years along with my readership numbers, affiliate income has dropped.  Quite a few of the companies that I used to work with have decided to end their affiliate relationship with me.  I've never been told exactly why, but there seem to be two primary drivers:
Not enough sales: With some banks, I rarely had affiliate links that were as good as the best available offers.  So, I wouldn't show those offers on my Best Offers page.  As a result, few sales were generated from this blog.
Content: Banks like to see posts that promote their products, but they don't like to see posts that describe how to game the system.  Enough said.
Fortunately for me, ad revenue has made up for some of this loss.  And, I still have affiliate opportunities (at least for now), but some are not as direct and easy as they were before.
Wrap Up
As long as this site continues to bring in ad revenue and/or affiliate revenue, I'll continue to answer "blogger" to the career question.  And, I'll give a much shorter answer than above to the "how do you make money" question that usually follows.  More importantly, I'll continue to consider myself to be one of the luckiest guys in the world.  I've been doing this full time for over three years now and I still find it hard to believe.  I'm a freak'in blogger.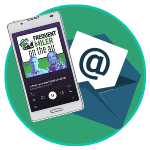 Want to learn more about miles and points?
Subscribe to email updates
 or check out 
our podcast
 on your favorite podcast platform.